Blog
REGISTER NOW
LOGIN
SIGN UP FOR OUR NEWSLETTER
A Great Opportunity for an Aspiring Travel Filmmaker: Video Internship
We are very excited to begin accepting applications today for the Best. Video Internship. Ever.
With cycling adventures in over 80 countries around the world, we have the fortunate position of being able to explore a wide array of places, and to meet many people from different cultures and backgrounds. For our cycling participants, and the support staff, these experiences have a lasting value that enriches their lives.
But not everyone is able, or ready to make the leap from cycling with friends on the weekend, to embarking on a multi-month overseas cycling tour. So more and more we have been trying to open a window on these experiences through video. Our best effort so far was the 9-part 'Cycling the Silk Route' series filmed, and edited by Jacob Warner. His months of hard work and dedication on the Silk Route cycling tour resulted in a hugely popular set of short videos that has allowed all of us to get a glimpse into life on the road on a TDA tour.
>>Learn more about our new video internship
The videos have been viewed thousands of times, and it has motivated us to pursue even more video production during our upcoming tours. It was through this that we created a unique and unprecedented opportunity for an aspiring filmmaker or travel videographer to gain valuable experience while traveling and filming on our tours later this year.
A Travel Video Experience in Europe and West Africa
Starting September 1, 2018 one talented amateur videographer will embark on a four month, all-expenses-paid internship in Europe and West Africa. They will fly into Barcelona, and document the final three weeks of the Trans-Europa – Europe's longest supported cycling expedition, until it concludes in Lisbon.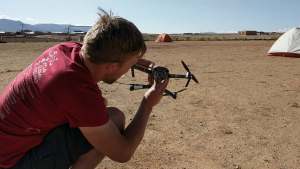 Europe will be the warm up and a chance for the intern to settle into their new role and new environment. The intern is then off to Casablanca, arriving in time for the start of TDA's inaugural West Africa en Vélo – an ambitious new project that hearkens back to the rough and ready roots of our company. The intern can expect lots of scenic beauty, emotional ups and downs, and daily surprises to keep him/her, the tour support staff, and the cyclists on their toes. With adversity comes great stories and great video content, right?
>>Learn more about our new video internship
Through the trials and triumphs, and with the initial guidance of our senior staff and the company founder Henry Gold, this will most certainly be a great stepping stone in pursuit of a travel film-making career.
Know someone who might jump at this opportunity?
Please share this blog post far and wide. We want to attract as much new talent as we can with the hopes of producing great videos to give future participants a window into what it's like to participate in these unique adventures.