Blog
REGISTER NOW
LOGIN
SIGN UP FOR OUR NEWSLETTER
The End Of The Tale

It was the very first Tour d'Afrique. Henry, now the maestro of TDA Global Cycling, had asked me to write some stories along the road. What follows is the Last Story, written in Cape Town, South Africa. Cape Town was a time of high emotion for me — elation and relief and other feelings that I cannot at the moment find words for. The Last Story was a celebration of a group of people who had had a Very Fine Adventure. – Tim Padmore
Cape Town, South Africa, May 17, 2003
At the Finish, some unlikely people had tears in their eyes. Maybe it was the 30-knot southeaster that met us at the beach at Bloubergstrand, or the surf-driven sand-salt-mist that made our eyes sting.
Or perhaps it was the beauty of our passage through the high veldt of South Africa, or the drama of the three mountain passes we crossed in a single day and the booming descents that followed as the Tour d'Afrique stepped down the edge of a continent into the soft wine lands of the Cape of Good Hope.
Or the ladies of Fraserburg who heard we were in camped in the municipal park. They got busy and in the chilly dark came round in a farm truck with five big pans of apple cake and hot custard in plastic milk jugs. Enough desert even for ravenous cyclists, custard left over that went on our porridge in the morning. Yum.
It might have been the speech that David Genders, who finished second, made to Sascha Hartl, the winner, on our last night in camp. David stopped the hungry horde gathering around the dinner pots with their plates and bowls. He called Sascha over and got him to strip off his shirt and people cheered. Women like Sascha's rippling muscles and bashful smile and Kogie gave him a lingering hug.
David presented Sascha with David's own yellow cycling jersey, which we had all secretly autographed with a felt pen. The tears may have been the speech, where David said Sascha is a champion and gentleman, which we all knew, and David told some racers' jokes, because we had all drunk a few beers, and then Sascha replied in shy, graceful English. (Sascha pedalled the eleven thousand kilometres from Cairo to Cape Town in four hundred hours and won by three hours, having lead decisively for as long as we could remember.
The tears may have come from our own hearts, which were full. Topping the last hill and seeing the Atlantic beaches of Cape Town, we thought of what we had achieved for ourselves, of what we had learned about Africa and its people, and of how we felt about our fellow riders. Some had become our friends and others, well, no, but we knew that, if any one of our number were threatened, there would be no one among us who would not turn to help.
Henry says we are heroes. "Heroism," he says, "is common people doing uncommon things in extraordinary circumstances." These reports have mentioned some of the riders who did uncommon things and the extraordinary circumstances in which they were done. Every one of them deserves recognition. For everyone who went the whole way, here it is.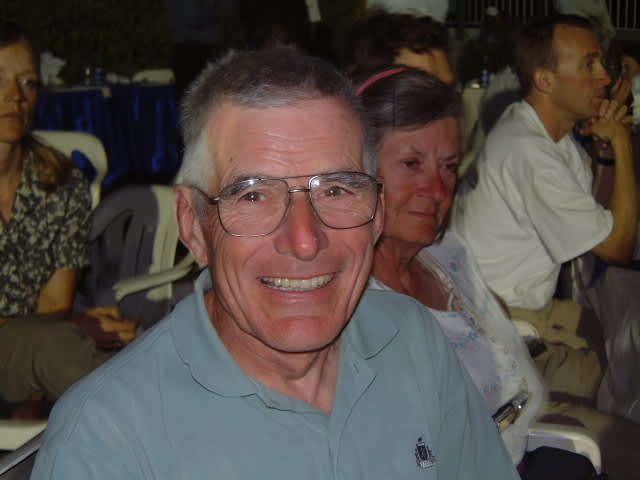 David Atwell. A bull of a man, who grew stronger as the race went on, proud of being the oldest person on the tour.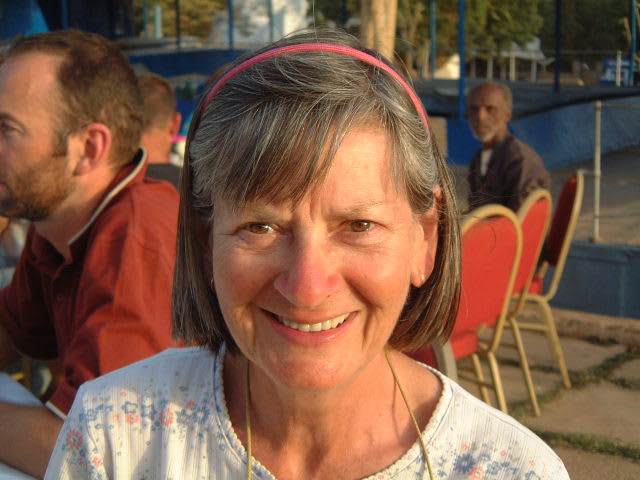 Moira Atwell. A small, gracious woman who has lived in Africa. "The long grass here makes me think of snakes," she told me at one of our camps, "but there are so many people around here they've probably all been scared away." Thereby giving me, in one sentence, yet another small adventure.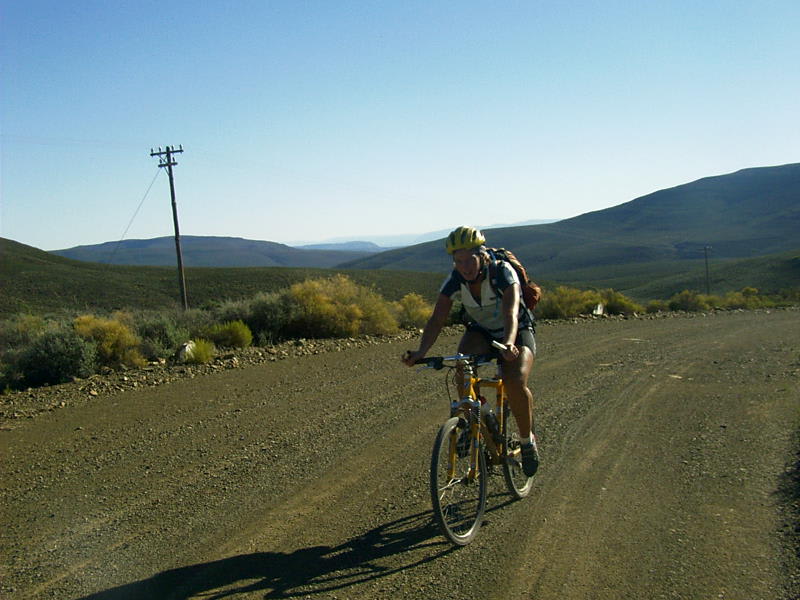 Marie-Claude Baehler, who is beautiful, young and Swiss with a beguiling French accent. Also, by far the fastest woman racer. Finishing number eight overall, Marie placed ahead of almost all the beguilees.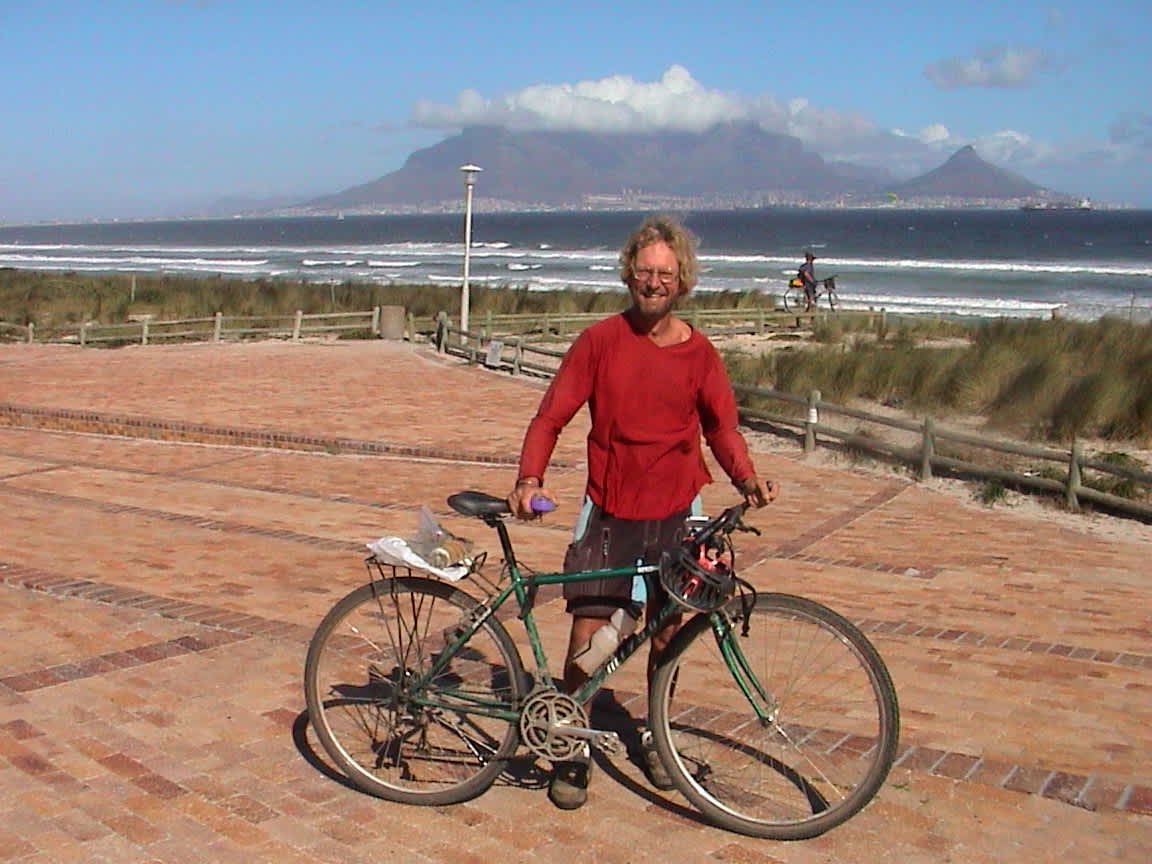 Robert Ball. Rockin' Robert is an actor and sometime stand-up comic in one of his other lives. He entertained and offended us. He is also a serious and thoughtful man.
Colin Biggin. Mr. Spreadsheet had his own computer along and saved the Tour from statistical chaos.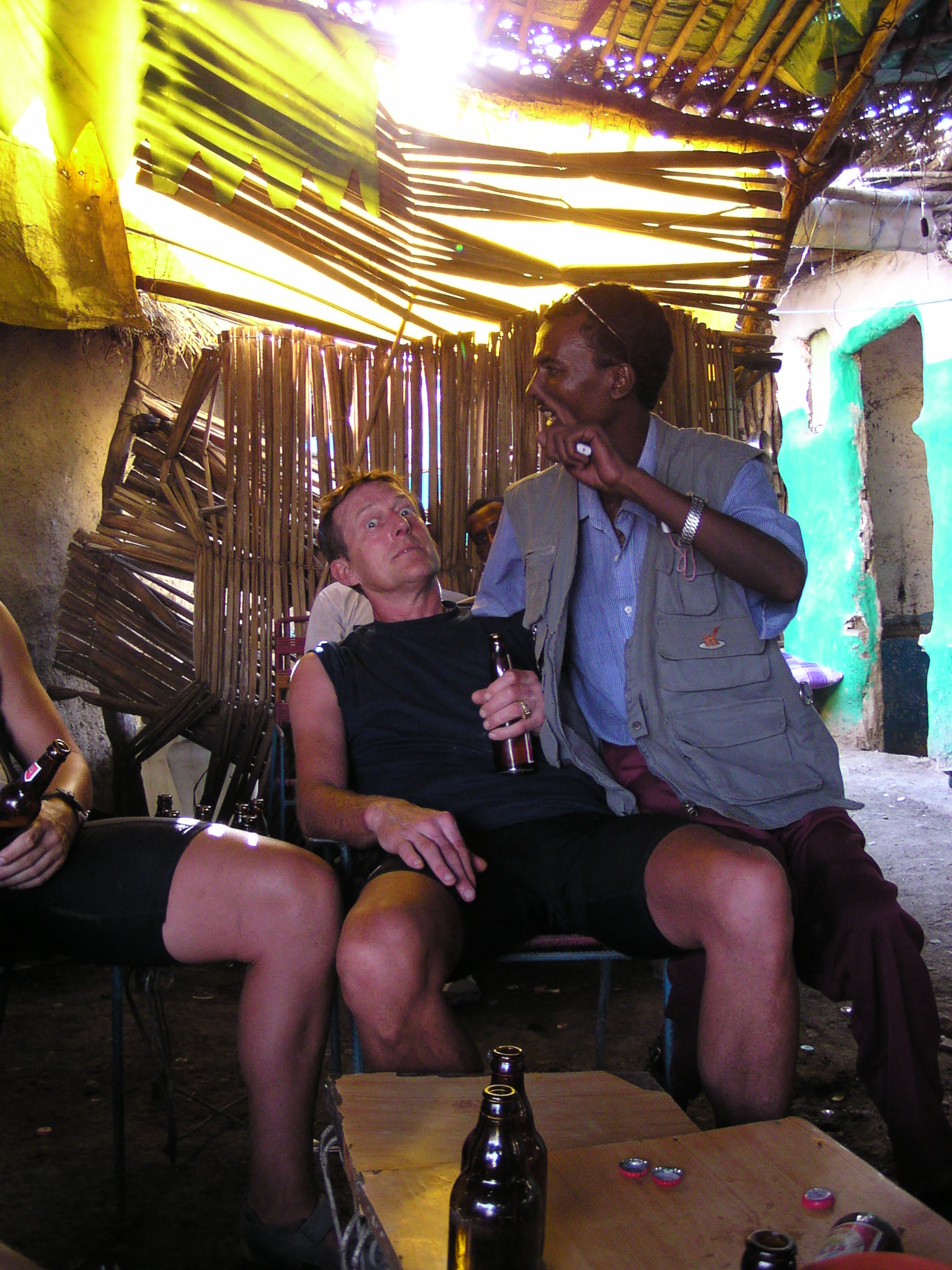 James Brown. Tall and gangly, Jim's body took a beating but never his spirit. He said he enjoyed every minute and I believe him and, believing, enjoyed more minutes of my own. We were all jealous the day a Samburu warrior painted Jim's face.
Alex Campbell. A geologist, Alex saw more meaning than most of us in lava roads, red and purple mountains and blowing sand, and he shared what he knew.
Lorry Schmidt, a listener, rode with Robert Ball, the talker.
Alan Clarke, an English cabinet maker, fixed our broken tents and helped us tune our bicycles. We remember his humour and courage as he waited for an ambulance to take him to hospital after a car mowed him down from behind. Miraculously, he was not seriously hurt.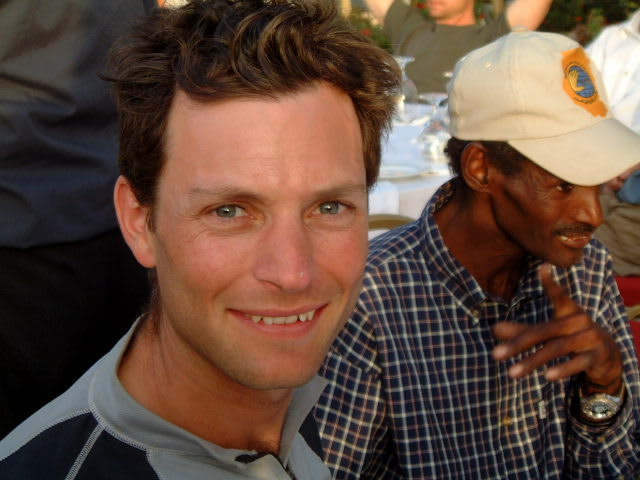 Jonathan Davies, an English gentleman with a picky appetite but a taste for danger. One day, he won the stage when he caught the draught from seven trucks, riding a metre from disaster for fifty kilometres.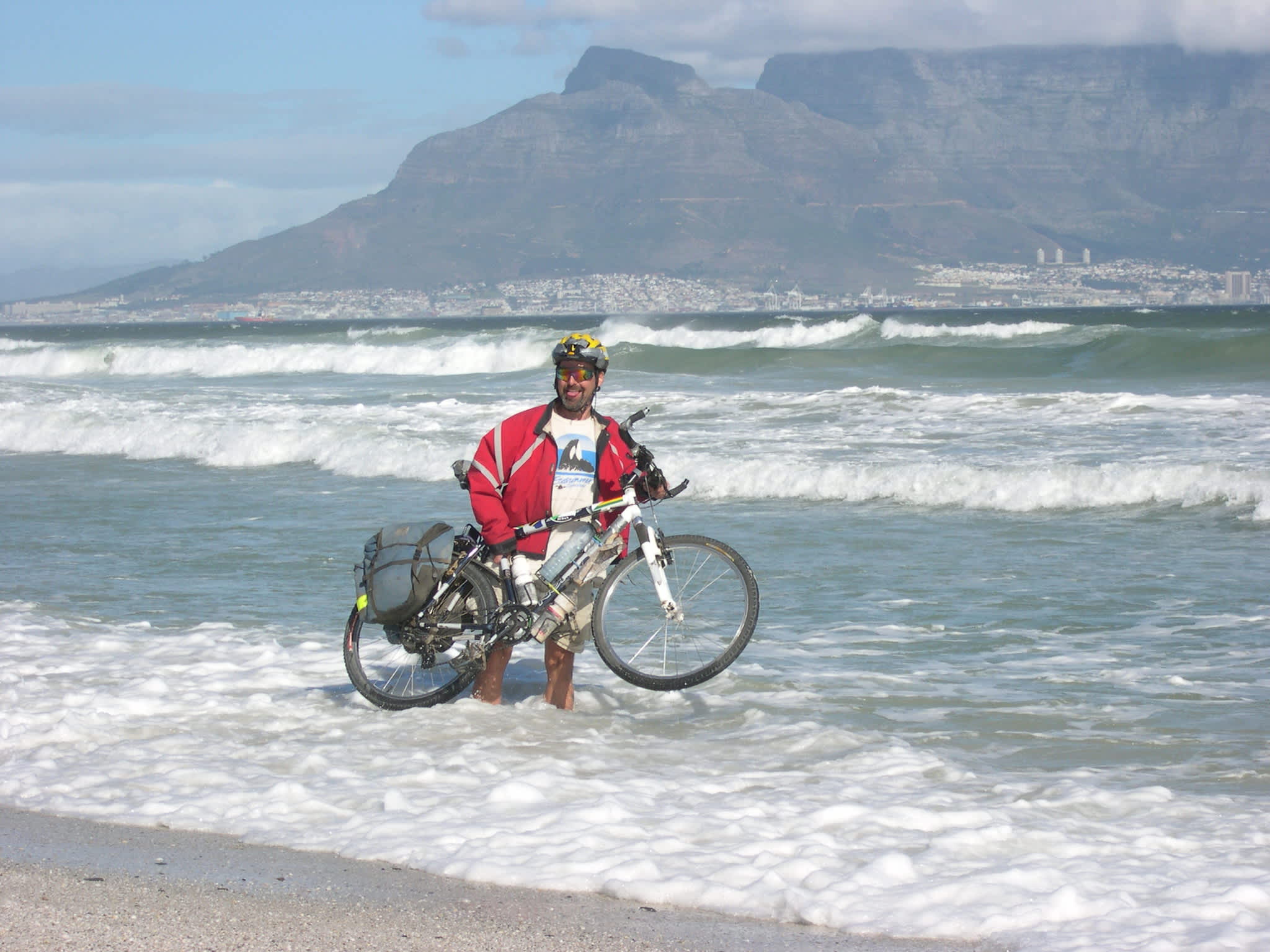 Paul Davison, an engineer from Nova Scotia, who read maps, itineraries and the Lonely Planet. "If you want to know where you are in time or space," he said, "you can rely on me." And we did.
Michael de Jong, one of the dreamers who organized the Tour, as competitive on the road as he was in the dinner line.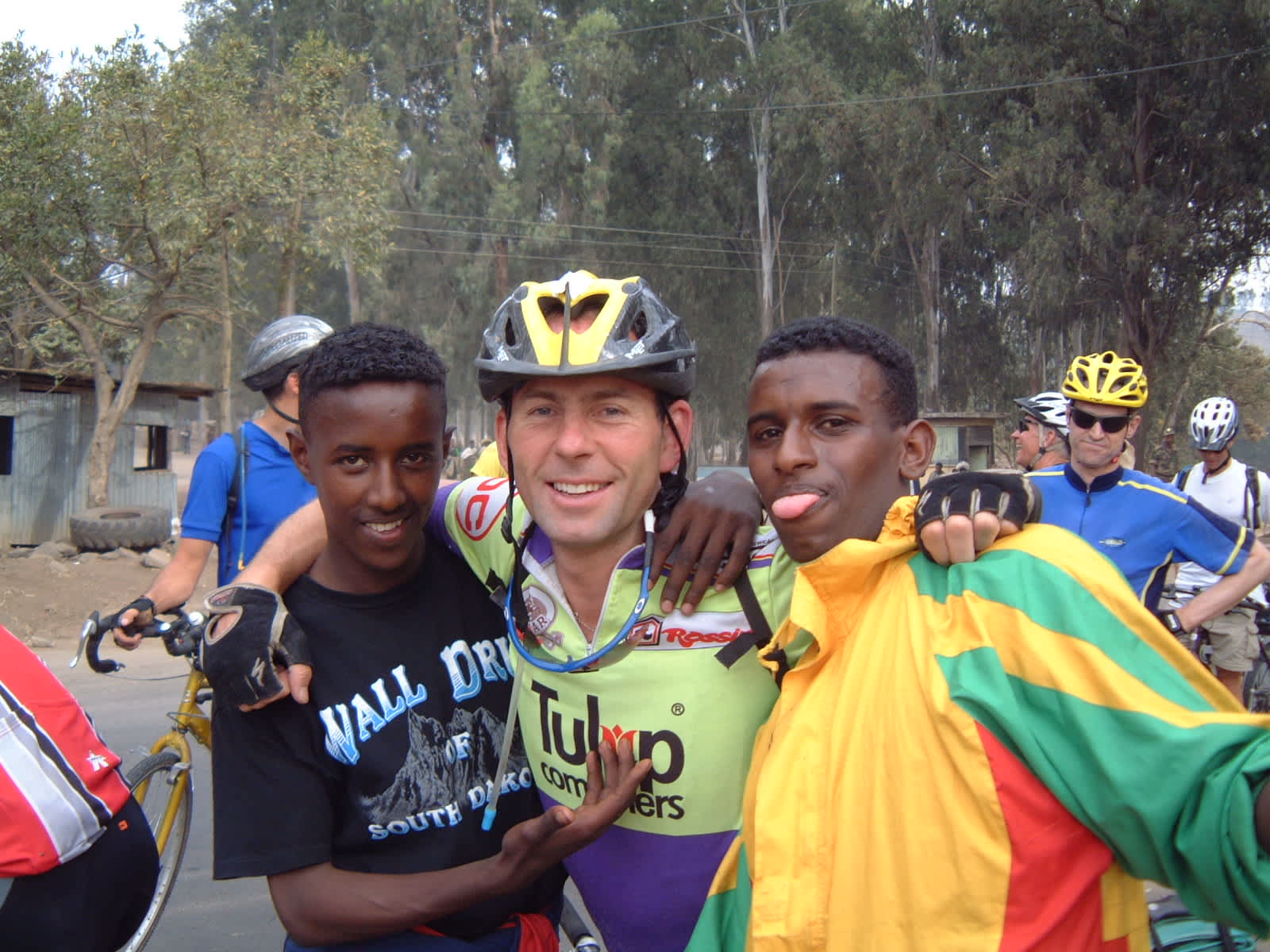 Chris Evans, a witty man and a serious photographer who stopped for a praying mantis and laughing eyes and a hundred other African moments. If he invites you to a slide show, come.
to-ma.jpg" alt="" width="1600″ height="1200″ />
Paul Gamsby. Marked by the wooly tuque he always wore, Paul holds the record for the most flat tires in a single day (16).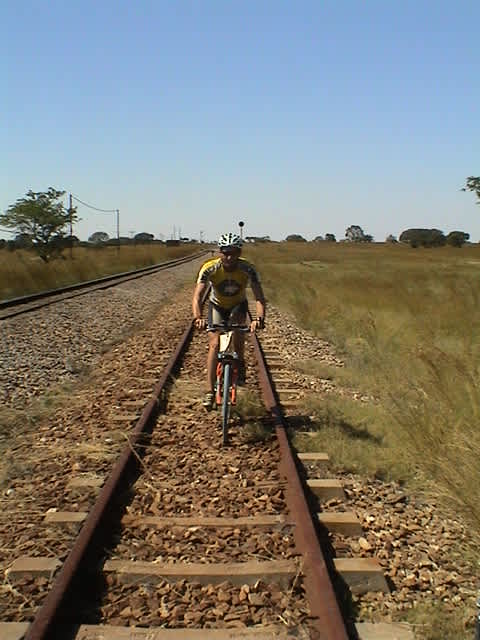 David Genders. A graceful rider, you could learn from watching him, if you could keep him in sight.
Chuck Giles, another old guy and a serious athlete all his life. He hurt his shoulder when he hit a car in Egypt. The injury nagged him but when he rode he went like stink.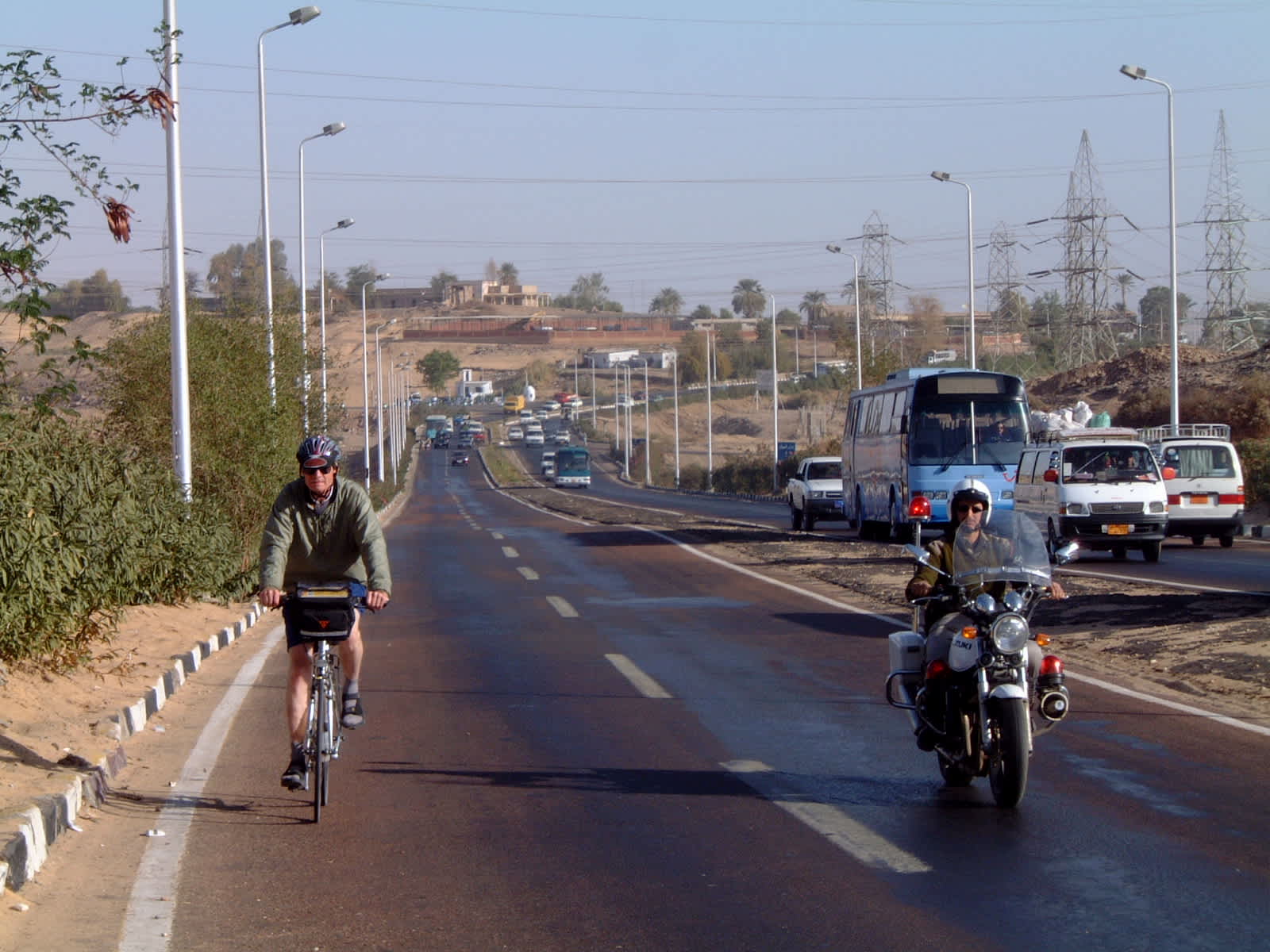 Henry Gold, our leader. Henry's back hurt, his knees hurt, we complained to him constantly. In his spare time went in meetings and looking for Internet cafes to line up the next place for us to stay. He rode every day, every distance, hanging back to check on dusk stragglers.
Ronda Green. My sweetheart. She'll try anything and she tried this. Ronda hadn't ridden a bike for 30 years and the learning curve was a steep as an Ethiopian hill and bumpy as the lava road in Kenya. Well done.
Tim Padmore. Yours truly. Africa changed my body (for example, no more arthritis in my knees) and changed my mind (you know something of my mind if you have been reading these reports).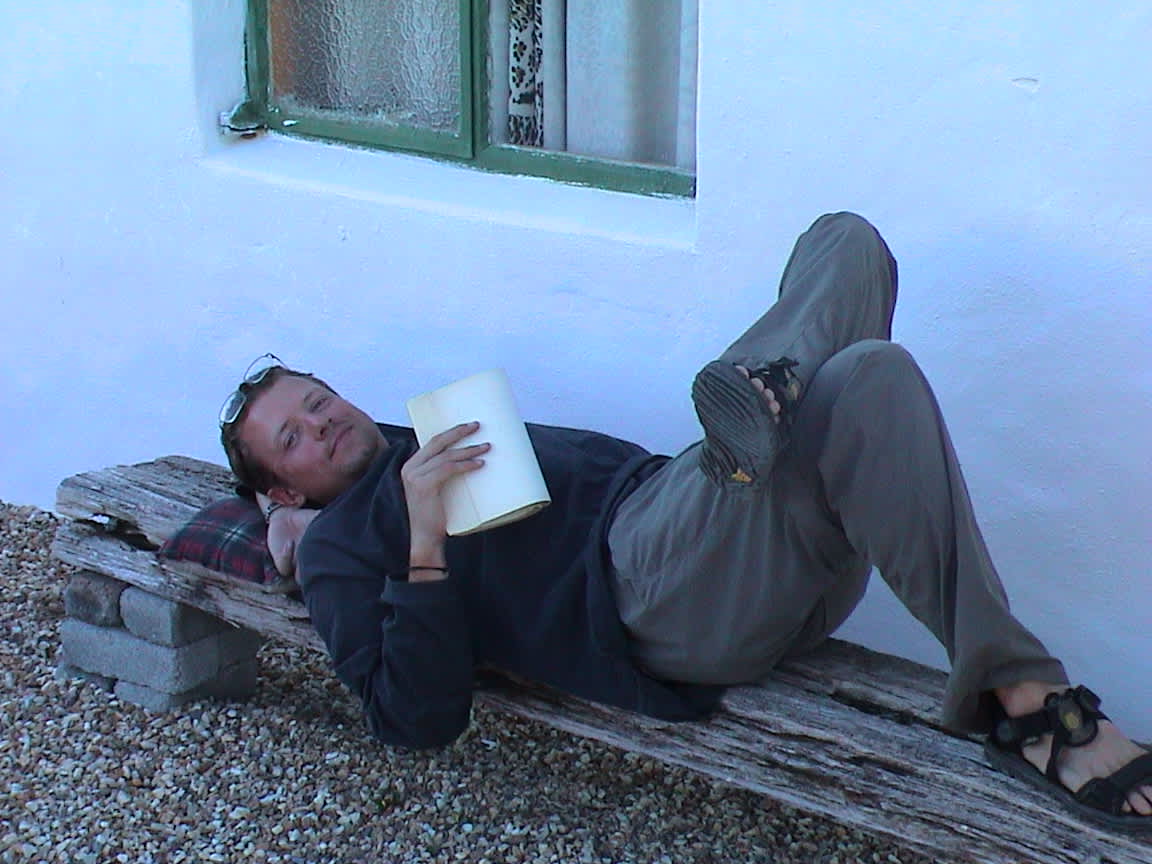 Andrew Griffin. He was Quiet Andrew but you could count on him for empathy.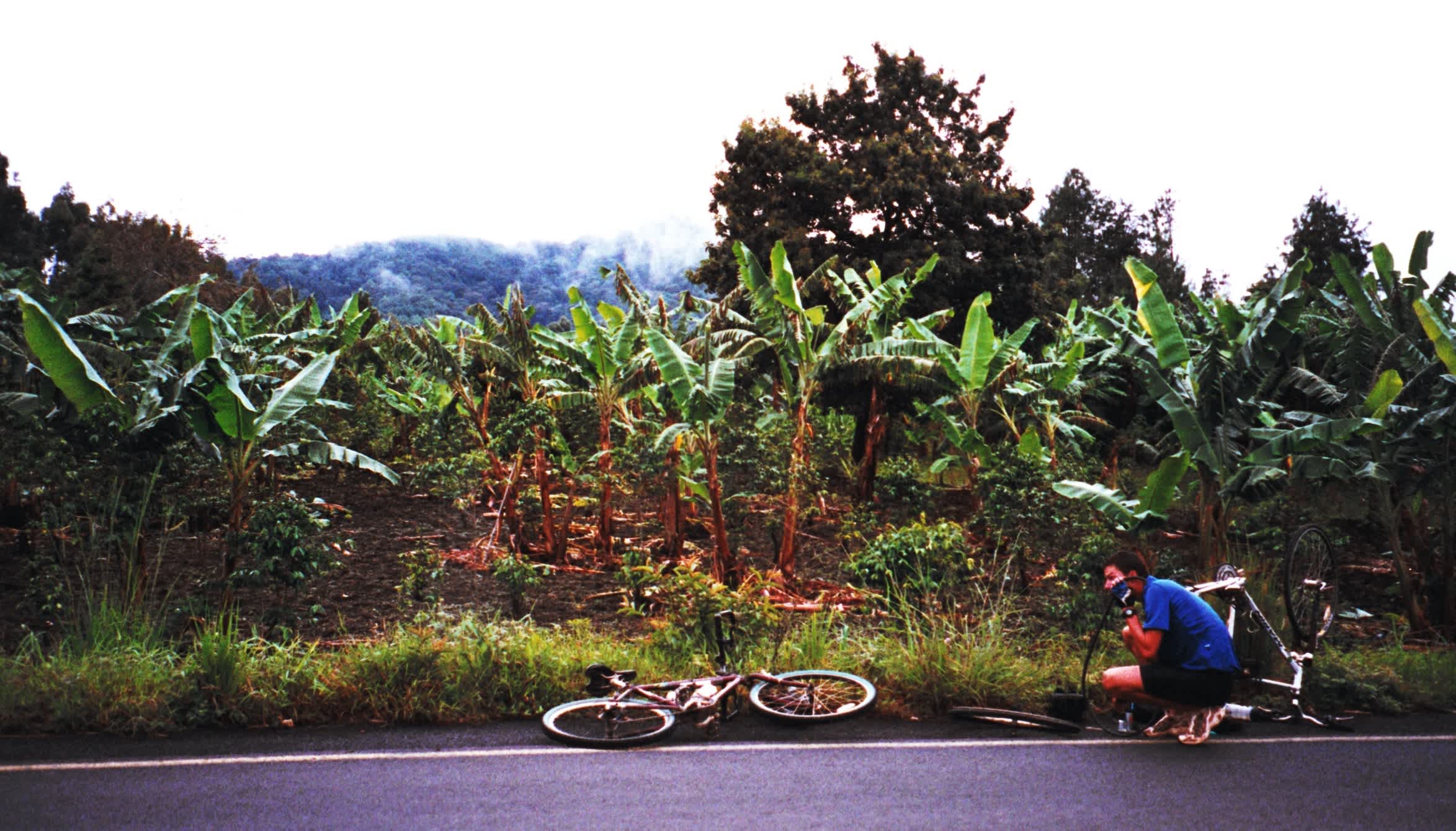 Peter Hallatt, the youngest rider on the trip at 21 when we set out. We watched him grow more poised. Peter rides fast but takes the downhills more gently now.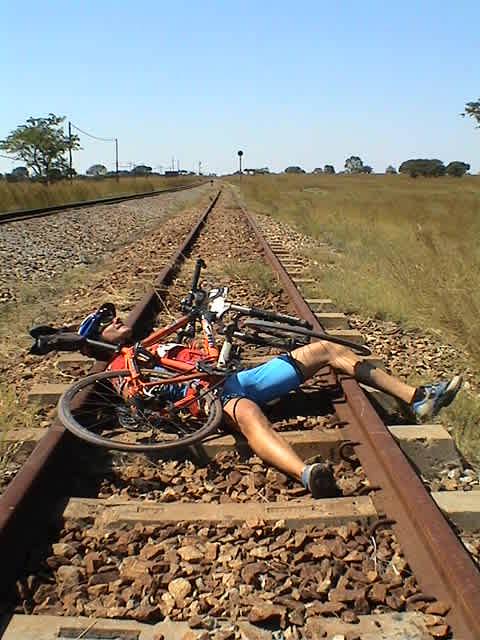 Sascha Hartl. Vegetarian powerhouse. A gentleman, yes. He's only 26, and you'll hear more from our champion.
Michael Kennedy. Made a bundle in the computer boom; it didn't spoil him. The only one to push a road bike (bad choice) over Every Fucking Inch. Only rider to get a flat from a dog bite.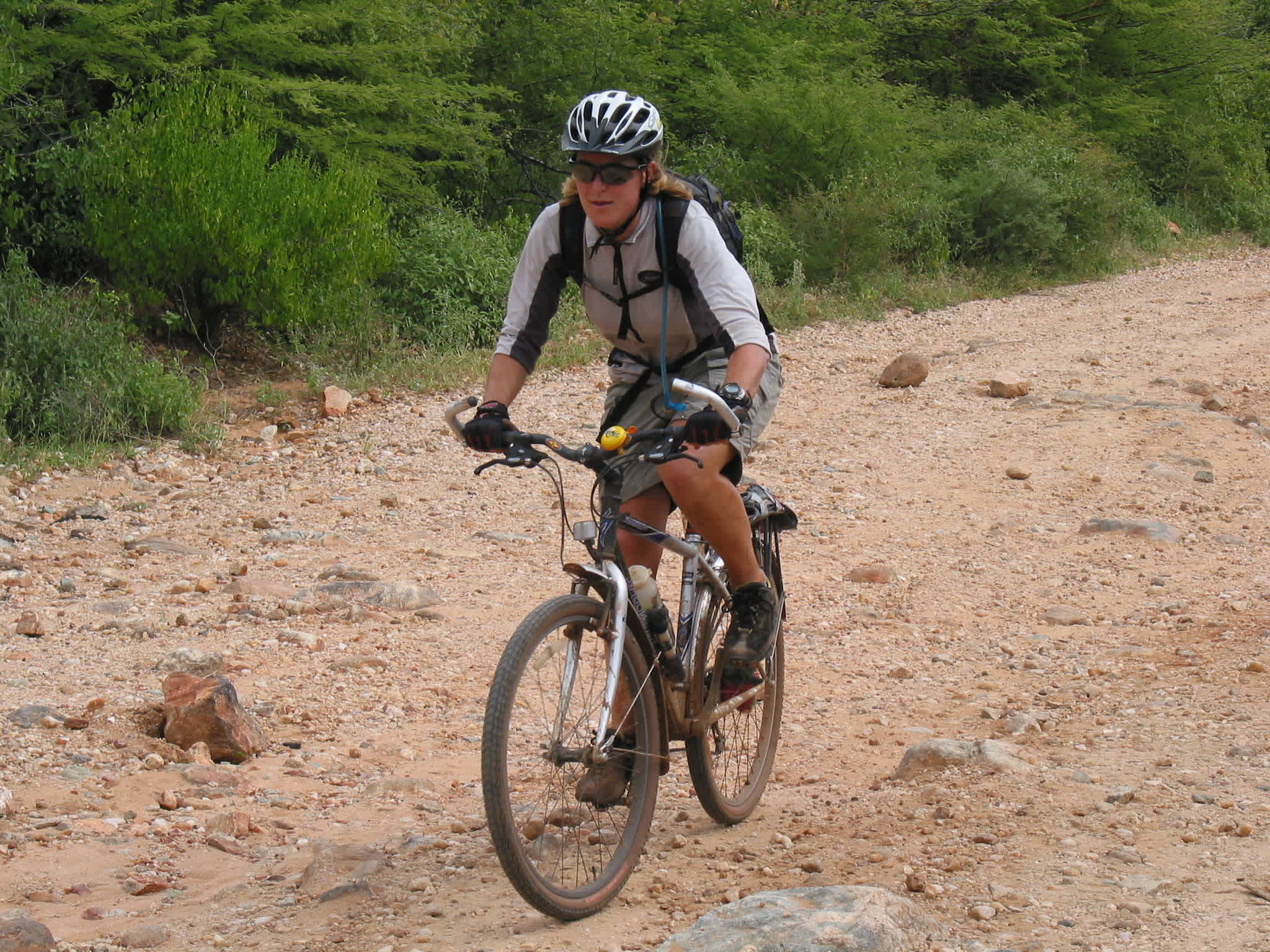 Hermione McEwen, a UK attorney, lover of tea breaks and children's smiles. Once, she crashed while waving to a crowd of kids on a stony road.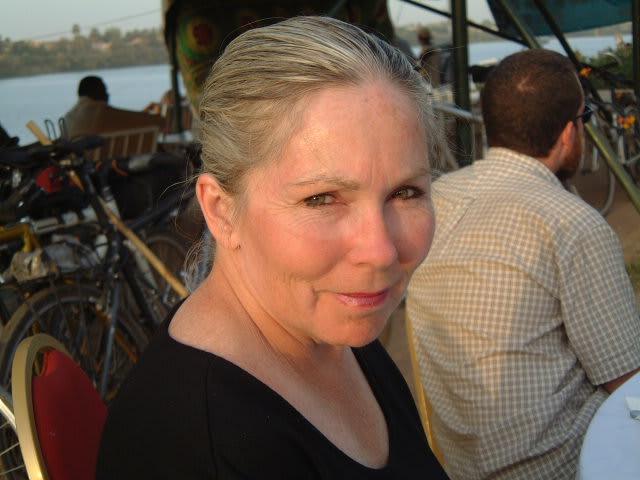 Sandra McMillan. Determined Sandy. One day our shopper extraordinaire from Prince Edward Island rode up to the lunch truck with a metre-long rattan fishing trawler bungeed to back of her bike.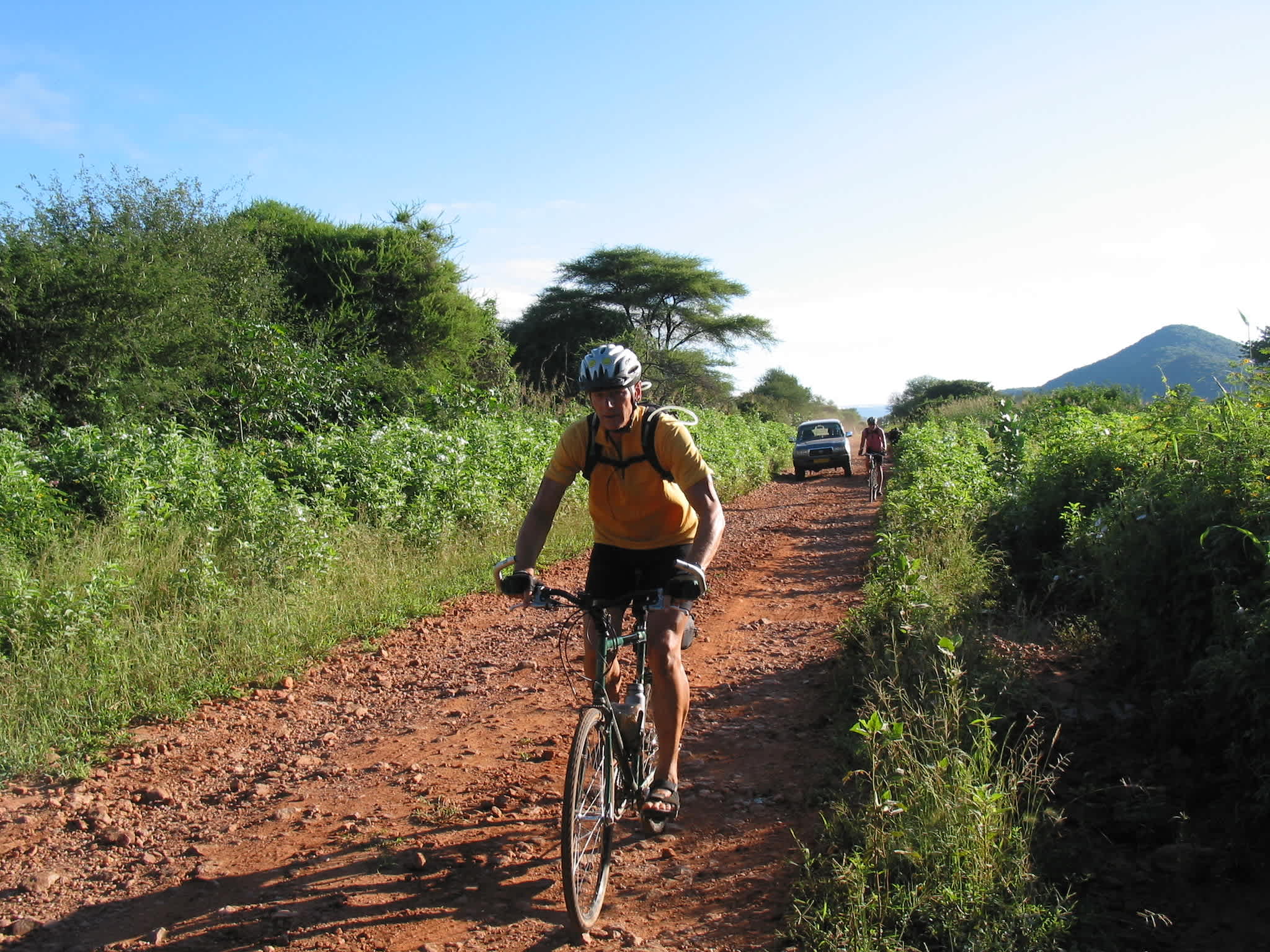 Fred Promoli. A lifetime outdoorsman and guide, Fred kept riding extra bits of the road to "make up for" a few hours he missed when he was sick as a dog in the Sudan.
Paul Reynaert, a Belgian chef. Muscled and tanned, he's the kind of guy you like to have along in a bad bar. Paul could never find enough to eat but found enough to finish sixth.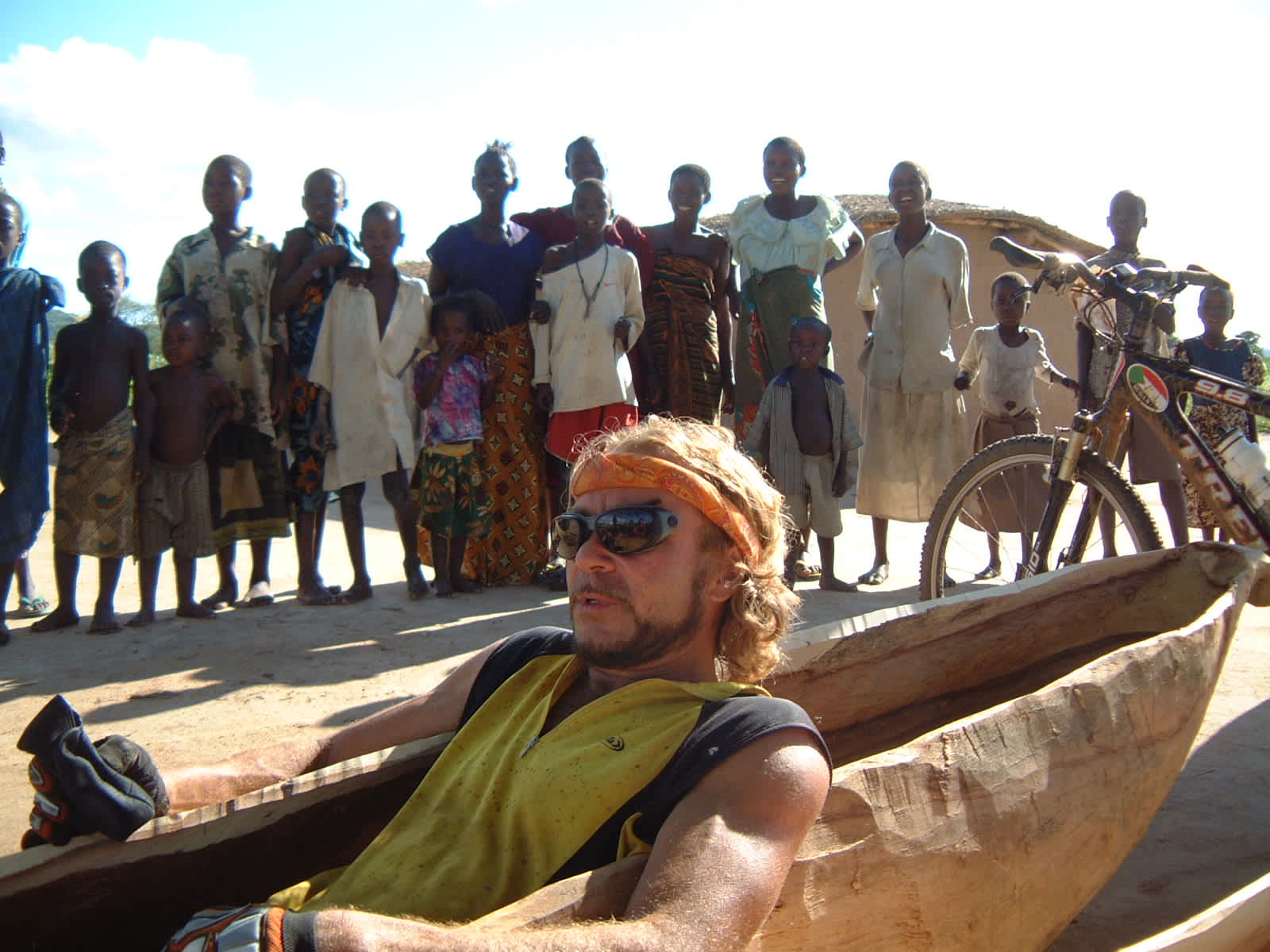 Scottie Robinson. If there was music he'd dance, a girl he'd flirt. A fitness trainer, a very strong guy but the Tour d'Afrique hurt him a couple of times. At 44, he figured, maybe I should slow down a bit and take a few pictures. But check out his finish.
Martin Sander, one of the stronger riders, is an artist. He filled notebooks with ideas and sketches and abstract watercolours inspired by his African experience.
In his heart, Steve Topham never stopped wanting to win the race. Steve also rode for an environmental project to promote clean water supplies for the developing world, a winner.
Jeremy Wex, a road cyclist, surprised himself by excelling at off-road riding, something he had never done before. I remember him barreling by me on the last big stretch of dirt road, hopping across washouts on a steep downhill, a broad beaming smile on his face.
Thank you, my friends.
Postscript
TDA Founder Henry Gold concludes "Wow. Looking at these pictures sure brings a lot of warm memories recreating as Tim points out a "time of high emotions". I would add one additional name to the list – Greg Wells who joined us in Khartoum because he had to defend his PhD thesis and therefore was unable to start in Cairo.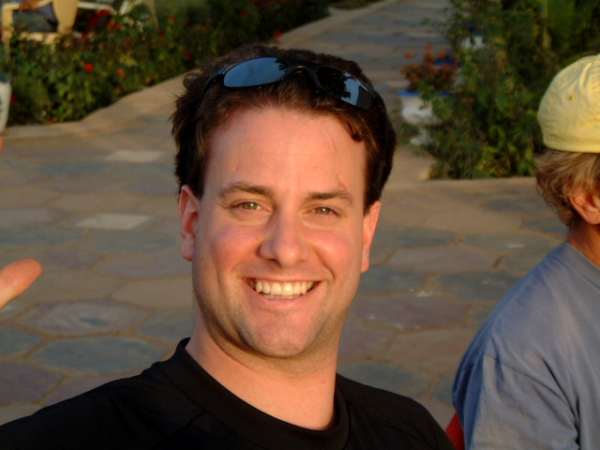 Greg showed up with a fancy race bike and on the first day he decided he was going to show us what he is made off. He cycled so fast that he missed the campsite and cycled a substantial additional distance in the challenging Sudanese weather. From then he quickly integrated into the group.
There is a cliché that we have all heard about life changing adventures. I have no idea how many of the participants on the inaugural Tour d'Afrique would agree with me, but in my own case at least, the Tour d'Afrique was truly a life changing adventure. And as I said then and I will repeat now, thanks to all of you for making it so. Without your trust, daring and spirit the Tour d'Afrique would have remained a fantasy."