Blog
REGISTER NOW
LOGIN
SIGN UP FOR OUR NEWSLETTER
Announcing Our Exciting 2021 Tour Calendar
At TDA we strive to create and inspire, expressing this in our unique cycling tour routes around the globe. In doing so, over the past two decades, we have faced many challenges and much adversity; fortunately, our team's work ethic and cooperative spirit has always propelled us towards solutions. So, while COVID-19 has been a massive disruptor for us, it has also pushed us to analyze which of our tours can run successfully and safely, and how we can still create and inspire in this environment.
With encouraging news regarding COVID-19 vaccinations and their distribution, we are feeling very positive for a larger return to our epic trans-continental tours in 2022, such as the Tour d'Afrique, Silk Route and North American Epic.
For 2021, we have spent time reviewing and revamping our calendar. We are now presenting this to you, so that you may plan for tours in regions of the world that are most likely to be open to travellers, with fewer borders to cross and with exciting highlights packed into the routes. There are tours geographically close to where most of our follower's hail from, as well adventures to be had in Africa, South America and Asia.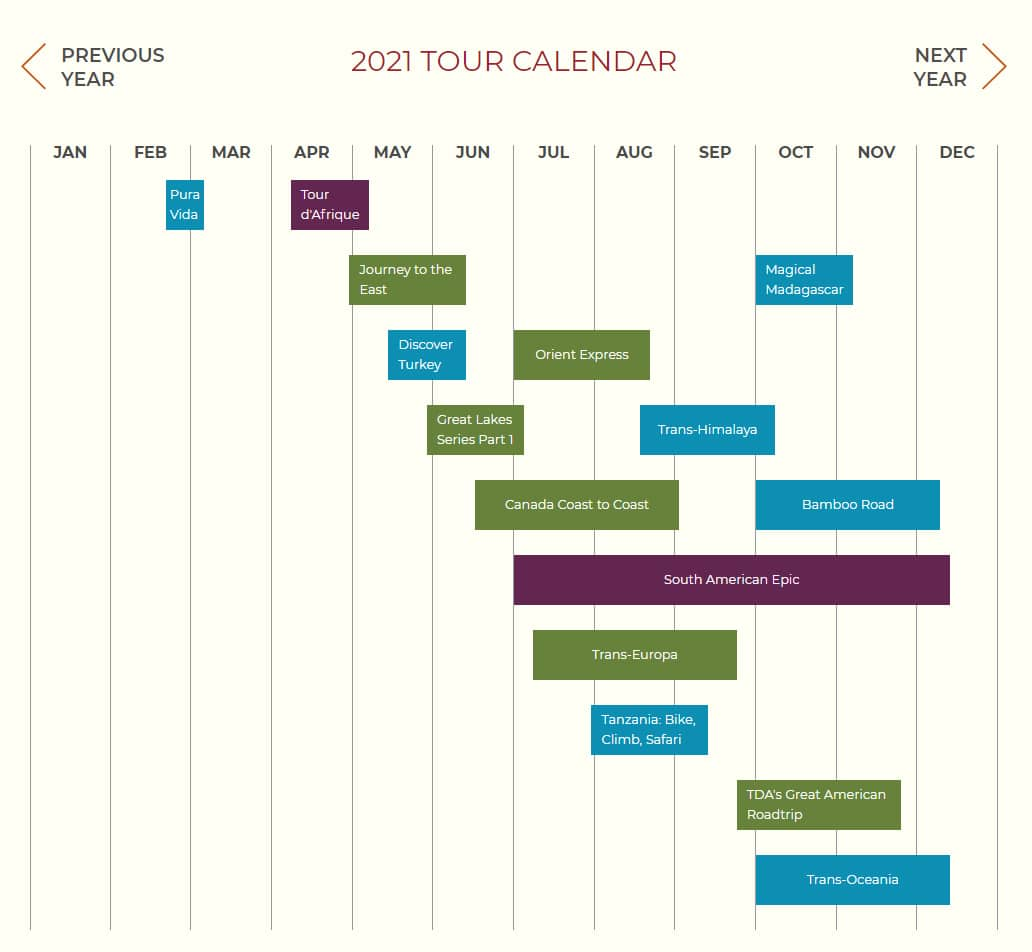 We have a mix of tried and tested tours along with some brand new adventures. In this announcement we wanted to give a further description of our new tour creations…
A journey of discovery: Ancient ruins, beautiful coastlines, amazing food and hospitable Turkish culture.
(More Details)
Experience the best of Tanzania: remote villages, mountain roads, isolated coastlines, optional safari and Kili climb.
(More Details)
A cycling adventure circumnavigating all five great lakes over two summers.
(More Details)
A ride to discover America, from coast to coast, from the beautiful to the bizarre. A one of a kind experience.
(More Details)
Improvements and Safety
The last months have also allowed us to further improve our tour products. An example being that we are now able to share the GPS route tracks, elevation profiles and turn by turn directions before the start of each of our tours. In addition, we have focused on our health and safety protocols, creating further training for our staff in relation to COVID-19, and writing clear advice for our customers to help keep them safe during the tour. For new or returning customers we've also created a "How To" series for preparing for your long-distance bicycle tour.
Flexible Payment Terms and Working for You
The past months have brought not only challenges to TDA of course, but for many of our customers as well, and made travel planning difficult for everyone. Our goal from the beginning of the pandemic was to assist our customers to the full extent possible, offering full refunds or a full credit to every person whose tour was postponed or cancelled in 2020, and we have achieved this. In fact, one rider wrote us that, "Everyone at TDA has been exceptional during this uncertain time." Moving forward we have worked to make our payment terms as flexible as we can, now allowing the registration fee to be transferred once to another tour of your choosing if you decide to change tours or the timing of your tour. Of course, some things are still beyond our control, which is a why travel insurance is always a must. Policies are now available that cover COVID-19 related costs, helping you feel greater piece of mind while on the road.
Next Year and Beyond
We look forward to welcoming all of our current and future customers to cycle with us again, when the time is right for you. We'll continue working hard in the meantime to make your tour safe, fun and the adventure of a lifetime!