Gift Certificates
REGISTER NOW
LOGIN
SIGN UP FOR OUR NEWSLETTER
Gift Certificates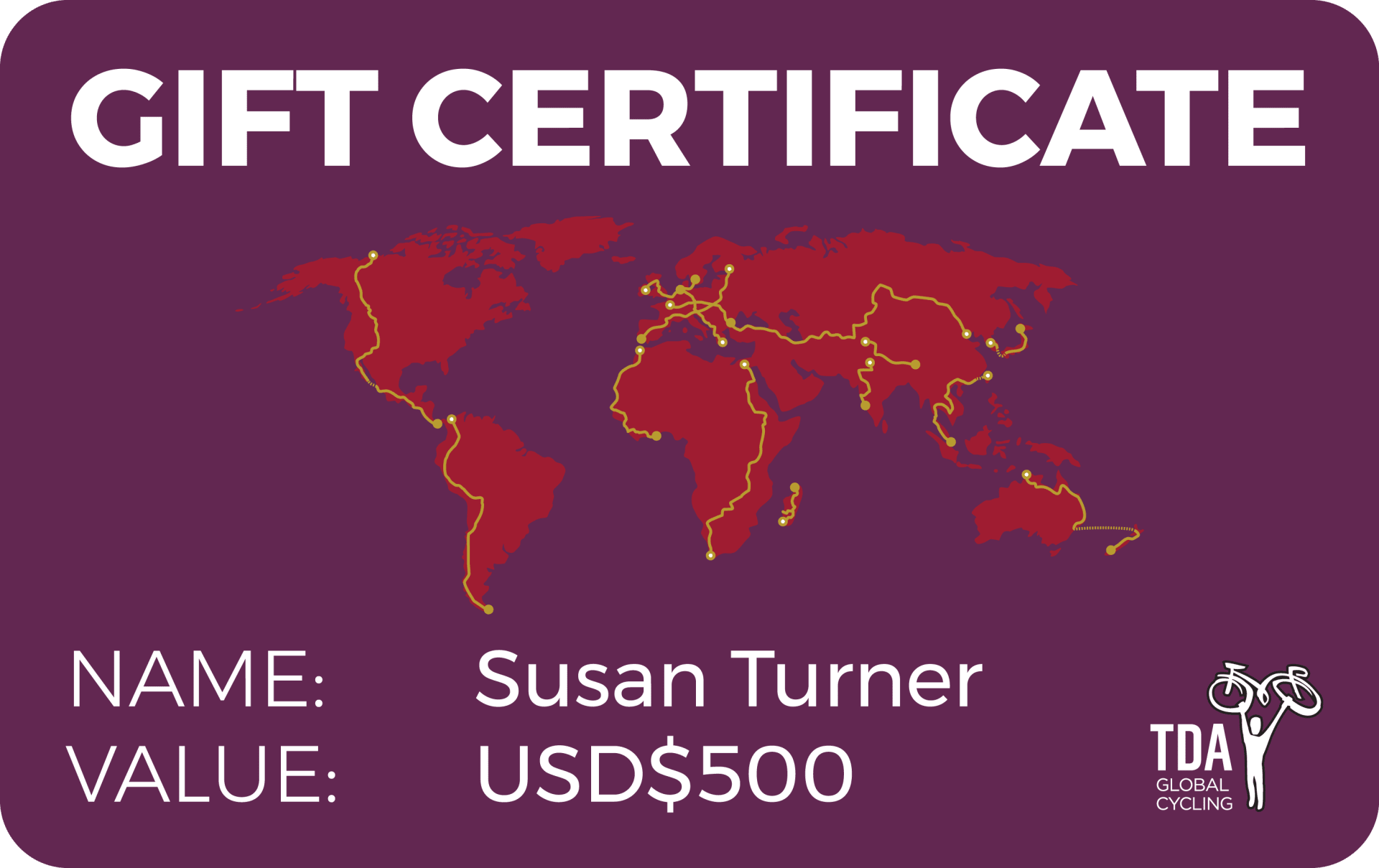 A gift for the cyclist in your life
Do you have a friend who loves cycling?
Looking for an unusual present?
Give them a TDA Global Cycling gift certificate!
Wedding gift, gap year contribution, graduation reward, Christmas, anniversary or birthday present – the options are endless! Help your friend or loved one mark the occasion with the gift of a life changing bicycle tour!
You can buy a gift certificate for any amount you choose – even the full cost of tour. The gift certificate will be personalized and emailed to you as a PDF, ideal for last minute presents.
To order a gift certificate, click the button below, fill out your information, and our office will contact you to arrange payment.
Please contact us at info@tdaglobalcycling.com or +1 416 364 8255 with any questions.
GIFT CERTIFICATE TERMS & CONDITIONS
Gift certificate has no cash value and can only be redeemed for a cycle tour run by TDA Global Cycling.
Gift certificate is made out in the name of one person who the purchaser chooses and is non-transferable.
Gift certificate does not expire. All additional tour discounts (such as early payment and multi-section) still apply.
Gift certificates can be purchased in either USD or EUR.
If the gift certificate is purchased in a currency other than the currency that the tour is listed in, it will be converted at the exchange rate of the day the recipient of the gift card registers for their tour.
Gift certificates up to $1,000 USD can be paid for by credit card. Any amount greater than $1,000 USD can be paid by cheque, bank transfer, Transferwise, or using a credit card with an additional 4% fee.
Recipient of the gift certificate must agree to the Booking Terms & Conditions in order to register for a tour.