Our Commitment to You
TDA Global Cycling is committed to providing our clients unparalleled personal challenges on two wheels and the experiences of a lifetime.
Our tours provide a framework of services to keep you safe and healthy as you travel while allowing you the freedom to cycle and explore each day as you wish.
These are not fully guided tours. Nor are they luxury tours, though the degree of luxury or comfort does depend on the tour in question, (see how we rate and compare our tours). Most of our tours are expeditions that will require you to sometimes step out of your comfort zone and deal with a variety of challenges. This philosophy not only allows us to keep our tour cost reasonable, but, more importantly, it also adds an element of freedom and adventure that is often missing on other guided trips.
A good way to compare our tours by price, comfort level, difficulty, and other criteria is by using our Tour Finder Tool. Try it out!
Before the Tour
Once you register online you will begin receiving regular Rider Bulletins via email and in your MyTours account that are specific to your tour. These updates will walk you through getting proper equipment for the tour, training, visa requirement, packing tips, cultural tips… and everything else you need to know.
We also have a very active Facebook page, where former and future riders and those just interest in cycling adventures can interact and discuss.You can also follow us on twitter…
Our TDA blogs are packed with interesting snippets and first-hand experiences of riders and staff on tour as it happens. Pop in and visit our blog to see what is new…
The staff at TDA have plenty of first hand experience organizing, leading, and participating in our tours, so don't hesitate to email or call us if you have a question.
When you fly to the start of your expedition, we will have a big in-country briefing with the group one or two days before the start of the tour. This gives you an opportunity to work out your final details, and meet the other riders and staff who will join you on your adventure.
During the Tour:
Our support team and equipment on tour is designed to keep you safe, well fed, and provide the basic support you need to get from start to finish every day. The rest, for the most part, is up to you!
Here is a list of services we do, and don't, provide on tour:
Unique Experiences
Our tours traverse some of the least traveled and most remote areas of the world. We spend a lot of time and energy designing our tours to make them as interesting and rewarding as possible by making routes that go through both well-known tourist spots as well as areas where no cyclists have gone before! We place a lot of value on the individual's right to explore and we encourage our clients to seek out unique experiences.
Experienced Staff
Our staff are outdoor enthusiasts, travelers and adventurers, and have vast and varied international experience on our tours and through their independent travels. As a result, they have the ability to quickly resolve problems, deal with unexpected emergencies, and excel in challenging environments. They will offer you great advice, and even greater tales, from the saddle.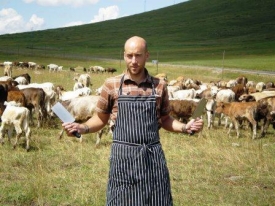 Great Food
We provide 3 meals each riding day, cooked by experienced chefs on camping tours and restaurant meals on our hotel tours. We pride ourselves on hiring great chefs who create an amazing culinary experience. On our toughest tours, like the South American Epic we offer four meals per day – with the 4th meal being a salty protein rich afternoon soup. We do not provide food on rest days (and dinners coming into rest days). This allows you to have a chance to check out the local cuisine and a chance for our staff to reorganize and restock. For people with specific dietary restrictions, we try very hard to accommodate your needs in difficult environments with sometimes limited supplies available. Please let us know well in advance if you have certain items you can't eat due to allergies (we're talking allergies, not things you just don't like).
Energy Bars and Drinks
On tours that travel through very remote areas we provide energy bars and drinks for you to carry with you on the bike and also set up 'refresh' points where necessary. We generally do not have these for our tours in Europe (Trans-Europa and Orient Express), North America, and the Hippie Trail as juices and other snacks are more readily available along these routes.
Vehicle Support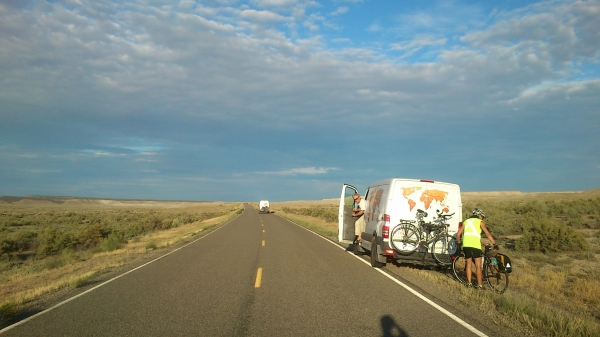 Each Tour has a different arrangement of vehicles depending on group size and the type of roads traveled. The typical number of vehicles used on a tour is 2, and on larger tours there are often 4 vehicles. On some tours we own all our vehicles, including the large overland trucks used in Africa. For other tours we sub-contract vehicles as required.
For example, in Africa our large overland Isuzu truck comes complete with water and kitchen storage, and passenger seating.
.
Quick Overview of how the Support Truck System Works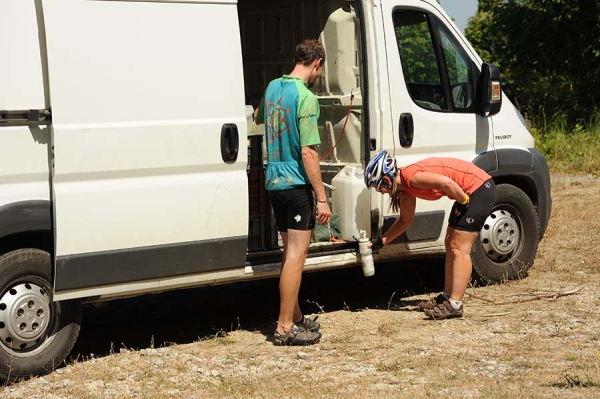 Each rider is provided with a space on our support trucks (or vans) to transport their gear. The trucks also carry water (up to 2000 litres where necessary) and all the food and equipment for the tour. If for some reason you cannot ride your bike, the trucks can carry some passengers with bikes (the amount of passengers we can carry will vary from tour to tour, please check with our office). Our vehicle support system is not designed to carry a large number of people or carry people on a regular basis. The support is based on the assumption that everyone will attempt to cycle at least a portion of every day. There could be times where we help you to arrange local transport when we are full. This often ends up being part of the fun and adventure!
The vehicles are essential for not only what they carry, but also for the security they provide. They are able to respond to emergencies in remote regions, are supplied with first aid equipment, and can transport sick, injured or tired cyclists.
Staff support
Depending on the group size and the tour needs, our staff will include: mechanics, communications officers, medics (for tours in more remote settings), experienced tour directors, cooks, drivers and other general support staff to make your tour a success. With larger groups, we have more staff. Each year we hire fresh recruits along with returning staff with the experience to get the new staff trained and ready for the adventures on the road. You can read more here about the roles of each staff member. The primary role of all staff members is your safety. Their combined skills will leave you feeling well taken care of and free to enjoy the adventure.
Meeting up with the Tour
We do not provide airport pick-ups at the start of the tour or whenever you are joining along the route, but instead give you the details of where and when to meet the tour. We leave it up to you to find your way to us.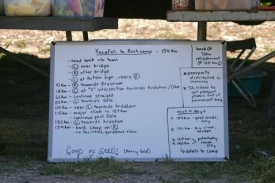 Route Knowledge
We spend a lot of time developing our cycle routes, and then constantly improving them year after year. Each day on tour we hold a rider meeting to give you route notes and/or sketch maps of the next day(s) travel. These meetings are also an opportunity to share tips and points of interest on the route.
Local Support
We often hire local translators to help with difficult border crossings, and provide insight into the culture and history of each country. Whenever possible we also invite local cyclists to join us on tour so that participants get an opportunity to learn more about the people and the places they are cycling through. We arrange police escorts into some cities, and connect with local clubs, associations, and tourist bureaus to give our tours a unique local flavour.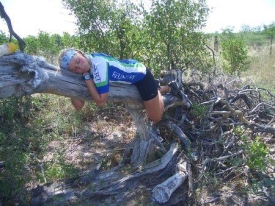 Where Will You Sleep?
All tours include a night before the start, and a night at the end of the tour, in a hotel. Along the route, most of our tours offer camping and/or basic indoor accommodations. The Hippie Trail, the Bamboo Road, and the Ruta Maya are our 'no-camping' tours, meaning every night is some sort of hotel, guesthouse, or other indoor accommodation. Tour d'Afrique is all camping, and the rest of the tours are a mix of camping and basic indoor accommodations. Camping and basic indoor accommodations help us keep our tours economical and affordable to you. Camping also adds to the adventure and creates a real sense of community on tour. Whenever a tour does include hotel stays, we strive to find unique hotels and hostels that provide local colour, not five-star luxury suites.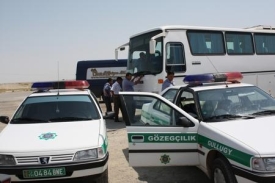 Your Safety
When necessary we hire security and /or police to escort us on tour and provide security at our campsites. Your safety is always our tour leaders' main concern. They use their experience and support staff to ensure that everything is being done to keep you safe. However, safety starts with you. We expect all participants to adhere to any safety restrictions and accept that there is an element of risk involved in these tours. Reading your TDA 101 Information Kit, Terms and Conditions, and many Rider Bulletins prior to the tour will ensure that you arrive with a thorough understanding of what to expect on the journey ahead.

Giving Back
The Tour d'Afrique Foundation supports a variety of projects in Africa, India, and North America including a bicycle donation program. We also encourage and support our clients in their efforts to raise money for the TDA Foundation, or for the charity of their choice. For every full tour participant on the Tour d'Afrique, we donate one bicycle in their name to a local organization along our route.
After the Tour
TDA Jersey
You will receive a limited edition tour jersey designed specifically for your tour.
Bike Boxes
We'll help you get a box at the end of the tour or the end of your section. There is no charge for the bike box, just be prepared to do some stuffing and taping!
Give us your Feedback
After every tour we send out a survey so you can share your thoughts on how we can improve our tours which will lead to even greater experiences for all riders. We value your opinions and the insight from your perspective on the tour.
Share your Story
Stay in touch with us and people in your group on our Facebook page. Let us know what you are up to and we'll share it in our newsletter. Contribute to the growing number of incredible videos our clients are posting on our YouTube channel. Follow our other tours via Twitter and Instagram.
New Friends
The best part of our tours, by far, are the people you get to meet and the friends you make along the way. We are constantly improving our use of social networks and tools to help former participants stay in touch and share their experiences.