How to Prepare
REGISTER NOW
LOGIN
SIGN UP FOR OUR NEWSLETTER
How to Prepare
At TDA Global Cycling, we know that the idea of setting off on a long distance tour can be daunting. However, we take great pride in making these adventures of a lifetime possible for the average person. And we've been doing so for almost 20 years. People tend to think that at TDA, our main work is around running tours. While that is true, we also spend a great deal of time and effort helping our riders prepare for the tour before they set off. So now we've collected all of this knowledge and information into one place.
There is a lot of information here. You can start at the beginning and read it all, or scroll through and pick and choose what most interests you. We've divided this information into 8 sections, each of which includes various sub-topics, blogs, and videos. As always, feel free to get in touch with us if you have any questions or comments.
1. Choosing a tour
With so many tours and dozens of possible section combinations, choosing which journey to embark on can be a bit overwhelming.
Find the tour that's right for you
Click here for an in depth guide to the various tools you can use to search for and find tours on our website. Or, if you want to start searching right away, choose one of the options below.

Tour Types
Our tour types pages provide a quick and easy way to find a tour that matches your preferred style of travel, in these three categories: Touring, Adventure, or Expedition.

Tour Finder
This tool provides several ways to search and filter tours with criteria like difficulty, region, length, and more.

Tour Calendar
Maybe you just want to know which tours are available next July? Or two years from now? This tool is for you.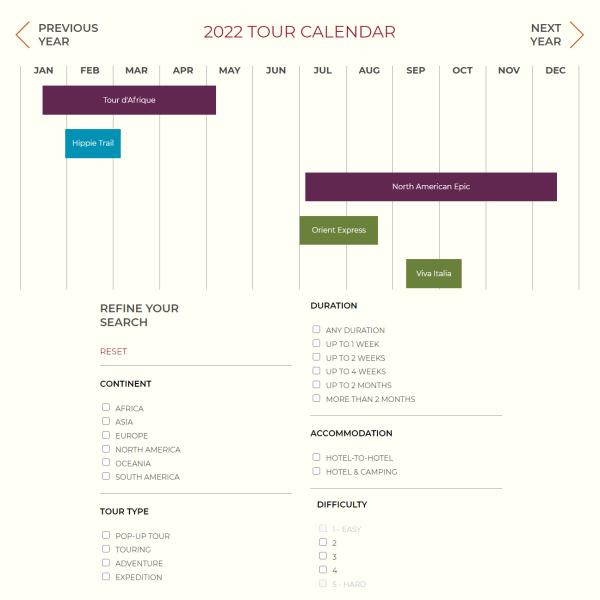 2. All about bikes
Choosing a bike
By far one of the most common questions we get is, "What bike should I bring?" Click here to watch "Choosing a bike for a supported cycle tour" and read the accompanying blog post.

Tires
Tires can make a big difference to your tour experience. Too wide and you will feel slow, too light and you'll get flats… Click here to read more about which tires to choose.

Brakes
Are you looking for a new bike for your next tour, and wondering what type of brakes would be the best choice? Click here to find out.

Pedals – Clips vs. Flats
Touring cyclists often use clip in pedals. But many also just use flat pedals. Click here to read more and choose the right pedals for you.
3. Bike Maintenance
While there is a bike mechanic on every tour, it is still important for each rider to have good basic knowledge of their bike. This section explains what riders are expected to be able to do with step-by-step video instructions.
How to Fix a Flat
Click here for our blog post and video instructions on how to fix a flat tire.

Cleaning your bike
Cleaning your bike and drivetrain is one of the most important steps of preventative maintenance you can do. Click here to watch the step by step video.
4. Health Preparation
This section covers everything you need to know to prepare yourself physically before the tour.
Health & Medical Preparation
Addressing health concerns before you begin your journey is crucial. Dental check-ups, medications, dealing with old injuries – these are all things to consider as you prepare for a tour. Click here to read more.

Training Tips
Want to know how to train for a long cycling tour? These 8 cyclists, all participants of past TDA tours, share their training advice. Click here to read more.

How Far Can I Cycle in a Day?
Fitness is only one factor in determining how much distance you can cover in a day. Click here to read more.
Bike fit
When riding long distances, for many days in a row, having a bike that fits you properly is crucial both for comfort, and to avoid injury.
Click here
to read more about bike fit.
5. While On Tour
This section discusses all aspects of the on-tour experience, from daily routines to staying healthy.
High altitude cycling
Click here to learn how to stay safe while cycling at high altitude.

Expedition behaviour
Learn how to be a positive part of an expedition cycling group. Click here to read more.
6. Gear & Packing
This section covers everything you need to bring. It covers baggage limits, packing lists, and everything you need to bring from clothing, to spare parts, to camping gear.
Packing for a TDA Tour – Everything You Need to Know
This detailed blog (with video) covers it all. By the time you finish reading it, you will feel more confident on what and how to pack for a TDA tour.

How to Pack Like a TDA Pro
Click here to hear from Tour d'Afrique Tour Leader Colleen about how to pack right for one of our camping expeditions.

Save space with minimalist gear
Click here to see how much space you can save with lightweight and compact tents, sleeping bags, and mattresses.
Cold Weather Gear
Click here for some tips to prepare for the coldest rides you might encounter.
7. Paperwork & Admin
This section gives information about applying for visa, insurance and more.
Travel Insurance
Choosing the right travel insurance is both essential, and sometimes tricky. Click here for our in depth guide.

Travel Visas
Many countries require visitors to obtain a tourist visa prior to entry. Click here to read more about visas and the application process.
Registering and using MyTours
Learn how to register for a tour. When you register, you will gain access to the MyTours dashboard.
Click here
to read more about this process, and about the forms that must be completed before your tour.
Handling money on a cycle tour
Depending where you are cycling, you might find cash or credit cards to be more convenient. Click here to read about preferred payment methods, currency exchange, and more.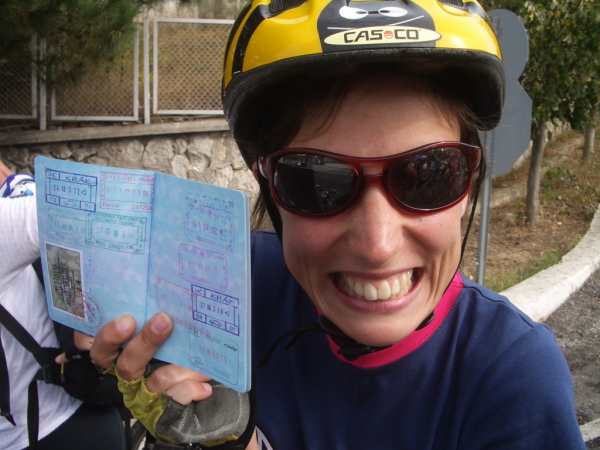 8. Travelling with your bike
This section covers everything you need to know about travelling by air with a bicycle
Boxing your bike
Click here to see our blog post and video instructions on boxing your bike.

Getting To and from the airport
Click here for some tips on the whole air travel process – including getting to the airport, checking in, and getting to your hotel at your destination.