Blog
REGISTER NOW
LOGIN
SIGN UP FOR OUR NEWSLETTER
Champagne in Samarkand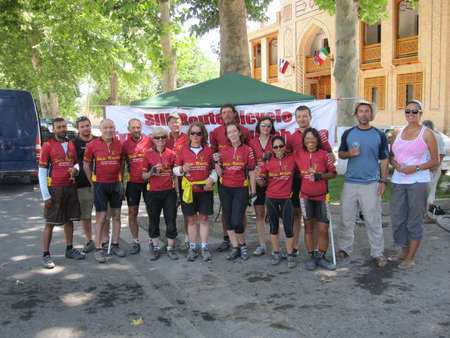 Congratulations Silk Route 2010 Riders!
There's nothing quite like being sprayed with champagne to celebrate a grand finale. Okay, maybe this wasn't real champagne, but it was bubbly, cold, and came in a green bottle with that fun gold foil sleeve over the cork. Besides, after cycling and camping for nearly 4000 kilometres, a shower is always welcome.
Twelve riders made it to Samarkand this afternoon, crossing the finish line as a group one last time after nearly seven weeks together. Elation was in the air as the happy bunch clustered together for photos in champagne soaked jerseys thanks to Eric and Rustam, who have really good aim. With a temperature hovering around the mid 30s, it was practically jacket weather for this crew on their final 129km ride; they've cycled through punishing +50 degree heat in recent days!
Five riders succeeded in maintaining the illusive EFI status, making their way across every inch of the route. But make no mistake, this was a tough group of determined people who rode as much as their bodies and bikes would allow under what were often intense conditions.
Now in country five of five, we've all got our favourites. Memories from Turkey, Georgia, Azerbaijan, Turkmenistan and Uzbekistan will stay locked in our hearts, beckoning us to return. As the chef, I was fortunate to visit thriving markets with a local interpreter at my side, catching all too brief glimpses of extraordinary cultures unlike anything I've ever known compared to my life back in Canada. I will remember the fast friendships in Turkey and raw beauty of the Georgian countryside, the refreshing fizzy camel milk under the face-melting sun of Turkmentistan, and the puppets! Oh the wonderful puppets of Uzbekistan! But most of all, I will remember, without exception, the kindness and hospitality of the people I've met. I have been humbled and touched by them all.
Congratulations 2010 Silk Route riders, you made it!