Blog
REGISTER NOW
LOGIN
SIGN UP FOR OUR NEWSLETTER
Five Things I will Remember About the Amber Route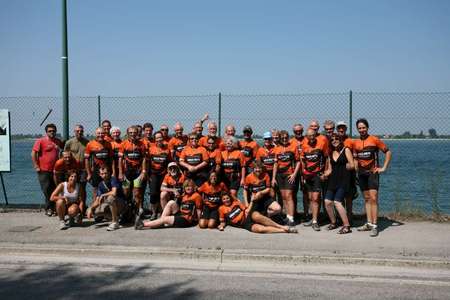 Finishing a long distance tour, as you can imagine, comes with mixed emotions. While you may be more than ready to be finished with sleeping in a tent surrounded by snoring, burping, farting riders and you may have grown tired of having to stick to someone else's intinerary there are always things you'll miss. Here's a list of 5 things I will miss about the 2010 Amber Route.
The Peleton (a.k.a. the back nine)
The back nine, as I like to call them, (though often there were 10 or 14 of them), made it their mission to arrive in camp last. Not because they were slow (though some were) but because they truly enjoyed each others company (most of the time) and relished long cafe stops and roadside antics. They supported each other on the tough days and had fun together whenever possible. I loved riding with them and will miss Stewart and Janice's wit, Kendy's determination, Rick's constant smile, Don's aloof comments and the rest of the crew as well.
Ron and Nini
Ron Nehring, a supreme court judge from Utah joined us on tour this year only a few months after he suffered his second stroke. His wife Nini joined him and as a doctor she was a big help on tour not only for Ron, who she had to constantly care for but also to other members of the tour who would get injured or sick. Ron was a constant source of inspiration. Every day was a challenge for him (even physically getting on the bike was tough) but he never complained and never played the victim. You could tell Ron was used to being in a position of authority because when he spoke it was very clear that you were intended to listen. My favorite thing about Ron, aside from his determination and good humor, was his witty comments. My favorite? One day the route was mostly gravel but occasionally there would be 200 or 300 meters of pavement in front of a group of houses. These short lengths of pavement would get your hopes up that the gravel was over, only to let you down as you rounded the corner to see more rough road ahead. Ron hated rough roads. When he arrived at lunch that day he gently put down his bike and announced loudly "I'm getting real tired of all this 'sucker pavement'

today

" I still smile when I remember that moment.
The Campsites
Camping is a critical component to a successful tour, in my opinion, for two reasons. First, it keeps the group together. When you stay in hotels everyone goes to their room and maybe you see them at dinner or walking around but rarely do you hang out as a group. When you camp the group is all together and it can lead to some really fun and interesting experiences. Like the talent show Bill and Janice organized (so popular they had to organize a second one) and the impromptu water Olympics hosted in one campsite pool.
The second reason is that camping is a great equalizer. Rich or not so rich, young or old, great cyclist or novice, when everyone camps they all share a common experience that more often than not, brings the group together.
Some of the campsites on the Amber Route this year were great. Maybe not great because of their amenities, but you couldn't beat the location. Camping in the moat of an old castle in Russia (and being woken up by a drunk Russian shouting "Amerkansky….!"), was definitely a highlight. Our camps along the Baltic in Estonia were beautiful and my personal favorite, camping at an old fisherman's camp in Lithuania (not to mention drinking home brewed fisherman's whiskey with the owner).
The Talent Show, part two
Unfortunately I was not around for Talent Show part one, but part two was awesome. I was so impressed by the energy and creativity of the group. It takes a lot of courage to get up in front of a group, even a group of friends, and a lot of credit goes to Bill and Janice for organizing our two talent shows. Ralph emceed and was surprisingly funny as he introduced each act. Shanny and Bonnie's puppet like skit was a highlight, as was the peleton's 'Group Winge", something I think should be added to any group's' coping strategy. Dubious and nervous when Kendy first approached me to do a skit about alligator wrestling, I still agreed and had a blast acting it out with her an Svend on stage.
Of course, the Riding.
I hadn't ridden my bike in 5 months when I joined the Amber Route. Those first few days back on the bike were painful but soon enough my legs came back and I could really enjoy the route. Cycling along the baltic, thru small villages with twisting narrow streets, up the slopes of the lesser Tatra mountains was a lot of fun. The distance on the Amber Route were shorter than I was used to from our other tours and first I didn't think I'd like it. But I soon realized that a short distance meant plenty of opportunity to stop for cakes and coffee! Hurray! It also allowed plenty of time for socializing andlaughing with other riders which is best reasons for doing any cycle tour.
Of course there are a lot of other things I'll remember: St. Petersburg was beautiful and the salt mine in Krakow was unique. All the old cities and castles and sunsets and hill top views were great. And of course Venice was a great city to finish in. I'll always remember attending
Sunday
mass at the San Marco Basilica. But like most things in life I guess it's the people that make things truly unique and worthwhile.
This was my fourth tour working for the Tour d'Afrique and one of my favorites. I'll remember all the riders fondly and hope to see them again, on the bike or off.
Paul