Blog
REGISTER NOW
LOGIN
SIGN UP FOR OUR NEWSLETTER
Steven Rooks visits our BikeMotion booth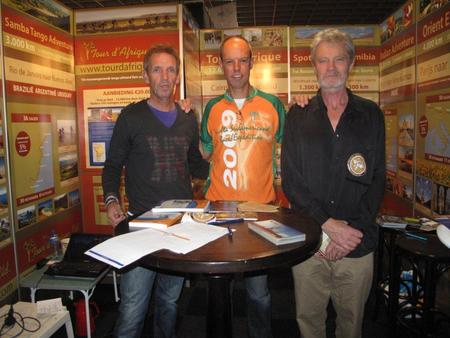 Steven Rooks, Dirk van Asselt and Henry Gold at BikeMotion
Our intrepid leader, Henry Gold, is in Utrecht this week promoting the nine tours we have scheduled for 2011 at the annual bike show, BikeMotion.
We teamed up with Dirk van Asselt from Holland who has written a book about his experiences on the inaugural Vuelta Sudamericana tour – 'Volg je hart' (Follow your heart)
Dirk launched his book at the Tour d'Afrique booth at BikeMotion – presenting the first copy to his cycling hero and Dutch cycling legend, Steven Rooks.
Our booth attracted the interest of many visitors and Dirk sold up a storm! By all accounts, BikeMotion was a great success!
If you'd like to order a copy of his book, please contact Dirk directly at vanasselt@volgjehart.nu