Blog
REGISTER NOW
LOGIN
SIGN UP FOR OUR NEWSLETTER
On the road with Henry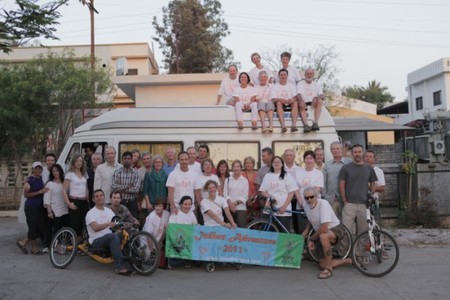 Today I have to thank two entities for my unexpected fun. If you follow our blog the first one you will already know, Urbane Cycle in Toronto. One of the things that they repaired for my couple of hundred dollars was a shifter. Two days ago we had a long day of cycling, 140km to be exact. I was sweeping and that generally means a long slow day as I cycle behind everyone else. Our lunch spot was at about 65km and several people who I was following decided, due to the late hour, that they would pack it in. I was enjoying the country side of Gujarat province and decided to turn on the after burner and try to cycle to camp before dark. The roads turned out to be in good condition, the traffic was light, there was even a bit of helpful wind and as I was having gear shifting problems, I tried not to shift. The cycling gods of India were all smiling at me and I was having a blast until, with about 20km to go, going full out, I shift gears and voila, they locked. No gear movement. Period. I make it to our camp where, our mechanic and photographer, who by now has learned to recognize my facial expressions, simply says "now what".  Despite his best efforts it turns out that all I can hope for is to buy a nine speed shifter in Mumbai.
Yesterday we had a long, tough, hilly but beautiful day. But I spent it at km 90, at a refresh stand, managing to overdose on sweet watermelon. After this ordeal, Shanny, our wise and fearless leader and the second reason for my fun day today, recognized the seriousness of the situation and after cycling yesterday, offered me his brand new bike. It has been years since I last cycled on a racing-style bicycle, simply because I suffer from old age and an accumulation of sports injuries, such as bad wrists, lower back, bad neck only to mention a few. So, of course, I jumped at the opportunity.
The ride this morning was described by Victor as the "finest".  Perfect temperature, undulating hills covered with fields of sugar cane, grapes, wheat and other plants which I could not identify. To the left a range of mountains and hardly any traffic. So at km 25, rediscovering the joy of a fast bike, I stop to remove a layer of clothing and get back on the bike. One problem, now the front wheel is rubbing on the disc brake.
There is a reason we tell our participants not to bring disc brakes on our tours. One is that they are temperamental. Another is that I have no idea how to adjust them. So after a few minutes Ricardo our official sweeper for the day shows up. Out come the tools and half an hour later the bike is not rideable. I tell Ricardo to go ahead and stick my thumb out to upcoming traffic. Soon enough a small tuk-tuk loaded with boxes, stops. The boxes are rearranged, Shanny's bike settled in between them and I am now sharing the driver's front seat or should I say he has half a seat and I have the other.
First thing the man says is that he wants no money. He is an owner of a small dairy and he is on a milk distribution run. We talk about cows, a subject I know a bit about (see Holy Cow blog). He asks me about the cost of a liter of milk in Canada and I embarrassingly make one up. I mean, I made sure I have sharpened my facts about Canada in case someone asks me something like who won the Stanley Cup last year, who is the Prime Minister of Canada, why all the comedians in USA are Canadians, but a cost of a liter of milk?
Soon enough we hit a big town and he wants to buy me a tea masala. Now tell me, who can turn down an invitation to tea masala? And as we wait he catches a glimpse of a table of young women in college uniforms and introduces them to me as friends. From them I learn that the town has 37,000 inhabitants, the college has 2,000 students, the junior year has a different uniform than these ones and that they are all very proud Indians.  
The tea was indeed excellent but I still have 20km to go to catch up to our lunch truck and so the milkman takes me to the bus stand, where an empty minivan will be traveling my way. The bike is thrown on the roof, I am offered a front seat to which my 188cm frame just manages to squeeze. And slowly the van used in the West for six people gathers passengers.
When the number hits eight or nine or ten, the driver announces that the front seat usually takes two passengers but if I pay for two I can have the front seat to myself. I suppose that this is what is called in our culture  "a no brainer" and before he has a chance to finish, I say yes. The van, now fully loaded with passengers and cargo, departs. After a few kms someone gets off and a man, not as tall as me but twice as heavy, sees the front seat with only one passenger and starts opening the door. With a look of horror I turn to the driver asking for mercy. I quickly realize that the price of my trip is going up, but what else was I to do? I pay a 100 rupees and head for the lunch truck waiting somewhere up ahead.