Blog
REGISTER NOW
LOGIN
SIGN UP FOR OUR NEWSLETTER
Toronto International Bike Show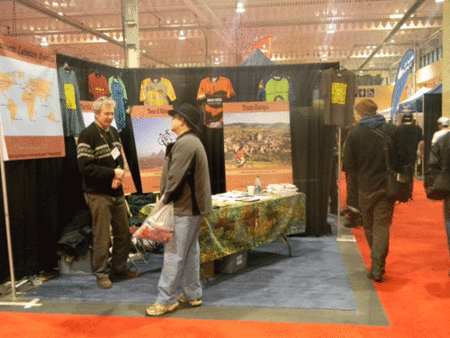 Tour d'Afrique had a booth at the 3 day Toronto International Bicycle Show this past weekend which attracted an estimated 8000-10000 visitors. We tracked our activity, which included 148 meaningful conversations, 500-600 brochures handed out, and 81 opt ins for the monthly e-newsletter. Everyone who signed up for the e-newsletter was entered in a draw for a free copy of the 10th Anniversary of the TdA Book and a Buy a Bike for Africa t-shirt. This morning Henry drew the winner's name out of a Cinelli hat and he is Michael Sienko, a 20 year Polish Canadian who bought his first road bike last year and spent 45 minutes at the booth on Sunday afternoon in awe of what we do and trying to figure out how to get the $ together to do TdA –a most worthy recipient indeed!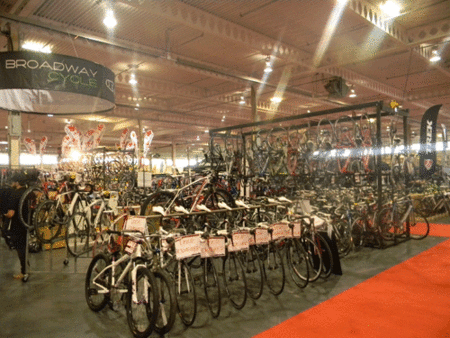 Thousands of Bikes waiting for the Show to Open on Friday Morning
Most of the bike shop dealers were intent on getting rid of last year's leftover stock at supposedly discounted prices, while manufacturers displayed their newest products and gadgets, cycling clubs, tour companies and energy food providers wooed potential customers and the public hunted for bargains to kick off the new cycling season.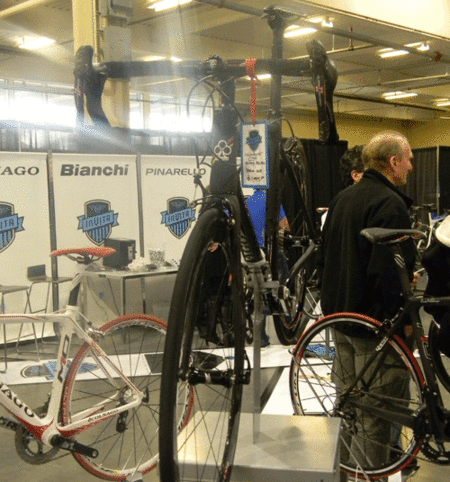 What would you rather spend $12,000 on? This 2 wheeled "status symbol" OR your entry fee on the Tour d'Afrique – a 4 month and 12,000 km trans-continental adventure of a lifetime!
All in all the show proved to be a very worthwhile weekend that we reckon will get us several future customers, maybe more!