Blog
REGISTER NOW
LOGIN
SIGN UP FOR OUR NEWSLETTER
TDA July book reviews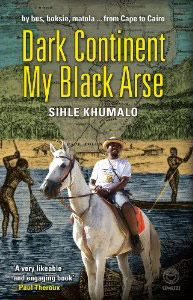 Dark Continent My Black Arse- Sihle Khumalo
Planning an African adventure? You will enjoy Sihle Khumalo's homegrown account of his Cairo to Cape Town journey. Provided of course you don't take offence to his sometimes childlike, and at times embarrassingly frank and honest writing laced with political and social incorrectness, and good dollops of sexism and lechery. And if you do, you will miss out on an authentic, fun and engaging perspective of Africa by an African.

Khumalo is a successful South African business man who decides at the age of 30, and after being engaged to the woman of his dreams for long enough, that, 'it is now time to do all the stupid things I could before legally giving my woman a chain and padlock', he writes.
So he dashes off on an adventure from South to North using only public transport; be it taxi, bus, train or horse.
On his journey he is forever chasing the ladies and falls in lust with all the different cultures, whilst longing for his fiancé, which is a bit disturbing. His comparison between European and African women made me cringe but his writing is good enough to keep me going.
At the beginning of each chapter he gives a concise and accurate historic overview of the countries' leaders which neatly pulls the book out of the depths of his creepy female obsession.
For fun he doesn't hesitate to bungee off the Victoria Falls Bridge, cruise in a microlight, and engage in debate and local beer with his fellow travelers and hosts. I can't help but think that with a bit more focus and thought this could have been a truly ground-breaking insight in his/my 'Dark Continent'. Still he does not pretend it to be such a book and so it should be enjoyed as an honest and light read.
Author: Sihle Khumalo
Publisher: Umuzi Random House, South Africa
ISBN: 978-1-4152-0036-0
222 mm x 146 mm, 224 pages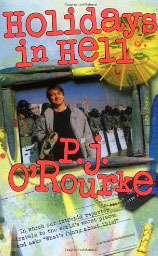 Holidays in Hell – P.J. O'Rourke
Here is a collection of places in the world to visit when you feel as if your life is just a boring old bag filled with dull routine, functional human rights laws, clean streets, polite drivers, a well-behaved police force and buildings without bullet holes.
Holidays in Hell is a collection of O'Rourke's articles written for the likes of Rolling Stone, Vanity Fair and Playboy as he connects with fellow journos covering, 'dirty and disgusting,' places across the world.
O'Rourke takes a holiday in Lebanon and a police force have to escort him from his restaurant as gunfire break out. He finds himself in the middle of a vicious Seoul student riot and still maintains his sense of humor. His third world driving tips are funny and truly spot on.
Being a South African I can say that his political reflection of my country in, 'Whitest Africa', is chillingly accurate, even though it is a somewhat one-sided look at a pre-democratic South Africa. He excels in the article, 'Mexican Border Idyll', but I have to admit Mexico is still high on my list of places to visit.
'I want to see the planet's principal features – what makes it tick. Well the planet I've got a chance to visit is Earth and Earth's principal features are chaos and war," According to Rourke.
At times he gets a bit cynical for me, so I find him best taken in small portions to make sure I stay with his dark humor, one hell-raising article after another. I still don't miss a single article. A truly brilliant writer and a brave journalist.
— Astrid Stark