Blog
REGISTER NOW
LOGIN
SIGN UP FOR OUR NEWSLETTER
To the End of the World
Our final cycle, after lunch, into the temple at Lamanai was so beautiful. A long pale and bumpy dirt road crawled through fields of fresh corn leaves sighing in the breeze. Big fat clouds dipped low into the bright green rainforest canopies. There were hardly any cars on the road despite our fears that the Doomsday hippies would be out en masse on the last day of the world.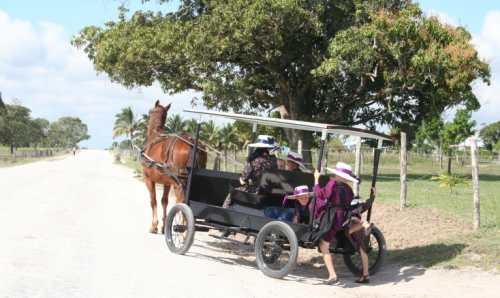 We cycled through a pristine Mennonite community.  There is said to be about 10 000 Mennonites living in Belize. They only travel by horse drawn buggies and farm their vast lands by tractor. There are horses everywhere. Women and girls, outfitted in long conservative floral dresses topped with bonnets and ribbons, sit or walk together.  When I cycle by I do the usual wave and whoop and hello but the women avert their gazes and the children are told to look away.  I later find out that it is a very conservative Mennonite community and I am probably a bit scantily dressed in my cycling shorts and shirt.  As is Lady Lisa Lamanai, aka Lisakc, who is dressed up as a warrior, an outfit constituting mostly of bits of fake leather straps and a tiny skirt, for our cycle to the pyramids. Needless to say that when Lisa tried to engage the Mennonite ladies in conversation, she did not have much success.   The men and boys wear denim dungarees and straw hats and they can't stop staring at us on our bikes.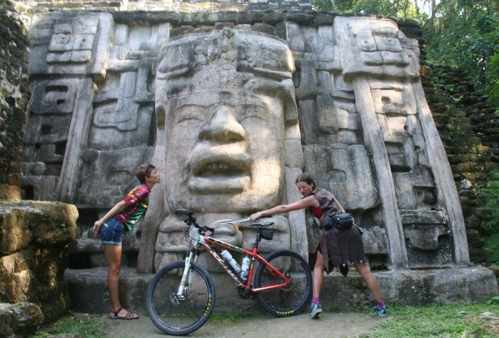 The Lamanai ruins are not as well preserved or as big as Tikal or Copan Ruinas but it has an incredible ambience and having it all to ourselves for an afternoon is an experience we will never forget. Our soundtrack for the lunch next to the temple was made up of the cries of howler monkeys, tropical bird song and the wind rustling through the leaves. It was pure magic, and a good time to let our minds wander back to where it all began in Costa Rica and our rainy and bumpy start from San Jose, the melancholy beauty of Nicaragua, the instant friendly vibe we received from the Hondurans as soon as we entered their country, and we will never forget the 'brutiful' killer hills and endless dirt roads and striking landscapes of Guatemala. Our final cycle into Belize was tinged with a certain sadness that it will all be over soon. However, some of us are looking skeletal after the extreme days of cycling, and many are ready to swap their bikes for the beach, just for a while.
Adios Doomsday Family. It has been swell.