Blog
REGISTER NOW
LOGIN
SIGN UP FOR OUR NEWSLETTER
On the beach.
The training wheels are off, and the Tour d'Afrique 2013 is in full swing!  A few hundred km's now behind us, the rhythm and routine of life on tour is quickly becoming old hat. After what now feels like a short day of 100km, the tour has made it to Safaga, a picturesque little beach town on the shores of the Red Sea. With everyone managing to knock out the ride in an easy half day, the participants are now enjoying cold beers and cokes on the beach as a lazy afternoon wastes away.
The half day break is well deserved after an impressive first few stages on the road. The most notable being day 2 on tour, a mere 168 km stage which every rider completed without a fuss. Given the age range of our riders this year stretches from 18 to 70, it is perhaps the strongest start yet on a TDA tour. Go team.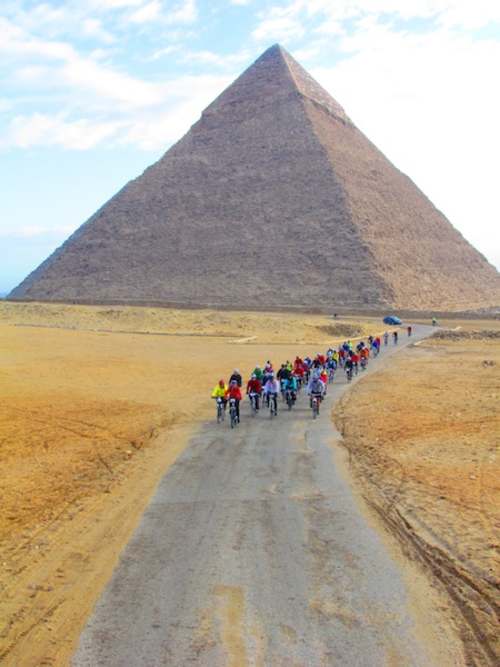 After a cold and stormy few days in Cairo, as the tour prepped and packed for 4 months on the road, the questions of 'what have I gotten myself into' floated in the air.  However, lo and behold, when start day dawned, the sky cleared, Cairo traffic was light and it was nothing but sunshine for a picture perfect send off.  Now that's not to say that the weather has calmed down these last few days. Just ask any one of us how long it takes to set up a tent in 35km/hr winds… Thankfully these winds have been much in our favour, with our fastest racers  averaging over 40kms/hr. Yowza.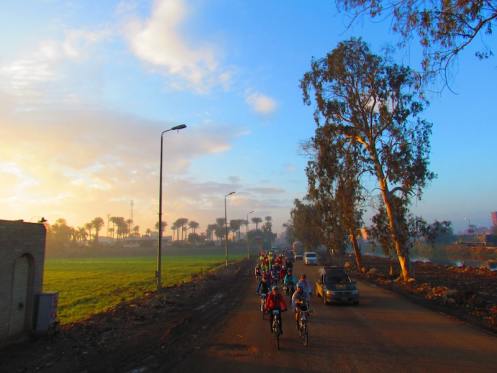 Pushing the race pace since we left the pyramids has been our smoking' fast crew from the Cairo cycling club. These boys are here to ride, and they're here to ride fast, with some of them having come on this stretch of TDA for years and years. It's great to have you guys.
Overall, Quebecer Pascal Duquette leads the race after 4 stages with a cumulative time of 15:15:20, followed closely by German sectional Tobias Munch in 15:31:12, Kiwi John Faulkner in 3rd, and Egyptians Sharief, Aala and Mohammed in 4th 5th and 6th. Among the ladies UKs Elizabeth Brown has a slender lead over Aussie Rosi Winn and South Africa's Bridget O'Meara.
In just 2 more days we will arrive at the historical sites of Luxor and enjoy our first rest day. Stay tuned for more tour and race updates then.