Blog
REGISTER NOW
LOGIN
SIGN UP FOR OUR NEWSLETTER
Holly Beetham TDA 2012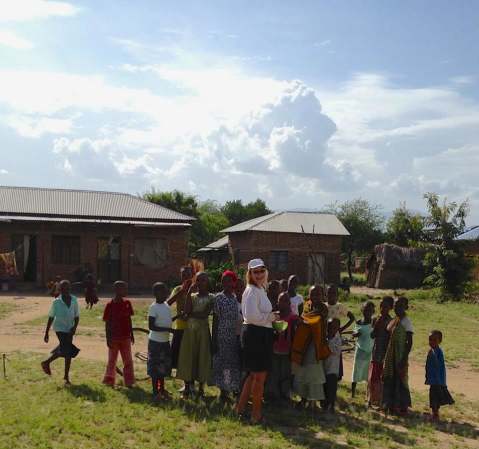 Holly was the second person I met in Cairo before we began our long and incredible journey down Africa. We clicked immediately; she ended up being my closest friend on the trip, and we remained close once we returned home. We went through many really crazy adventures together: my bike being stolen in the middle of rural Tanzania and her assisting in negotiating its recovery, and us being hit by a transport truck are the first to come to mind. Holly wasn't a one friend kind of gal though, she was a social butterfly extraordinaire! She positively affected the lives of everyone she came into contact with.
Holly passed away suddenly and unexpectedly on Monday February 25, 2013. I had visited with her and left just a few hours before. When I shared the news of her passing with our TDA 2012 family I was overwhelmed with all of the lovely things they shared. I could go on forever about Holly, but I'd rather relay how she affected everyone around her.
Holly had such a beautiful and generous spirit. I admired her courage and positivity. I know she had planned to do TDA for quite a few years and I am so glad she did.
-Nola Reynolds
We are all lucky to have had Holly play such a meaningful and memorable role in our lives… Four months felt like four years, and for that I am now glad.
-Jana Dumas
 She was such a bright light and her positivity was infectious.
-Nicole Winders
 Holly certainly brought laughter and fun into all our lives… ride in peace.
-Douglas Percival
 She stills lives strong in my memories…She will always be The Unsinkable Holly to me.
-Marita Reilly
I'm going to miss those long updates, sharing of book lists and life enhancing reads we've had the last few months.
-Shona Bell
God I loved that girl!  She was the fucking best, for real. Glad I had so many chances to tell her that before it was too late.  Coming to Toronto in two months and I wrote a list of people I need to see there, and she was literally the first one I wrote.
-Jennifer Dyck-Sprout
… Holly was the last TDA rider I said Goodbye to. That Hug…
-Peter Goodman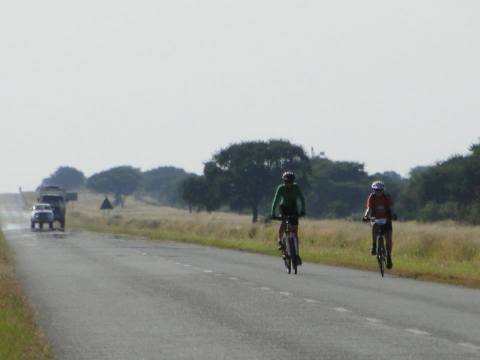 One of my first images of Holly was on one of the first hot mornings… she appeared almost as a ghostly apparition, with every exposed pore caked with sunscreen. Adding to the effect was the fact that she had chosen to dress in almost all-white cycling clothing!!! Two thoughts sprung to mind (humourous of course): I know Africa's sun is harsh, but not THAT harsh! And… I wonder whether she realizes how her appearance is a sight for sore eyes! You coulda chosen some colour Holly! As one got to know Holly better, one understood…  she valued the protection of her skin more than her "general appearance"! I think what I'll remember MOST about Holly was her "cackle"… This would usually have been preceded by some witty comment that she'd made herself… although she DID come up with some pearlers! …she completely lambasted Africa, and everything … African that one time! As we in Africa would say: she was "woes" (pronounced 'voo-s'). Yes, she wanted connectivity!
I have broken out into many unashamed fits of tears as I think of the many occasions I shared with Holly.
-Steven Smith
  …memories of her are still so vivid… She was always so positive. I will always remember her great laugh…
-Jurgen Meijer
 So hard to comprehend how such a gentle, fun and loving spirit can be taken away before her time. She was "light" to so many of us.  Dear Holly, the arranger of Donkey Showers,* is still able to bring us all together even though we are strewn across a myriad of continents; the power of a girl with a strong spirit. 
-Gizele Price
…the amazing spirit of Holly will shine bright forever.
-Natalie Sisson
.. wonderful memories of Holly …  especially the Trivia Night we held where she was very cheeky with some of her responses and we were both were giggling like naughty children.
-John Phillips
It brings her back to my mind vividly, on the bike (sunblocked to the max and with that big smile) and in camp (always interested, and in for a good story and a laugh). She'll not be forgotten.
-Femke Nelissen
RIP Super Holly. You'll be always in my heart!
-Carlos Baez Aleman
 She was truly an inspiration and will always be remembered as fun and full of life.
-Rosalyn Goodwin
…we had a longest cycling journey 207 km to Namibian border, Holly and I got up early in the morning (3:00 a.m.) and then we started before 6:30 while it is at dawn. Ah!!! I miss her so much…
-Ming Jiing-Hsieh
She was such a beautiful person with a unique personality – she will be missed in this world.
-Claire Pegler
 I can remember on the tour vividly my first conversation with Holly. It was one of the only time trials I actually decided to race… I pulled up beside her I immediately gave up the time trial and had perhaps one of the deepest, most real conversations I have ever had with anyone.
-Graham Lister
…she was a wonderful person on and off the bike…
If anyone lived in the last year it was her and we all saw it; her strength will be remembered for all those who knew her and suffered together in the Tour D'Afrique 2012
-Adam Lister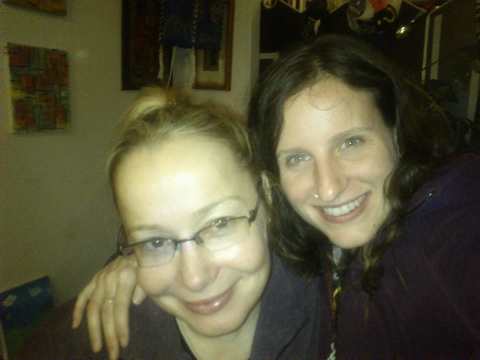 Let's be honest I do have a bit to share as well. I will finish with a bit from the letter I wrote breaking the bitter news to the group: Remember that contagious laugh, her compassion for everyone with whom we share the Earth (even the bugs), her persuasion skills, and the way you'd find yourself talking about personal things you were sure you'd not share, her perseverance and determination to finish some days (perhaps physically the weakest, but mentally she was up there with the racers), to recover post injury. When she triumphed over the challenges that ended the tour for her and came out as bright as ever, I was sure she was unstoppable. The tour ended for Holly unexpectedly and abruptly three weeks prior to reaching Cape Town. When we were hit by a transport truck Holly was badly injured and had to remain in hospital.
Holly, the world will miss your joy, your laugh, and your compassion. I love you Holly Berry!
-Lisa "Little Spoon" Kingsley-Correia
Visitation is at the Taylor Funeral Parlor in Sutton, Ontario from 7-9pm on Friday the 8th of March. On Saturday the 9th at 2pm there will be a memorial service at the Knox United Church in Sutton.