Blog
REGISTER NOW
LOGIN
SIGN UP FOR OUR NEWSLETTER
2013 Tour d'Afrique Female Race Winner – Bridget O' Meara
South Africa's female winner of the 2013 Tour d'Afrique Cairo to Cape Town, Bridget O'Meara, shares some of her memories and tips for the 2014 cyclists.
Why did you decide to be a racer rather than a leisure rider?
Part of my reason for doing the tour was to see Africa – but I am an impatient person, so did not want to do that too slowly!  From the outset I knew that I would want to ride to the best of MY ability, irrespective of where I would end up in the rankings.  The idea of racing was in my head before leaving home, but without any idea of whom I might be up against.
How does it feel to be the female winner of the world's most gruelling and longest timed bicycle race?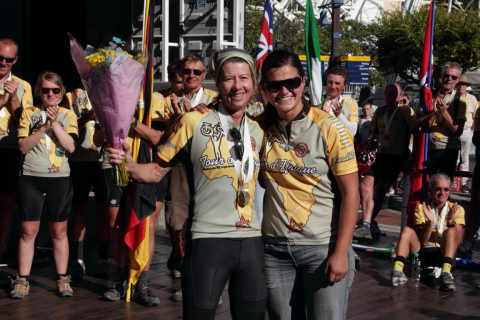 Elated, but can't quite believe it really happened.  Is it a dream perhaps?  Gruelling is forgotten by the pure emotion and happiness of winning – and every time I look at photos of the trip I get a bit choked up.
Which country stood out for you as the most interesting/exciting to ride through?
Sudan and Namibia were my favourite countries….both are harsh, but beautiful environments. These two countries made up many of our dirt sections, which for me were challenging and enjoyable, and suited my riding style.  We all found the Sudanese people to be really friendly & welcoming. The Sahara sandstorm that we experienced in Sudan was also something to remember, a real reminder of the forces of nature. Every country had it's own highlights, and it was fascinating to feel the immediate change of environment and atmosphere that was tangible as we crossed each border.
What was your biggest physical challenge?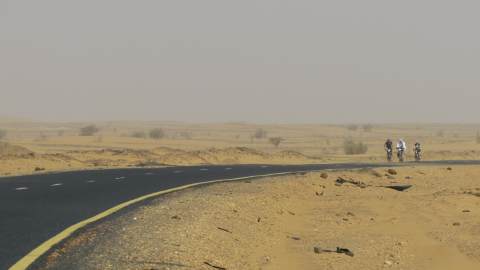 Coping with the heat at times, especially after we finished riding and were in hot, exposed campsites.  And of course there were days when my body felt really fatigued, and I could happily have left my bike on the side of the road, and crawled under a bush for a little nap. Some of the hills in Ethiopia come to mind as a challenge.….they seemed never ending, but the scenery made up for the effort. Luckily I never got sick, as this could have changed everything.
Four months is a long time. How did you experience the human dynamics of life on tour?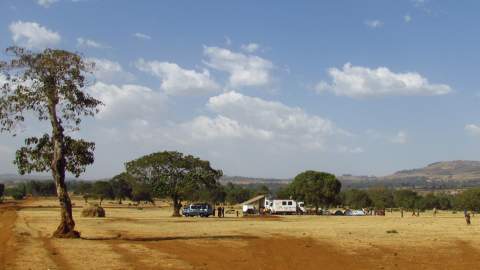 Ok, let's talk about the support first.  The staff members were fantastic, the meals were wonderful.  Folks back home were worried because we're all looking a bit skinny, which is certainly not because of the food.  The staff members were just wonderful, whatever we need, whatever we ask for, they make a plan one way or another, and they work damn hard.    If they're not peeling potatoes, they're fixing the truck, or generally looking after us. As for the group, I'm amazed at what a spectrum of people we've had; age and ability, and I am amazed at how open the group is.  Although one is drawn to certain people, it's was just such a friendly group with no cliques and no politics. I've never encountered a group of 60 or so people who are so interwoven and supportive of each other, it's quite phenomenal.
And what did you find emotionally challenging?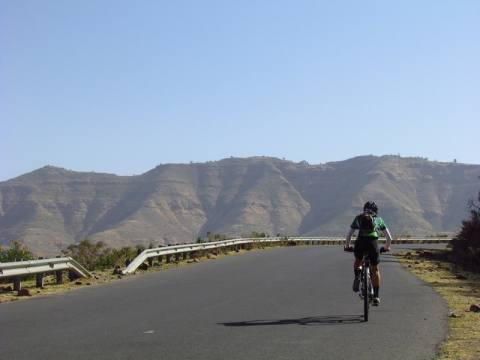 The biggest mental – emotional challenge was resisting self doubt… often I would be so overwhelmed by the distances we were covering that I would wake up in the morning thinking "how can I possibly do this today?" but, by focusing on the race and on keeping EFI status, these thoughts would disappear once I started riding. The support and friendship from my fellow riders helped immensely during the trip, and all in all, I was happy most of the time, as I thrived on the adventure of the tour… camping, new places, physical challenges and simply being on my bike  (you have to like being on your bike).
What training would you recommend for the Tour d'Afrique 2014 riders?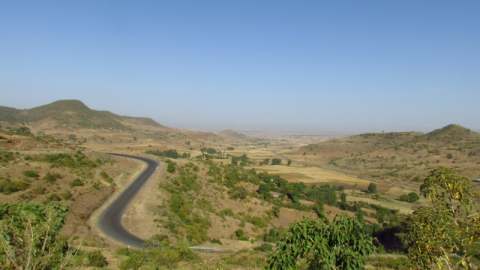 I was training about 12 hours a week, of which 2 hours were indoor "power" training sessions on a Computrainer, and the balance longer outdoor rides… this is certainly enough for a good base from which to start.  But, as long as one has a reasonable level of fitness (even from another sport such as running) I think the tour is very doable, as one can build up stamina and strength as the days go by.
What bike would you recommend?
Tricky question, this is a very personal choice.  I was happy with my hard tail mountain bike, as for the dirt sections I really appreciated and wanted front suspension.  I think for a serious, hard-core racer, a lighter cyclocross bike would be an advantage.  And of course the right tyres make a big difference. Bridget rode a  BMC hard tail mountain bike.
Would you recommend this adventure to others, and if so, why?
Absolutely, it really is the chance of a lifetime.  The tour organisation is excellent, and Africa is a big challenge, so the back up that the tour provides makes it a "cruise".  Doing a trip of this nature without support would be much harder, and the years of planning & experience that the TdA have invested in their tour are underestimated. Travelling by bike is also a wonderful way to see places. One feels part of life going on around you, because all your senses are involved. One can feel, taste, smell, hear and see in a way that doesn't happen in an air-conditioned car or plane. I am definitely hooked on cycle touring. The end of the tour can often be a bit emotional and readjusting may be difficult.
How are you coping without your Tour d'Afrique family?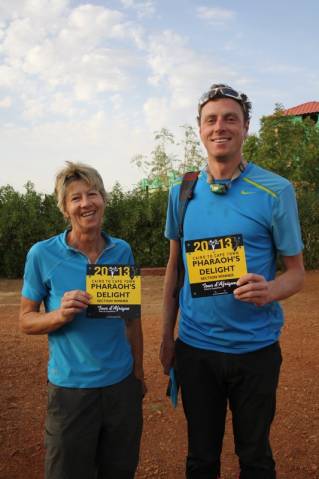 Being part of the Tour is like being in a cocoon, nothing else matters but what is happening in that small environment.  Emerging into the "real" world is a bit of an adjustment, but of course home and the familiar daily routines are easy to slip back into.  So, I miss the TdA family but all it takes is a bit of effort and we will stay connected, and hopefully some of us will ride together again somewhere, sometime…. It is a privilege to have made so many new and close friends in the 4 month journey, and that is one of the amazing facets of the tour – the camaraderie that develops in the cocoon.
What is your next big cycling challenge?
The intention was to settle back into my everyday Knysna life.  But, the opportunity arose to go to Sandy Seager's (one of my tour buddies) wedding in Calgary, Canada. A bit of research about cycling in that part of the world led to a decision to ride from Calgary to Boulder, Co. following the Great Divide mountain bike trail, so I will start in early July and spend a month on the trail.  Seems like the only concern will be the bears!!
Last parting advice for future riders on essential gear for the tour?
Tricky question. Rehydration salts and lots of chamois cream! Most important of all despite my serious answers to these serious questions it was FUN.
Thank you!