Blog
REGISTER NOW
LOGIN
SIGN UP FOR OUR NEWSLETTER
Soak up a bit of culture after an Epic cycle trip
Sydney Opera House is the mother of all art and event theatres. This gorgeous impressionist building attracts more than 8.2 million visitors a year and contributes more than $1 billion to the Australian economy. However, this beauty started off on wobbly legs. Jørn Utzon's award-winning design was called 'daring' and 'groundbreaking' and initially things went swimmingly. As the time, and pressure wore on, things started unraveling between the client, the designer and the Government. Eventually, Utzon left the project and said that a refusal to pay him any fees and the lack of collaboration caused his resignation. He later famously described the situation as "Malice in Blunderland". Ultimately, the project was completed ten years late and more than fourteen times over budget. Utzon and his rivals did finally kiss and make up and he helped with the building's refurbishment in later years.
Our Trans-Oceania Bicycle Expedition will end in Sydney on December 21st, 2014 – just in time for the slew of special holiday shows, musicals, plays and performances, all presented at the Opera House. The building is also turning 40 this year so we may well expect an extra jam-packed line-up. After many moons of cycling it will be a treat to just sit back in a soft seat, without pedaling, and enjoy world-class entertainment,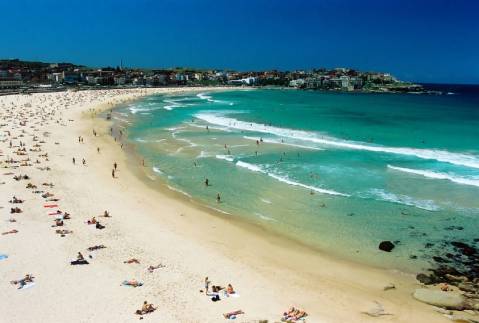 The Aussies go big over Christmas. Organized by the city, festivities start from October 28 to December 25 and the streets are filled with markets, and artists. The city will be drenched in fairy lights and other kitschy but charming paraphernalia. It is well worth it to stay a little longer at the end of your bike tour to relax and be charmed by the Australia's cultural offerings. And its beaches!
If you just have a couple weeks vacation time, the Wizards of Oz section (Melbourne – Sydney – 12 days and 1150kms) is part of our Tran-Oceania experience and you are welcome to join us on this section from December 10 – December 21, 2014