Blog
REGISTER NOW
LOGIN
SIGN UP FOR OUR NEWSLETTER
CYCLISTS DRAW ON DETERMINATION TO COMPLETE WEEK ONE
by Tim Padmore
Luxor, Egypt
Ten pounds of pink tongues lick the lips of four large, hairy water buffalos in a dusty cattle truck stalled in Cairo traffic. Saliva drips on the helmet of a TDA rider picking her way through the snarl.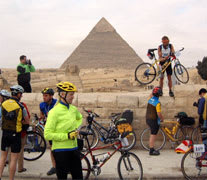 We haven't even started, but it sure feels like Africa already.
A few minutes on, we're at the pyramids of Giza, familiar school-book images suddenly bright and real for us at the official Start of the first Tour d'Afrique. The 34 riders, including organizers Henry Gold and Michael de Jong, have slept little in anticipation of the first lap of what Henry describes as the ultimate endurance challenge. We pose and swap cameras to get snapshots of the historic moment.
Egyptian security is tight, as it will be throughout our journey through that country. We will be traveling through areas where ordinary tourists are forbidden or which they are allowed to traverse only under armed escort. Police and soldiers have cleared the small square in front of the Sphinx, where we have gathered. Twenty officials and politicians in dark suits arrive by car and are seated by the start line. This is an important event for Egypt. Cycling events and the people they will bring to Egypt are part of the country's tourism strategy. (The Paris-Dakar bicycle rally, with 3,000 participants, now passes through Egypt, and was underway as we assembled at the pyramids.)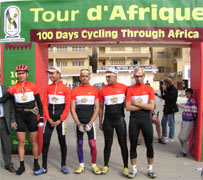 Six members of the Egyptian national team have joined us and plan to ride the entire Egyptian leg. They are young, lean and keen. There are speeches, and we are off, a colourful and varied crew: ages ranging from 21 to 63; mostly Canadians, with a handful of British and Americans and representation from Switzerland, Belgium, Austria, Holland and Germany; a great range of skills, strength and experience but everyone with a heavy endowment of determination. Mostly our bikes are mountain bikes or hybrids, many of them specially assembled and tuned to deal with the conditions we expect to face.
Determination is what we will need most. The first five days took us directly east to the Red Sea, down the coast near the tip of the Sinai Peninsula, then inland through ragged mountains back to the Nile River, then south to Luxor — more than 750 kilometres before a day off in that city of temples. It's not always the distance. Everyone agrees the toughest day was the shortest, a 93-kilometre ride against a stiff headwind in the high desert.
Our fastest riders generally go in a pack, often with the Egyptians, who can usually outpace us on their road bikes. There is no reward for finishing first in one of the daily stages. Overall, it is the total time and finishing that counts.
Two finishes are worth noting in this update. January 20 was American Kyle Yost's 31st birthday. Kyle is usually in the front group and today, in a spirit of celebration, the pack saluted him into first place, finishing 132 kilometres in three hours and 29 minutes.
The other finisher is Sandra McMillan, 55, of Charlottetown, Prince Edward Island, a tiny beautiful island province in Canada. Sandra left Cairo wearing a powder blue sweater, sandals and no socks. I thought the first day might be her last. It wasn't. She doesn't always finish but every morning she starts with us just after dawn. She will pedal until dark, when the roads are too dangerous. If that happens, the crew will pick her up in the truck. Sandra McMillan earned everyone's respect the first day with her grit, and she has re-earned it every day since. Determination!