Blog
REGISTER NOW
LOGIN
SIGN UP FOR OUR NEWSLETTER
Dongola Update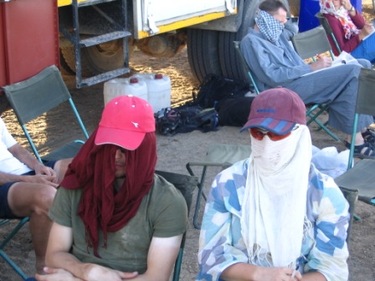 Each participant of the Tour d'Afrique is here to conquer a personal challenge. But their individual goals vary widely. Some are here to be the fastest person to cycle the African continent. Others ride each day on a photographic mission. And some just want to experience and enjoy the diversity of cultures and geography. Often as the tour progresses these goals change.
What's different still, is when the tour is over, what each person will take away with them. I'm not referring to souvenirs, but the lessons they learn about themselves and humanity in general. The experiences on a tour of this magnitude will often alter the system of values that they carried with them to Cairo. Not just by witnessing how Africans live, but by adjusting to the lifestyle that we maintain; riding your bike everyday not driving your car, learning to shower with a 750ml water bottle and for 120 days having all your worldly possessions in a small wooden locker. I have recently had a personal experience that has made me rethink the material world.
There are many challenges throughout this tour. Some are physical and some are mental. There are also some unforeseen hardships that amplify those daily challenges. This is my fifth year to be involved with the Tour d'Afrique. In these years I have lost my grandfather, I had to lead the group through the Alfons situation, and once again I was caught emotionally ill prepared. When we crossed into the Sudan I found out that my family's cottage had burned to the ground. This was not just my cottage, this was my home. Anything and everything I've ever owned was kept there and now it was gone. Now all my worldly possessions are truly contained a small wooden locker. Upset as I have been, the lesson I have learned has nothing to do with materialism.
Two weeks ago all the staff and participants, 61 people, were all complete strangers to each other. But the friendships and bonds form quickly. In past few days I have received hugs when I needed them, someone wrote me a poem and another gave me a gift, a simple token to begin again my collection random trinkets. What impresses me is the quality of the human spirit, the willingness of the people here to help each other overcome even the most monumental of challenges. And I realized that the support each rider receives comes not from the meals we cook, the directions we give, the mechanic, the medic or the trucks. The best support comes from each other.