Blog
REGISTER NOW
LOGIN
SIGN UP FOR OUR NEWSLETTER
Henry Says…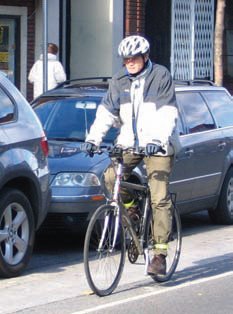 I confess: I am a cyclist. A
steadfast bipedal animal
who believes that the best
way to get from point A to
point B in our cities — the
best for satisfaction, health
benefits, for the planet —
is to use one's own muscular
wherewithal.
A Dedicated Cyclist
Thus, rain or shine, heat or cold, I
commute to my office, to the market,
to visit friends. Though as my friends
observe, I am somewhat more fanatical
than most cyclists. In the past, I
have bicycled from Cairo to Cape
Town, a journey of 12,000 kilometers,
and from Paris to Istanbul, a trip
of 4,000 kilometers. Last summer,
along with a group of about 45, I
biked from Istanbul to Beijing on the
inaugural Silk Route Bicycle Tour – another
more than 10,000 kilometer trip.
I do this mainly for adventure, but also
to demonstrate that yes, if you will it,
you can cross an entire continent on a
bicycle in 100 days or less.
For this thankless endeavor, to
quote the comedian Rodney Dangerfield,
"I don't get no respect." Of
course, I am not alone; all cyclists
belong to the same much-abused club.
Although we pollute less, and spew
fewer climate-warming gasses into the
atmosphere, we are often treated with
contempt and ridicule.
Just Asking for Respect
I understand this. After all, what
normal person prefers to cycle to work
when the temperature is minus ten?
What normal person wants to deal
with drivers that insist on proving they
can get to the next corner faster than
you and, in the process, force you to
slam on your brakes just to stay alive?
What sane person would ride in a city
that says it wants to reduce smog and
congestion, but never bothers to clean
the miserably few bike lanes set up for
us, the third-class citizens?
On occasion, while thanking the
Almighty for helping me avoid being
hit by another oblivious driver talking
on a cell phone, I muse: What would it
take for the non-cycling world to grant
us a modicum of respect?
Perhaps if cycling accidents killed
a few pedestrians every year, as thousands
of cars do … or if we created a
major threat to the planet, like climate
warming … or if we organized annual
trade shows with sinewy, semi-naked
models posing on the handle bars, and
major media outlets sent journalists
to review the latest human-powered
vehicles … perhaps then we'd get some
respect.
As it is, we exist at the margins.
Several years ago, the international
community of cyclists met in Cape
Town and drafted a document calling
safe cycling a basic human right, equal
in importance to freedom of expression
and the right to clean water. Of course,
not one major media outlet
bothered to mention the event.
After Transforming My Life
Truth to be told, I was not always
thus committed to being abused. Two
decades ago, as a young engineer, I
owned a small sporty automobile and
was known to zoom from my apartment
to my workplace in 90 seconds
flat, traffic permitting. I had to deal
with the odd irate policeman and visited
the traffic court once or twice, but
the sheer exhilaration of burning tire
was worth it.
What changed me? The CBC — a
local radio station. There was nothing
unusual about the day: It was a day like
any other. After work, I went to the
gym to work out my frustrations, came
home and ran a warm bath to relax
my aching muscles. I set the radio to
CBC's Ideas program and sank into
the steaming water.
A man I had never heard of, Ivan
Illich, was being interviewed. He explained
that the automobile, far from
being a vehicle that frees an individual,
in fact is a machine that enslaves him
and controls his life.
And there in the bathtub, with my
skin shriveling, with my ancestors who
fled slavery thousands of years ago
whispering in my ear, "go, break the
shackles," I resolved to become a free
man.
Not long after, I submitted my letter
of resignation, moved downtown,
and started working for a not-for profit
organization, earning a third
of the money I had made before and
enjoying my new-found freedoms. It
was the same time when I began to
appreciate cycling for everything that it
has to offer.
Lately, with all the hoopla about
the polar icecap melting, and the
corner ice pond refusing to freeze,
even my once skeptical friends are
beginning to listen to me. Indeed, I am
beginning to think that we cyclists may
be on the brink of a new era.
Dreaming of a Transformed
World
Last night, I awoke, sweating,
from a dream in which I was cycling
through my hometown of Toronto.
There were no cars or trucks around,
only pedestrians, cyclists and streetcars
in their dedicated lanes. I saw many elderly
people and children on bicycles,
streets vendors of every size and color
with items for sale from all around the
world. There were crowds sitting outdoors,
drinking lattes and watching the
passing scene. The most amazing thing
was that even though it was blistering
hot, the air was crystal clear — no
smog to be smelled or seen.
I got up and took a cold shower.
After all, I know what reality is. Bicycling
to work this morning, like every
morning, was likely to be a life-threatening
adventure.
– an article in American Bicyclist Magazine November/December 2008
http://www.bikeleague.org/members/pdfs/american_bicyclist_nov-dec_2008.pdf