Blog
REGISTER NOW
LOGIN
SIGN UP FOR OUR NEWSLETTER
The Rain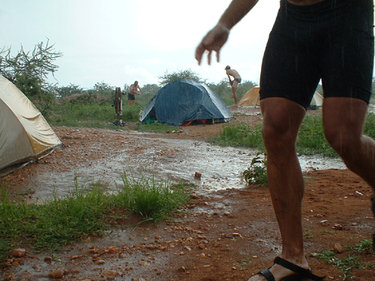 Being an Albertan I am quite used to driving in the Rocky Mountains; skiing in the winter and camping in the summer.
As a child I attended a YMCA camp in Kanaskis and would regularly be riding in the car with my mom and sisters, looking at massive rain systems loom directly in our path – my mom's knuckles turning progressively whiter and whiter as the sun disappeared, the first drizzles hit the windshield and then finally the vehicle becoming engulfed in a biblical downpour.
My little sister used to believe she had magical powers over the storms (she may still do) and would enthusiastically utter the following incantation:
"Shimaree!! Shimaraw!! Make this rain go away Poof!!!"
Amazingly enough, this would work from time to time… although I imagine the fact that I live in a province where in the course of an afternoon one can experience snow, rain, and brilliant sunshine may have had a bit to do with it.
Regardless, over the past few days I am none too ashamed to admit that I have appropriated my little sister's mysticism and uttered that spell a few times. Some may ask "But Erik, why would you resort to such silly superstition?" Good ask.
We have been more or less inundated with rain over the past few days. Luckily it held off until we were on the tarmac roads but it still has soaked every rider to the bone for a few nights. Tents are saturated and smelly, shoes flooded and socks need to be wringed out upon arrival in camp. Nothing dries during the evening or at night so riders have resorted to using the lunch truck as a de facto drying line.
As I write this the skies have opened once more and driven all to their tents.