Blog
REGISTER NOW
LOGIN
SIGN UP FOR OUR NEWSLETTER
Lusaka it to me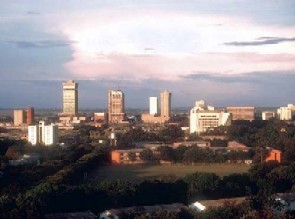 Td'A has pulled in hard to the bustling Zambian capital of Lusaka. The riders have been treated to a decidedly Western city with movie theatres, ice cream and a major shopping centre.
Despite the gradually increasing availability of goods and products that we have been noticing as we move closer to South Africa, this city has truly been our first reminder of everything we left behind… camping in deserts, dodging snakes, waking up at ungodly hours and cycling our asses off.
For those of you out there expecting us to be engulfed in nothing but four months of hardship, don't worry. Tomorrow we set off for another bush camp and in a few short days we will arrive in Victoria Falls, the adrenaline capital of Africa. Riders are already planning rafting trips, skydiving and bungee jumps.
The hard months in Egypt, Sudan and Ethiopia are the cheques we wrote to ourselves to justify such excesses.
Everyone is ready to cash them.