Blog
REGISTER NOW
LOGIN
SIGN UP FOR OUR NEWSLETTER
One of the Top Five Days of the Tour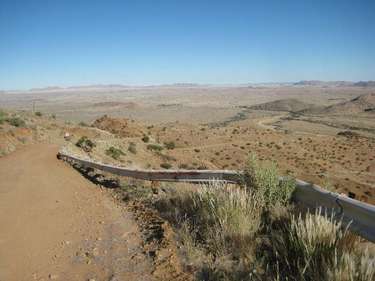 After a tiring long week in Botswana, we have crossed into Namibia. We were told we had 2 days of dirt from Windhoek to Sesriem; one being 147 km, and the other 155 km. Long, hot, hills, and dirt. I have to say initially many of the riders, including myself, were not looking forward to it, after a tiring week, however, yesterday has proven to be one of the best days of the tour.
Yesterday morning we woke up all very cold and tired after a chilly night of frost on the ground. It was our last bush camp on the tour which is actually sad; it was a great bush camp with a big bonfire to warm us up.

We all rigged up, and hit the road and it was a sensational day. The scenery was beautiful; desert-like plains with mountains jutting up all around us. The ride started with a slight climb over Spreetsghoote Pass. As you come over the pass you were struck by a beautiful view across a huge valley. This was followed by a fantastic and fast and challenging descent. We dropped 500m in a mere 4 km.
At about 45 km we came across Gecko Camp where we hiked up a little hill to a restaurant with any cold drinks you could imagine and a sensational view. Eventually we tore ourselves away and rode another 30 km to Solitaire where there was another restaurant famous for their apple crumble – which happens to be my favourite desert. So I stuffed myself with a game burger and apple crumble and a magnum ice cream bar on top. This time I had to be rolled out of there onto my bike and I spent the next 40 km fighting not to be sick from over-eating.
The riding was tough, being a mix of sand, loose rock, and it was a long day with some riders getting into camp as the sun disappeared behind the dunes. But every single kilometer was worth it; being so beautiful and such a welcome change from the riding in Botswana. Iit has definitely been voted as one of the top 5 days on the tour.
Today we have a rest day in Sesriem which is a small little resort/camp at the gate to the sand dunes. Most riders and staff were up at 4:30am to head to see the sunrise over the dunes. It was hard but I dragged myself out of bed. Again it was well worth it as the dunes were very, very impressive.
Ahead is another 5 days of long days in the dirt before our next rest day at Felix Unite Camp on the border with South Africa….