Blog
REGISTER NOW
LOGIN
SIGN UP FOR OUR NEWSLETTER
The Riders Speak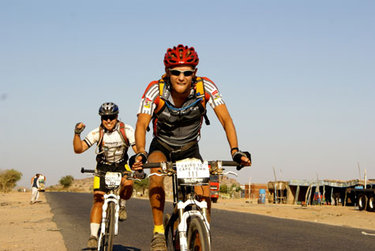 Erik Dobrovolsky: Where are you guys from?
Tim Gane: We're both from South Africa. I'm born and bred in Johanesburg and have been living and working in Cape Town for the last three years.
Bruce McPhail: Same with me, but I have been working in Australia for about 8 years.
ED: How did you first hear about the tour?
TG: In my job, we have a news website and we kind of cover the tour because it finishes in Cape Town, so every year we make a little bit of a spiel about it. I came across it that way and was quite keen to check it out in more depth so I sent an email to a bunch of mates to see if they were interested in doing it with me.
BM: And I was the only one who responded.
TG: Yeah, Bruce was the only one who said "Yeah, I'm keen"
ED: How did you prepare for the race?
BM: Just lots of time in the saddle, went to the gym quite a lot and started to eat healthier in general.
ED: Has the tour lived up to your expectations so far?
TG: Beyond it for me. I think maybe in the beginning I didn't expect it to be this tough. I though myself quite fit and strong going into it and underestimated how your body breaks down and then rebuilds through different cycles. But having said that it has really been an amazing adventure, good fun and I think how it's run as a company has just been fantastic.
ED: What has been your favorite country so far and why?
BM: Tanzania definitely. The scenery was beautiful, seeing Kilimanjaro was unreal, the Ngorongoro Crater was out of this world. The riding was really interesting; we had a combination of roads, dirt roads through mountain passes and there were some tarred sections. I really like it.
ED: What has been the most challenging aspect of the tour so far?
BM: I would say health. I have struggled a bit with health. Cycling almost every day and not feeling great really becomes a challenge psychologically.
ED: Are you raising any funds for charity?
TG: Yeah, that was one of the main reasons we decided to embark on this. We're raising funds for a school on the Eastern Cape of South Africa, which is quite a poor province. The name of the charity is cycle2learn.org. Our goal is to raise enough money to build them two new classrooms and for that we need 180,000 Rand and at this stage we have about 130,000 Rand. We're hoping for quite a big push towards the end as we near home.
ED: What kind of support are you receiving from home?
TG: Friends and family have been amazing but above that are the strangers who have donated to the school and then don't loose interest but follow our daily blogs and diary. These people also send us emails often and it does a world of good when you get into a rest day, log onto the internet and read an email from a stranger offering support and encouragement. It's incredible and really lifts your spirits.
ED: What has been the most surprising aspect of the tour so far
BM: I was surprised by the range of people that came along. You have guys that are elite athletes and guys that are well into retirement. The spectrum is as wide as you can get it.