Blog
REGISTER NOW
LOGIN
SIGN UP FOR OUR NEWSLETTER
Off and Biking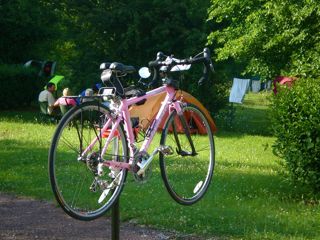 It's been a busy and exciting week in Europe! My week started with the long drive from Istanbul (where our big blue Mercedes is parked) to Bratislava, where I met up with Josh, who is the Tour Leader on the Orient Express 2009. Then in no time we were on our way to lovely Paris.
I must say driving across Europe in 4 days is a peculiar way to start a 7 week bike tour across the same continent. The countries and borders flew by, there was no time to taste any authentic local food, certainly no time to attempt speaking the local languages, or to even sleep! On the broad highways of Western Europe there is little that beckons one's imagination, or curiosity to explore further; this form of vehicular transportation is a feat of engineering, but in it's utilitarianism loses any trace of travelling's essence.
Hence, the bicycle. What a wonderful opportunity, we the participants and staff, of this years' Orient Express Tour have before us. Slowly we will cycle. (o.k., I'll be driving the Mercedes, but slowly) Each village, town, and city we come to will afford us the chance to spend a moment, experiencing the local life, witnessing the routines of it's inhabitants, familiarizing ourselves with the different perspectives new cultures bring. The music, cuisines, and languages which await are myriad and bountiful.
So,
this Sunday
we'll suit up, get on our bikes in the early morning, and begin the ride to our first camp, located in Chenoise at an old Farmhouse. Let's hope for sunshine!
Please keep tuning in for updates from the journey.