Blog
REGISTER NOW
LOGIN
SIGN UP FOR OUR NEWSLETTER
Welcome to Cape Town, TDA!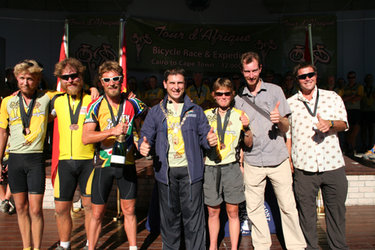 L-R Tim Gane (3rd) Bruce McPhail (2nd) Allan Benn (1st), Executive Mayor:Grant Haskin, Taryn Laurie (1st) Shanny Hill (Tour Director) Paul McManus (Race Director)
After four months of cycling across Africa, riders of the 2009 Tour d'Afrique Bicycle Race & Expedition crossed the official Finish Line at the V&A Waterfront in Cape Town on Saturday, 9th May.
51 intrepid cyclists representing 11 countries crossed the official Finish Line to the applause of hundreds of supporters.
"The sense of achievement felt by each and every participant cycling those last few meters of the 12,000-kilometre event is beyond words." said Henry Gold, Founder of the world's most gruelling bicycle event. "It is one of those rare moments in life when everything seems to be crystal clear, when you feel secure about yourself, your life path, your place in the world and when you say to yourself "After this, I can do anything"."
In the men's race, South African riders Allan Benn, Bruce McPhail and Tim Gane took the honours in 1st, 2nd and 3rd positions respectively, while Taryn Laurie, also from South Africa, won the women's race.
The annual trans-continental bicycle race-expedition which travels from Cairo to Cape Town through ten African countries was officially welcomed by the acting Executive Mayor of Cape Town, Mr. Grant Haskin, who presented the riders with their medals.
"It has been an amazing journey and we are very proud of the cyclists and their accomplishments on this tour." said Tour Director, Shanny Hill. "We're honoured that the Mayor was able to be part of our celebrations and that so many people came to welcome us."
"What an incredible adventure," said Ethan Gelber, Lonely Planet author and one of two Lonely Planet relay team riders to complete the final section from Namibia to Cape Town. "Although I was only present for 1700 kilometres, I am proud to have carried across the Finish Line the powerful impressions and well wishes of all 16 Lonely Planet participants, all wishing they could have tackled more than they did."
While Tour d'Afrique is first and foremost an endurance event for professional and amateur cyclists alike, its mandate is to assist desperately ill people in some of the poorest nations in the world receive better health care while simultaneously proliferating the bicycle as a viable means of transportation.
"Over the past five years, together with BEN and other partners, the Tour d'Afrique Foundation has donated and distributed over 1000 bicycles to HIV/Aids Health Care Workers through Africa," said Gold, "but preserving the environment and combating global warming by cycling, walking and using public transport as often as possible is the message we hope to convey."
"Cities all over the world realise that a rational approach towards sustainable transportation is essential for the future of the planet and the health of its people." Said the acting Mayor, Mr Haskin. "We are working closely with BEN and the Non-Motorized Transportation Committee to turn Cape Town into a cycle friendly city and in the process, secure a more sustainable and healthy home for us all in the Western Cape."
Congratulations to all the riders and staff on an incredible accomplishment