Blog
REGISTER NOW
LOGIN
SIGN UP FOR OUR NEWSLETTER
When the cows come home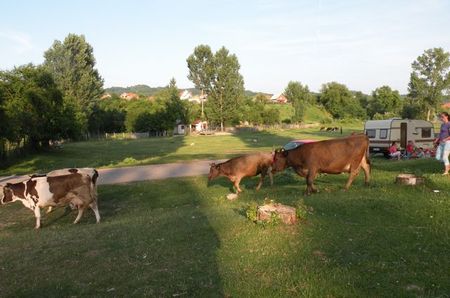 Romania has entered the EU, and the village cows are nervous.
As a cyclist pedals ceaselessly along the ever changing pitch of the Transylvanian roads, they may find time to lean their bike against a little shop, in a little village, in the late afternoon with the days' heat dissipating and camp not too far off. If they're lucky they'll find themselves drinking a cold beverage and watching wide-eyed as a herd of cows slowly meanders into the village, led by 1 or 2 herdsmen, having been out all day eating the local grass. Not such an uncommon sight in much of the world, but what stands out is that not all the cows belong to the herdsmen, or to any one owner. In fact each member of the village appears to own 1 of the cows, and they stand along the road, expectantly, as if waiting for their children returning home from school. When they spot their cow among the herd, they walk over, both lovingly and menacingly with some stick or such, give the cow a gentle whack, and then lead it to their back yard for the night. For a cow, this is the life. The EU doesn't like this, and would prefer if all the cows were sold to 1 owner and sent off to a long term boarding school far away from their village friends. It would be a shame…
Speaking of cows/wildlife. During our trips we try to keep things light hearted and amusing. No one day is like another, and in this spirit we organized a cyclist vs. bear race up the Carpathian Mountains. As mentioned in an earlier entry, Adam Birkan is something of a racer, so he was quick to grab this opportunity. In the cool morning heading up the Transfaragas Pass, which happens to be a 30km climb, Adam and the local brown bear we had arranged to meet up with us on the road, came together like great sportsmen, and with a loud roar from the bear began to race. Though it seemed neck and neck for the first few hundred meters, we all had a feeling that Adam would eventually pull away from the four legged champ, and sure enough he was the victor. Congratulations to Adam. Apparently dejected, the bear decided not to race anymore after that.
So, having reached Bucharest, the group has successfully completed the Cycling with Vlad section of the trip. This is the first time for this section (as it follows new roads through different areas of Romania) and the cyclists have much to be proud of. It is certainly a challenging segment, and to have ridden through the mountains and rough roads of Transylvania is no small feat. Congratulations to all.