Blog
REGISTER NOW
LOGIN
SIGN UP FOR OUR NEWSLETTER
The DreamTours Concept is Evolving – Thanks to YOU!
With our launch of DreamTours, we are now asking you (not telling you) What is your dream bicycle tour? …and people around the world are responding. With each new comment and question, the DreamTours concept takes shape!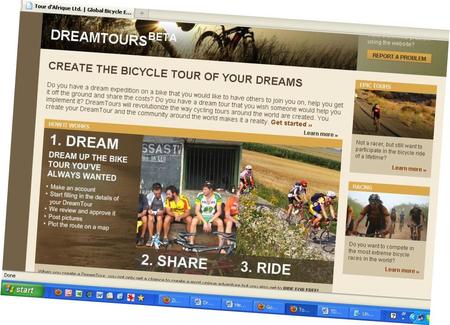 The Latest Improvements
DreamTours BETA. This is a catch-all phase that basically means it's a work in progress and so you can anticipate some things to not always work… yet.
Through this beta-testing process we have allowed the concept to evolve naturally as each new user gives us further insight into what works, what's popular, and what are the best ways to organize the DreamTours website.
Here are a few of the latest changes to the site:
• Count Me In!: Now there is a way to show your intent to join a DreamTour with no up-front commitment. Click Count Me In! on the tour you want to join, and you'll be added to the list awaiting the tour's launch.
• Thumbnails of participants: You can now see everyone else who has also "Counted In"
• Progress bar: The bar shows how many more people are needed to reach the DreamTour's MINIMUM required. Once it's reached, the tour is ON, and registration opens.
• Free tour: On the DreamTour creator's "my Dream Tours" page they can view the extended progress bar. This shows the OPTIMUM number – the number of participants needed for the creator to get a FREE tour.
• Better Commenting options
• Minimum Numbers Reduced: We recently re-evaluated all the current DreamTours and lowered the MINIMUM number on several of them. So take a look, you might be even closer to making your DreamTour a reality.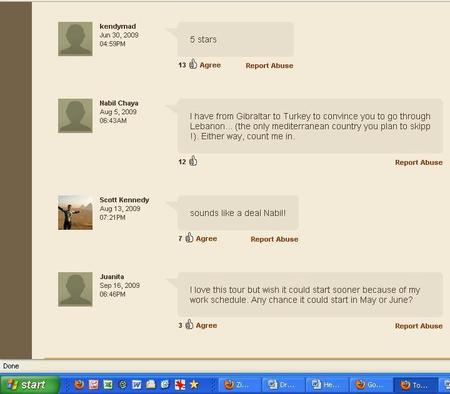 We are busy with lots of other changes too:
• Marketing Guide: Check our website over the coming weeks as we have been busy researching new ways to help you market your DreamTours. The internet and the real world have many tools to help people find other people with similar interest and interested in cycling adventures just like you.
• Follow this Tour: Soon you won't have to keep coming back to our website to check the progress of your favourite DreamTour. Just click "Follow this tour" and anytime anything is changed or someone is Counted In to that tour – you will be alerted by email.
• Clearer instructions and helpful tips: As we continue to learn how Dreamtours is evolving, we are conituning to improve the way it works. Check back regularly to see lots of changes, and helpful tips and instructions.
Ready to participate?
Create an account
Browse the many DreamTours currently on display
Get more information
Dream. Share. Ride
Here's how it works…
DREAM up the bike tour you've always wanted…
• Register your free account
• Fill in the details of your dream tour
• We review and approve it
• Add photos
• Plot your route
SHARE – Spread the word – find people to join you
• Create your DreamTour homepage
• Share your plan with others
• Make a blog and use social networking
• Collect comments from friends and strangers
• Build a team of riders
RIDE – Will you ride for free?
• Watch your progress via the progress bar
• Increase your registered participants
• Reach your group's optimum size
• Ride for free!
• Live your DreamTour – as we lead the way
The Early Successes
Here is what's being said about DreamTours…
Ndorfin Online
Adventure World Magazine
National Geographic Traveler
As more people learn of the concept, the closer some DreamTours are to becoming a reality.
Amber Route
A spectacular six weeks bicycle tour through eight countries will follow the ancient Amber Trade Route used by the Romans. The Tour will begin in St. Petersburg, one of the world most beautiful cities, winds its way through the Baltic states of Lithuania, Latvia, Estonia, then onwards through Poland and Slovakia, continuing on to Hungary cutting through Slovenia and end in the one and only – Venice, Italy.
An Indian Adventure
This tour isn't about getting from A to B as quickly as possible, it's about the journey, enjoying the sights and smells and seeing as much of the Indian subcontinent as we can…. Jaipur will be the next major destination before our final push to Agra, home to the iconic Taj Mahal. Watching the sunset on the Taj will be the perfect end to an epic 2000mile journey, through one of the most ancient, diverse and challenging countries on Earth. This is one adventure that could truly change your life!
So now's the time to get involved. Help build the DreamTours system, and plan your own DreamTour, or participate by commenting and rating the current tour offerings. Or if you're ready to ride, click Count Me In! on the DreamTour you want to participate in.
If you see a problem, we would love to fix it for you. Please email us the details and we get to work fixing it.