Blog
REGISTER NOW
LOGIN
SIGN UP FOR OUR NEWSLETTER
In the Atacama Desert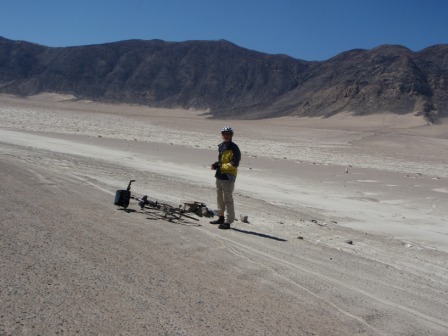 Incentive and reward, both, for the riders as they keep up with days that are challenging is the stimulation from the many changes in their environment. The kind of nature habitat, climate and air looks and feels so different every few hours.
At this moment, I look around and see only sand, small stones and clear blue sky. My skin feels dry and I am drinking water constantly.
We are in the Atacama Desert, said by some to be the driest place on earth. The sand is full of salt as we come closer to the big salt flats a few days up ahead. How incredible it is to change climates and terrains in such a short period of time.
This morning, we left a campsite that was still right along the stone and rock beach of the Pacific coast of northern Chile. High cliffs and a grey cloud loomed overhead. Pools of water, that gathered in the rocks that we stepped over and wet our feet in, were home to stunning almost coral coloured starfish and purple patterned anemones.Kind of them to let us be their neighbours for a night.Some of the anemones formed themselves into the famous ball shapes they are know for and others were relaxing with their long multiple spokes all spread out and floating in the water.
That was this morning….and now, we are in a stark dry windy desert with no sign of any living thing…not even one bush or cactus! Back at midday, we did ride through another part of this big desert which was filled with strange rock formations and a variety of cacti that looked like alien beings. With an important observatory only three km away (closed to the public but hosting international scientists who come out to these clear bright skies for some of the best viewing around) I can understand why the observatory was built here…not only for the obvious reason of the clear cool night skies but because this desert looks and feels otherworldly.
— Ruth Schonblum