Blog
REGISTER NOW
LOGIN
SIGN UP FOR OUR NEWSLETTER
Valley of the Moon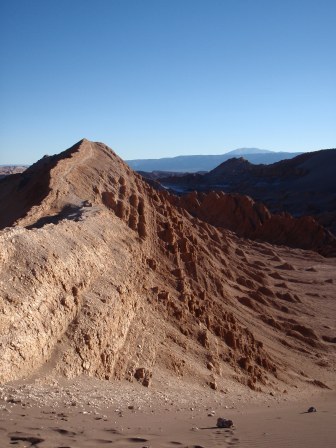 We sit in a café along the one main road in the desert town of San Pedro de Atacama and talk about the excitement of the day: getting here.
As I write from this most unusual and delightful small town of 1,983 people and many very relaxed strolling tourists, there is a huge tree with branches stretching over our heads above us. It has been a while since we have seen trees as we have been riding in a very dry barren desert.
My feet are tapping and my head and shoulders shaking with the beat of the fabulous Latin music and we are drinking coco tea which is on the menu in cafes in this town and on up into Bolivia which we enter in only three days. The coco tea and coco leaves which we can buy in markets (to chew) are to help us aclimate our bodies to the high elevation we have been in and are going higher into.
Getting here today was a fantastic ride through Vallee de La Luna (The Valley of the Moon) which is named for how it really feels and looks. Our Chilean staff member, Recardo, who lives and works as a nature tour guide in this area for years led our ride through this stunning nature that took us just five km short of our destination today. We rode and then took breaks to hike up a sand dune that overlooked a giant canyon that ended at the foot of a volcano, and to hike into an area where there were clusters of salt formations.
At the salt chunks all the cyclists kept completely still and quiet and the crackling shifting sounds of the salt could be heard. After the ride through the valley we easily found our camp site in this pretty warm town where we have a day to rest in preparation for our entry to a whole new world of Bolivia.
— Ruth Schonblum