Blog
REGISTER NOW
LOGIN
SIGN UP FOR OUR NEWSLETTER
The Most Amazing Toilet in all of Africa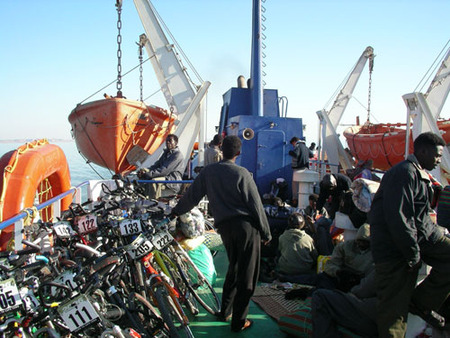 The markets, the haggling, the spices, the Nile, the falafels …oh the falafels.
In less than 2 weeks we have already cleared Egypt our first country of 10. The past few days have been 'relatively' easy days for our riders. The wind has stayed off and the routes have been lined with palm trees beside the Nile.
We arrived in Aswan early in the afternoon and everyone took advantage of our last day of beer. Under Chef James advice most riders took in the opportunity to enjoy the most amazing…wait for it… toilet in all of Africa. The Aswan McDonalds. WOW! This one did not disappoint. Prime real estate beside the Nile, free wireless , a McArabia. You forget quickly how good soap smells. Sigh…
Our second convoy out of Aswan was very calm in comparison to our first convoy out of Cairo. When Annalise started a traffic jam with the first flat tire of the trip. The riders stayed tight and chatted about the adventures of the past few days. Very few people in this world are given the opportunity to drive across the Aswan High Dam, let alone bike across it. In order to cross the dam you must be granted permission. This means that most tourists don't see it as you have to take public transit to it and rarely are able to actually cross it. As it is a high security zone no photos are allowed to be taken but it is breathtaking. Sixty-nine riders in peloton across the dam meant we took up almost the length of it. Riders took advantage of the opportunity to slow down to take in the view.
A brief 17km later and we arrive at the Aswan Ferry Terminal. Where we wait…and wait…and wait some more. Getting 74 people on board with gear and bicycles meant that we had to load first. Ahead of the refrigerators, televisions, dining rooms sets, bed frames, a Wnimong. (6 wheeled truck) and roughly 300 people.
The riders enjoyed the afternoon sun and took beer bets on what time the ferry would depart. (The departure official time is 6:10pm for all you beer betters) It can range anywhere from 1pm to 9pm depending on what time all the cargo has been loaded. Surprisingly most riders have opted to take a spot on deck instead of in a cabin. As our 18:00(ish) ferry ride departs we are all excited to wake up to Abu Simbel before we arrive in Wadi Halfa for our journey through Sudan to begin.