Blog
REGISTER NOW
LOGIN
SIGN UP FOR OUR NEWSLETTER
The Race of Truth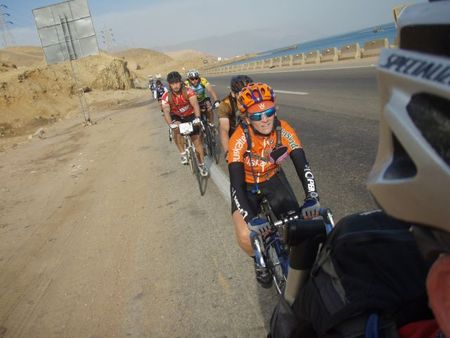 On their last day into Khartoum, the riders started the day with a friendly 20 km Time Trial for all, which was christened "The Race of Truth." The massive tailwind from the previous day continued to blow ensuring the Time Trial would be fast furious and FUN! Here are the leading times over the 20 km for both racers and non-racers:
Men Racers 1 Adrian Lutey 32:52
2 Eric Dufour 33:18 3 Marcel van Zwam 33:20
Women Racers
1 Jen Crake 36:20 2 Gisela Gartmair 37:18
3 Juliana Austin-Olsen 37:46
Men Non-Racers 1 Hartmut Bögel 38:10
2 Jim Cavanaugh 38:18 3 Paul Brummelhuis 39:05
Women Non-Racers
1 Laura de Somer 40:36 2 Dana Farrell 41:31
3 Caroline Derouet 45:00
Congratulations are also due to the winners of the Pharaoh's Delight section covering the first 1914 km of the Tour from Cairo to Khartoum. The men's winner is Adrian Lutey of Western Australia who holds an 11 minute lead over a "Flying Dutchman," Marcel van Zwam. Among the ladies Canadian Juliana Olsen-Austin took a mere 1 minute less to get to Khartoum than Germany's Gisela Gartmair. The complete section standings can be found here. While the racing and the pavement have been great so far, it is only partway through the next section, when the Tour has its first off road days and then begins climbing up and down the Ethiopian plateau, that the riders will face their first really serious tests.