Blog
REGISTER NOW
LOGIN
SIGN UP FOR OUR NEWSLETTER
Dirt Flirts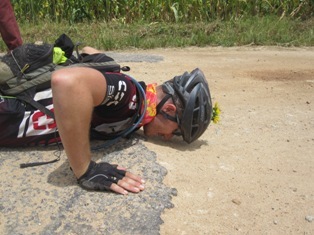 Jethro De Decker kisses the dirt goodbye…. for a while.
'The Maasai Steppe' section is from Nairobi, Kenya to Iringa, Tanzania. With three bonus days of rest in Arusha, Tanzania in the middle to enjoy safaris, rest by the pool or get some extra carbohydrates in (read: beer). This is the section to flirt with the dirt. It was a spectacular section both in views and challenge. For those with solid forks it was a challenging section at times. The ride from Arusha to Iringa is almost completely on dirt. The 26'ers enjoyed every inch of the section. Section winner Jethro De Decker at one point had an over 2 hour lead on his competitors. Riding in the support bakkie (North American reader should understand that bakkie is a South African word for truck) I had to skip lunch, break speed limits and leave camp early just to stay ahead of him.
Despite losing the 120km Mando Day and time bonus to 'The Flying Dutchman' after Franz Smit came out of retirement for the day, Jethro managed to hold onto the lead. Fellow South African racer Simon Francis made De Decker suffer on the 99km day following the Mando Day. "I was going to have a chill day and take photos but then he went flying past me like I was standing still so I decided to make him suffer up the hill; then I felt so good I decided to make him work for it for the day."
Jethro finished the section with a visit from his fellow dirt loving parents. (As I type this all 5 De Decker family members are on bikes today). This dirt loving boy was so sad to leave the dirt behind he kissed the dirt as fellow riders Erin Sprague and Dave Armani kissed the pavement. Congratulations Jethro.
The 'Malawi Gin' section will take us from Tanzania to Malawi and unfortunately for Jethro, it's nothing but pavement.
-TdA Race Directress Kelsey Wiens