Blog
REGISTER NOW
LOGIN
SIGN UP FOR OUR NEWSLETTER
Easy Days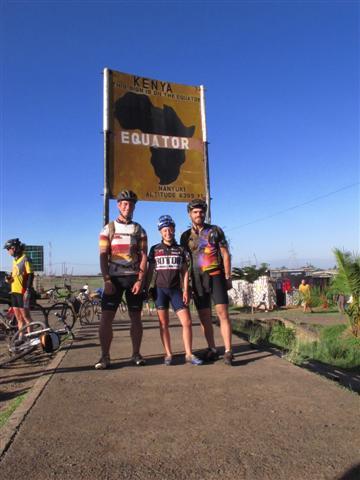 The rider are safe and sound and enjoying a rest day in Nairobi today. Tour Director, Paul McManus, share his thoughts just prior to arrival in Nairobi.
I pulled into the parking lot, just south of Nanyuki, where all the riders had gathered. The morning was crisp and cool but the sky was clear and the rising sun promised a warm dry day. A welcome change from the week of rain. I walked from the vehicle towards the riders. They are all gathered under the dingy road sign that marked a pivotal point in the tour. We are about to cross the Equator.
The location of the Equator crossing was anti climactic, just a dirt parking lot, surrounded by curio shops and a barely readable sign, covered by years of dirt and exhaust residue. Despite the unimpressive surroundings the mood of the group was cheery and riders and staff alike were joking and laughing while posing beneath the signboard.
One rider, Andra, was holding a bowl of water with a small stick in it. In the bottom of the bowl she had made a small hole so the water could drain out. Unfortunately, the water still swirled clockwise as it ran out the hole. She would have to wait until a lot further south before the water would swirl in the other direction. Although the halfway point of the tour, by number of days, won't be until next week and the halfway point by distance won't happen until a few days after that. Emotionally and mentally the Equator is an important benchmark in our journey from Cairo to Cape Town.

After 7 days of very rough dirt, remote bush camps and rather miserable weather conditions the riders reached the paved road just 30 kms before the touristy town of Archers Post, which was itself recovering from severe flooding just one week before. After such a tough section the riders were all in need of rest and a bit of comfort. Fortunately for them (and us) the tour delivered. The 3 riding days that straddle the equator are relatively short and easy and our campsites, at least by tour standards, are rather posh. For three days the riders are able to shower and buy cold drinks at camp. You can't imagine what a big difference these small comforts can make.
As I write this I am sitting in the shade on the banks of the River Tana. The sun is shining, the bar has just opened and steaks are simmering on the braai. Tomorrow we are in Nairobi for a rest day and shortly there after, three rest days in Arusha. A much needed respite from a tour that has had more than it's share of challenges thus far.
Paul McManus – Tour Director