Blog
REGISTER NOW
LOGIN
SIGN UP FOR OUR NEWSLETTER
Half Way There! The riders reflect.
Assistant Tour Directors, Allison Barnes and Kelsey Wiens, caught up with a few of the riders to get an overview of their impressions of the tour at the half way mark.
Many of the riders are fundraising for some awesome causes and would be grateful for support.

Dana Farrell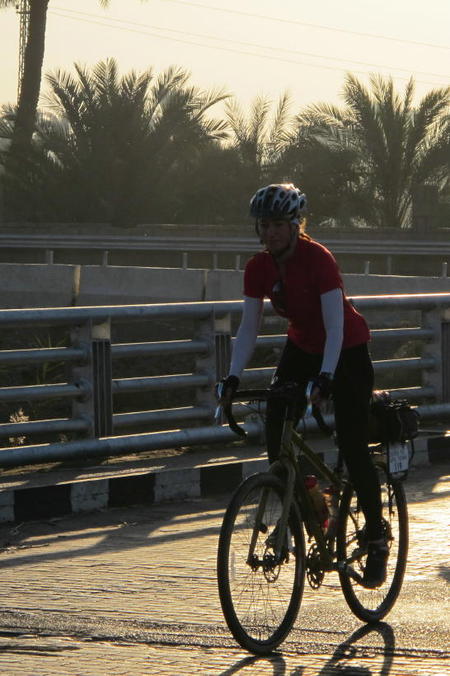 "Because of the length of the tour and the many hours spent on the bicycle, I have the opportunity to reflect on what a truly amazing opportunity this is — to travel though such diverse cultures, landscapes, and countries." Dana is riding to raise money for melanoma research, awareness and education through the Joanna M. Nicolay Melanoma Foundation .
Anke ten Brummelhuis


"The tour has been one of many contrasts: going through the biggest cities and the tiniest villages, cruising through the desert heat, tackling the mountains – which I really loved. The intensity of Ethiopia, coupled with the extreme elevation, made it the toughest country so far. It has been exciting to see so many local people cycling – using their own bikes as a means of transportation, especially in Ethiopia. It has really inspired me to continue with my fundraising project and reconfirmed that bicycles really can be part of the solution." Anke is riding to raise funds for MozamBIKE Project in Maputo.
Eric Olverson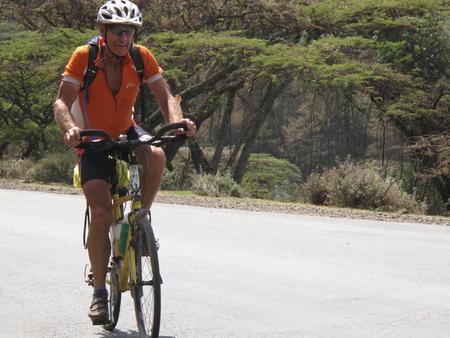 "For me it got going quite slowly, but as we get further south, and as the group members start to relax with each other more, I'm really starting to enjoy it. The pressures of Ethiopia, both physical and mental, were a drain on everybody and contributed greatly, in my opinion, to the many sicknesses suffered by the group. Good health seems to be returning though for myself; I feel very good. My main goal is to raise sufficient funds to make Thamsanqa self-sufficient for a few years and to expand their operation. It is my hope that people will realize that the cause has much merit and that I am not just a crazy old man."

Gisela Gartmair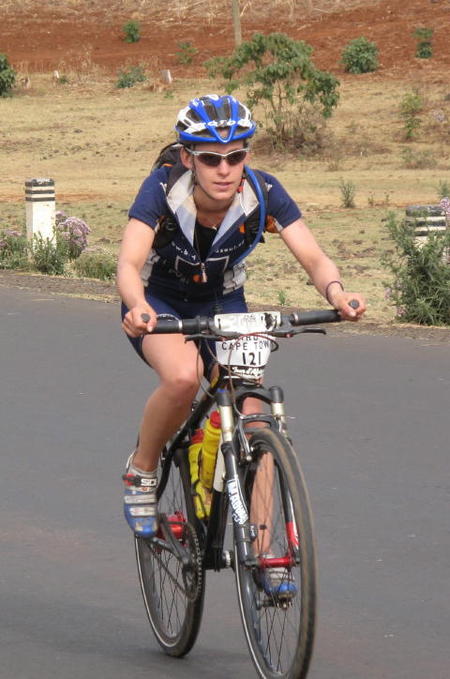 "The tour has been great so far. At the beginning it was a little bit hard because it was winter back home and I was not really fit. But now I'm feeling better and enjoying the different landscapes. My goal now is to keep EFI as long as I can and be one of the three fastest women; top five overall would also be great." Gisela is raising money for the Tour d'Afrique Foundation and Hilfe für Kwale District e.V – a relief organization in eastern Kenya.

Hartmut Boegel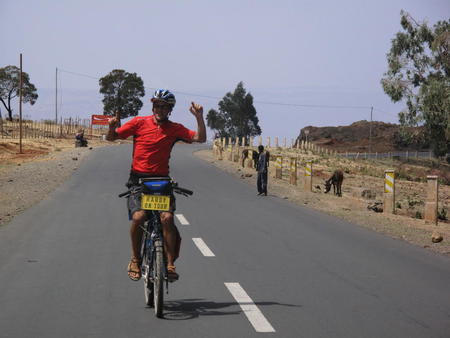 "Each country has its highlights and its difficult days. Cycling through the Dinder National Park in Sudan and the lava rock roads in Northern Kenya were tough, but those are the days that you remember the most because they are the most challenging and rewarding." Hartmut is raising funds to support the UNICEF 'Schools for Africa' project.

Jason Becker


"I was expecting bush camps, limited resources and limited amenities. The riding has been fast, fun and very challenging. It's been a mix of everything and I'm loving it." Jason is fundraising for a non profit – Project Rwanda.
Peter Pizer


"Time is going so fast, which is sad. I've met lots of good people on the tour and off and everything just keeps getting better." Peter is raising funds for the Pizer Cancer Survivor Foundation. pizer.foundation@gmail.com

Stephanie Sleen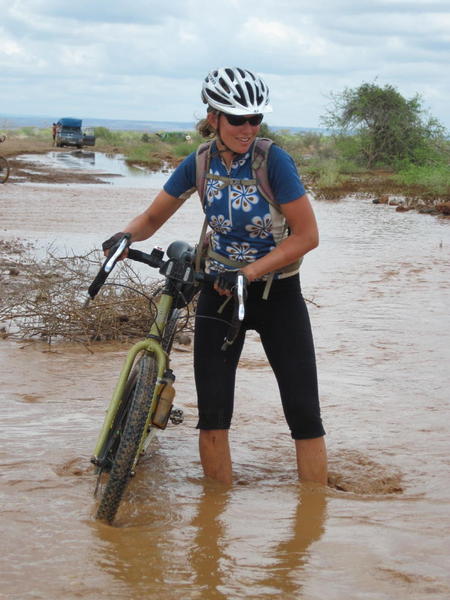 "It's great. I love it. It's exactly what I signed up for. Hard days, easy days – a mix of everything. It's just what I was expecting and what I wanted.It's crazy how different each country is and the new challenge that each country brings. That's been one of the surprises. Every time we cross a border it's a complete change." Stepanie is fund raising for The Sun Catchers Projects.
Sunil Shah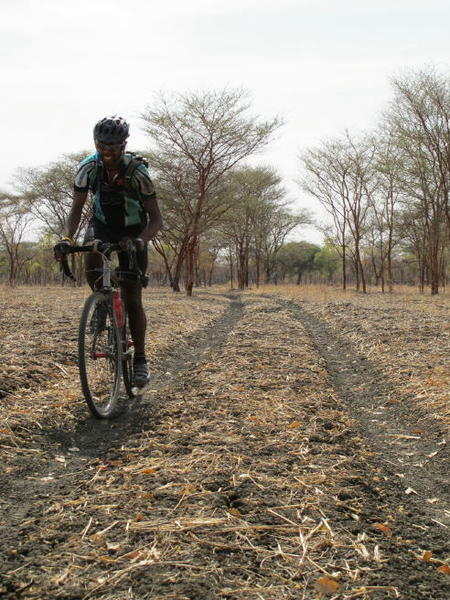 "It's hard but it's fun! I kind of wish I'd done a bit more research on bike choices before I started, but you just have to make do." Sunil is raising funds to assist in the building of a new Montessori teachers training college in Tanzania.
Wayne Woodward and Patrick Cantwell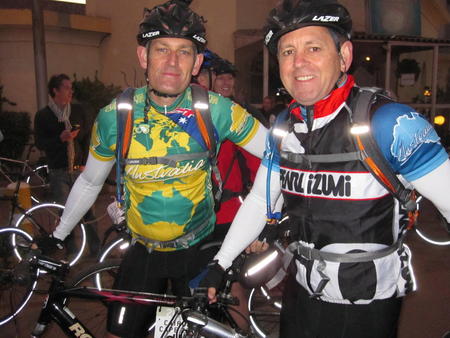 "It's been great. It really took a turn in Kenya. The people and the landscapes are so exotic and open and friendly. We've been tested by extremes and everything is fabulous. I loved the physical challenges of northern Kenya and the cultures that are being uncovered and presented to us."
"The tour is sensational so far. Northern Kenya was the toughest part of the tour but it also had the best riding day of the tour so far – great dirt tracks, amazing scenery and lots of fantastic interaction with the local villagers. Some days have been very challenging, especially on the corrugated roads. But this is what we came to do. After the challenges of Ethiopia, the stone-throwing children especially, the tour is now becoming exactly what I hoped it would be. It's just amazing. The scenery is out of this world."
Wayne and Patrick are raising funds for the Prostate Cancer Foundation of Australia as well as for the Tour d'Afrique Foundation.
Rick Wasfy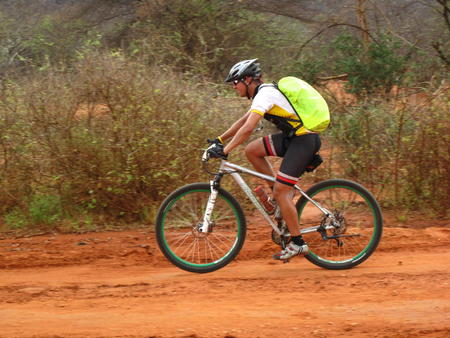 "The beginning of the tour was very challenging since I hadn't ridden a bicycle significantly before the tour. I feel like I overcame some injuries in the beginning and by Sudan I was happy and healthy on the bike and could feel myself getting better every day. Ethiopia brought new challenges with mountains on top of mountains on top of mountains. Riding your bike up a wall while dodging rock-flinging children was tough, but behind every rock was a smiling face and a wave which was always heart-warming to see. Northern Kenya has probably been my biggest challenge of the tour so far but I'm very excited that I've ridden every day since arriving in Kenya and even managed an 11th place finish that I'm super excited about. With the skill of the other riders here it's something that I'm really proud of. The bike is holding up well. The food is amazing and I always wake up at 3am hungry no matter how much I eat so I keep a packet of biscuits next to my sleeping bag. The people and staff are wonderful – there's always a smiling face and it really makes it worthwhile. " Rick is fundraising for the Lance Armstrong Foundation.
Jethro De Decker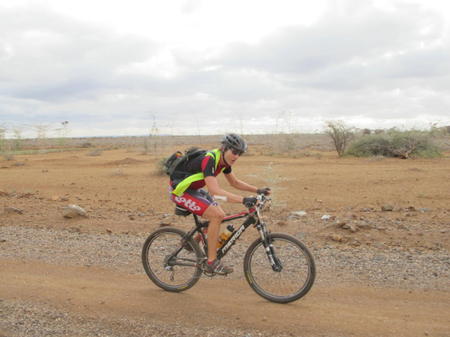 "In Cairo we where a diverse group that had signed up for an inconceivable challenge. Having now survived the deserts of the North, the mountains of Ethiopia, the lava rock plains and rains of Kenya and crossed the Equator into the Southern Hemisphere, we are now the TDA 2010. "
Best wishes to all the TDA heros and heroines on the second half.