Blog
REGISTER NOW
LOGIN
SIGN UP FOR OUR NEWSLETTER
Kenya at Last!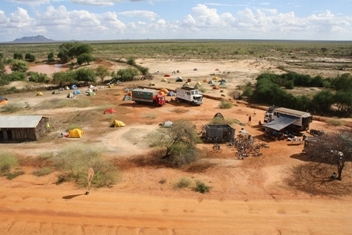 "Up until now, my bike has been like a man wearing high heels."The mountain bikers among our crowd are unabashedly pleased with Kenya so far. Thrilled to reunite his ride with fat tires once again, the ever -quotable Simon Francis and the speedy first-to-camp crew were suitably stoked following the day's rutted, rocky, hard-packed dirt ride. "I loved it. It's nice to be able to use your bike to its full potential," says Stuart Briggs from beneath the shade of a giant thorn tree. It's just after 10am and we're drinking warm cokes from glass bottles, recapping the first day in northern Kenya and one of the shortest racing days so far (79km). "This is mountain bike territory," adds Frans Smit, and I'd have to agree. As I rode ahead in our Landcruiser to scout the day's campsite, I felt like my brain was going to rattle right out of my ears —and we haven't even hit the infamous lava rock roads yet.
Aside from a challenging technical ride, Kenya offered up a nice wildlife spread; riders rolled into camp with enthusiastic tales of trees full of baboons, tiny Dik Dik's (imagine a deer the size of a giant rabbit), and flocks of brilliantly coloured birds. As for me, I was spared the physical exhaustion in exchange for a brush with the law when I removed a rusty spiked metal road barrier that was in our way at a police checkpoint (luckily Kenyan police officers have a soft spot for bicycle riff raff like us).
A highlight of our bush camp here in Sololo is a shining silver water tower, and the photographers of the group wasted no time scrambling up to the top to get an aerial view of our village for the night (and yes, they all made it back to the ground in one piece).
Tomorrow's ride is going to be a hot one, with very little shade. My plan is to bring my body weight in water on the bike. No nooks or crannies will go unused. It's time to see what we're really made of. I'm hoping I'm part camel.