Blog
REGISTER NOW
LOGIN
SIGN UP FOR OUR NEWSLETTER
"Slow Down. Divers ahead"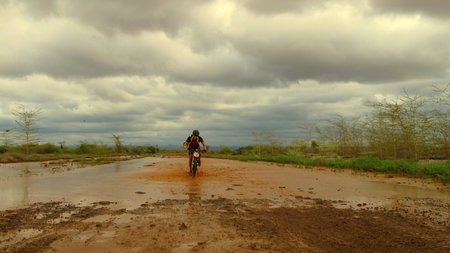 You hear about it. It's all that any one can talk about. You read the blogs in advance. The pain and suffering. The saddle sores, the bent rims and broken spirits. It's Northern Kenya and it's designed to break you.

When we arrived at the border town of Marsabit the border official smirked when I told him we are biking to Naroibi. This is one of the worst roads in Africa. It is so desolate that all vehicles must sign out of Marsabit and into Isiolo, so that they know you've survived. From the lava rock camps to the road-side camps you make it through each day. Your body has taken a serious beating. Over unending corrugation; it's so rough that you feel like your teeth with rattle out. Every muscle in your body hurts by the end of the day and as you crash into a dreamless sleep (despite the Larium) youre last thought is that you get to do it all again tomorrow.
There is no comfortable way to get over Northern Kenya. My days as Assistant Tour Director mean that I ride in the truck four days a week. On those days, over those roads I long to be on my bicycle. Yesterday was one of the more difficult days and Caro (our nurse) and I choose to ride it. By choice I mean that we both had the option to ride in a truck but we can't let the riders have all the fun!
It was my first opportunity to ride the off roads of Kenya.
When I woke up I threw on my bike kit without thinking too much about it. Before breakfast a flash flood runs through where our tents had been only one half hour earlier. For a split second I reconsider my sanity but hop on the bike anyway. I've only just started mountain biking as the road swells with the red clay mud Kenya is famous for I'm trying to find whatever line possible that might be clear. Only then do I realize that my chamois cream is gone with the rainstorm. It's going to be a looooooooong ride.
Bouncing across the rocks on the bike as the TdA trucks slowly pass me. As staff I'm one of the last to leave camp in to morning which means that I have a lot of ground to make up and as the rain pours down and the road gets worse. Riders are hopping into the trucks leaving me all alone in the middle of nowhere North Kenya. The desert landscape shifts to something more desolate (if that's possible) and you realize that you are all alone in the wild.
On these roads there is no clear line. You hop from one side of the road to the other trying to find something flat. Occasionally you come across some compact sand and can fly at 15km/h. While the day is only 88km long you probably end up doing closer to 100km. There are so many mud puddles on the road that a Landcruiser speeds past and dumps a wall of water on me; Steve Martin Pink Panther style. The only thing you can do is laugh. The heavens open up and it's raining harder then I've ever experienced. (important note: I'm from the west coast of Canada. Recently a family from South Africa who is allergic to sunlight moved to my island because it is the least sunny place in the world. So I know rain.) Trying to find a clear road I discover that the best option is to ride up the red clay river in the pouring rain. In that moment I know that my days working in a cubical are completely over. This is the best job I've ever had.
As lunch approaches the road they are starting to pave appears on the right hand side. Flat roads ahhhhhh. It's only 12km to lunch but it's the longest 12km of my life. I start to imagine that they have put lunch further then 50km. dreaming of a short afternoon. Then the lunch truck mirage starts. Every flash of white in the distance is lunch. Then you start thinking about all the sandwiches you will eat. All the tuna in the world cannot fill the hole in my stomach. As I arrive at lunch I have convinced myself that I don't have to be a hero and ride the whole day. I'm not one of riders. But after 3 sandwiches and the realization that it's only 37km left I am back on the bike. After lunch a sign appears and it says "slow down divers ahead" I imagine snorkelers in the giant puddles instead of the frogs that are swimming past me. It's been a long day. Finally, the finish line flag and camp. It's a roadside camp. I mean directly beside the road. But it's the most beautiful sight I have ever seen. My tent, my thermarest and dry clothes are there. For most of the trip the riders going to bed at 8pm have bewildered me, but after dinner and dusk, I too can barely keep my eyes open after 7:30pm.
Tomorrow is a return to civilization and to flat paved roads. The roadie in me can't wait to put my skinny tires back on, the new mountain biker however is sad to lose the fat tires and leave the rough roads behind.