Blog
REGISTER NOW
LOGIN
SIGN UP FOR OUR NEWSLETTER
All Roads Lead to Rome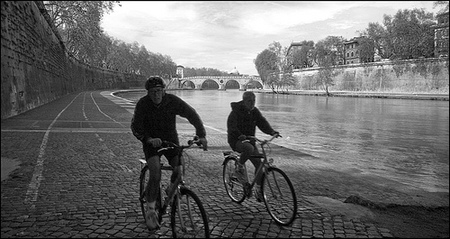 A couple years ago I ended up in Rome for a week. I didn't have any particular plans, other than seeing if someone could show me a few cycling routes to be ridden in the city. I met up with a local cycling guide, and we headed out to ride the Appian Way, one of the oldest roads leading south out of Rome.
Our ride started from the heart of the city, and pretty soon we were taking a multitude of turns, staying on side streets, even a couple sidewalks. Amazingly, this traffic-congested city was flying by with ease on our bikes; we were passing palaces, ancient aqueducts, sepulchers, but as well we were riding by Romans back yard gardens, through community food markets, by parking lots of busy apartment buildings. Then riding onto the rough cobblestones of the Appian Way. It is impossible not to let the imagination wander, to experience a feeling of Roman History living all around. On this ride, this tour through Rome, I realized the perfect way to experience this city is by bicycle.
The rest of the week led to more bicycle adventures, and it turns out there are endless possible cycling routes to ride and explore; all of which present Rome in a unique light.
As well as great cycling routes, there are great cyclists, and cycling advocates in Rome. People who are tired of the congested traffic that haunts so many of the worlds' great cities. How does this information pertain to TDA? Our newest Dream Tour is titled "All Roads Lead To Rome"
Check it out here… /dreamtours/show/103
A chance to see Rome in depth, from the seat of your bike.