Blog
REGISTER NOW
LOGIN
SIGN UP FOR OUR NEWSLETTER
Frans on The Zambezi Zone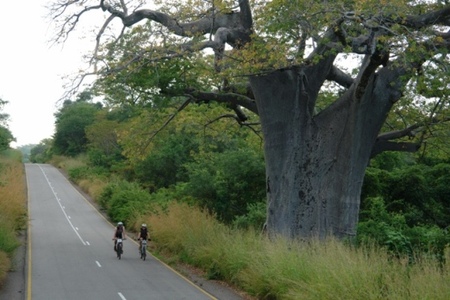 The rest day in Lilongwe is one of those typical ones where most of your time is occupied with arranging things like laundry, bike repairs, napping, eating, et cetera, instead of site seeing, which is not a real issue as there is not much to see in this town. The campsite is nice, with even a swimming pool to cool off. At the end of the day we have a bike handover ceremony; part of the TDA entry fee goes to bike donations, and as the ceremony is partly sponsored by Castle (the south African beer brand), it becomes an enjoyable evening. At lunch I was able to stack three enormous Dutch pancakes in a hotel downtown, concluded with an ice-cream; how wonderful life can be with a full stomach. At the supermarket I buy a kilo of chocolate to keep me going the coming few days. Yes, It's all about food! The new section takes us across the 'Great Eastern Road' (I am not really sure why as we are moving mostly westwards trying to cross the continent to the coast of Namibia), and starts with a stretch of 5 days to Lusaka, the capital of Zambia. The distances per day are getting longer, because it slightly flattens out, and the winds are pre-dominantly east winds. I guess this is because the TDA assumes a higher fitness level. The first day is 152km and involves crossing the border into Zambia, with the usual exit and entry stamps and the money changing, which involves some sharp head calculations and negotiation tactics as the street money changers are real scam artists. The second day is the toughest, and therefore the Mando day, with 197km and 1200 meters of climbing. Added to that the temperature quickly rises to 35 degrees and a humidity of 90%. It becomes a brutal day in many aspects, and for me mentally the toughest. The scenery of the 'true Africa', as Zambia is called, is not as spectacular as I imagined, but it is also partly invisible for us cyclists due to the high grass on the sides of the road. All the Mando days so far had some special elements like astounding scenery, dirt, heavy rains, big climbs, et cetera, but this is just a straight paved road with rolling hills, and it seems to go on forever.
At the end of the day I have ridden 207km, burnt 4850 calories, sat on the bike for 6h:21m, and I am completely stretched, all my energy is gone, and I have to sit down to prevent falling over! Next to riding fast on your bike, you can also carry stuff on it, and the African people take this a step further. I have shot a couple of pictures, I already had a few Miss Piggy's, and added to that I have seen large piles of wood, stacks of charcoal, huge plastic tons, and even a big size goat who was stuck in a special constructed wooden rack on the back of the bike.
It was a though week, I can't really tell why because it was all pavement, but my heart rate monitor does give an indication: 17.000 calories burnt on the bike in 6 riding days, that is more then the dirt section we have done or the Kenya lava rock. And racing for more than 200km doesn't help it. But there are always these nice surprise, small little treats when you least expect them. For instance after a long and hot day of riding a nice cold beer in the local cafe, followed by an excellent african shower under the water pump!
By the way: somehow I made it to the newspaper, the Volkskrant, a few people pointed it out to me. It was in the travel section of last weekend's edition, about long distance cycling, and there is a small snippet about the tour d'afrique.
— Frans Smit