Blog
REGISTER NOW
LOGIN
SIGN UP FOR OUR NEWSLETTER
Amasya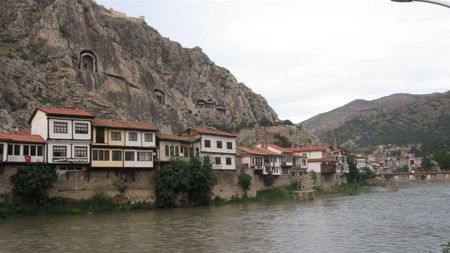 The rest day in Amasya has been nice. In Safranbolu we caught up on all the pre-tour preparations we were unable to take care of in Istanbul so this rest day there was not much to do which gave us all a chance to relax and sight see a bit without feeling rushed or pushing ourselves too hard. The ride into town was smooth and mostly downhill for a change.
The city, once ruled by Alexander the Great, is located in a valley surrounded by high rock walls and has a good size river that runs thru it. There is a boardwalk that meanders along the river with vendors every few hundred meters selling Maras (Turkish Ice Cream), grilled corn, potato skins, slushies and other treats. Above the old Ottoman houses on the West side of the river, high up in the rock cliff are the remains of a castle and tombs from the rule of Pontus. Pontus ruled until around 47 BC when the Romans took the city, along with all of Anatolia. After the Romans, the city was ruled by the Byzantines, the Seljuks, and the Mongols. Amasya is also the birthplace of the world's first geographer, Strabo. I'm not much of a history buff, nor am I very sentimental, but wandering the city armed with the little bit of history I could glean from the local museum, tourist maps and guide books it feels pretty special to be here.
Today Amasya is quite modern and seems to be a destination city for people from all over Turkey, a sort of romatic getaway. Couples walk together on the boardwalk, climb up to see the tombs, relax in the hamam (separately of course) and dine in quiet restaurants that overlook the river. The streets are lined with small shops selling everything from electronics to hardware and fresh fish and vegetables. No Walmarts or Carrefours have robbed the city of its charm. Let's hope it stays that way.