Blog
REGISTER NOW
LOGIN
SIGN UP FOR OUR NEWSLETTER
Rider Report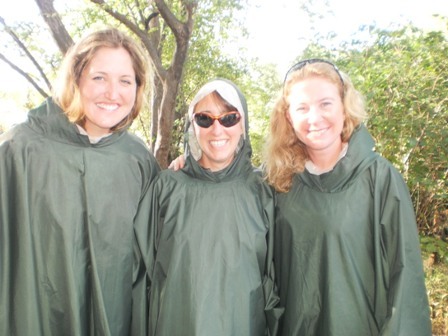 Down to the Final Four – that is last four countries of the Tour d'Afrique and at this point, there is so much to tell you, and not sure where to start……….?!?!??!?!
At the beginning of the tour, and what seems like an absolute age ago, there was a whole lot of pain, sickness, suffering and punishment. The word "miserable" became a catch phrase of this trip as it was used so often. Now as we travel south, it was all worthwhile – this part of the tour is sensory overload, sights, sounds, places to see, absolute fun, lots of laughs and everyday I am having ohhhhhhmigawwwwwwwwwwwwd experiences!!! And all from the seat of my bicycle…!
Last blog we were on our way out of Malawi (minus the Madonna sightings!) and heading towards the Zambian border. Before I left, a couple of the South African contingent of the tour, Michelle and Andre, invited four of us to have dinner with the South African High Commissioner to Malawi. The High Commissioner didn't know them, but had become aware of their fundraising efforts. Not knowing what I was in for I gratefully accepted the invitation. We were picked up in the biggest blackest (I mean REALLY black!) chauffer driven BMW…complete with the South African flags on each corner of the vehicle. These blew in the wind as we were whisked through the city of Lilongwe – nothing like a fast moving vehicle and a couple of flags to feel VERY important! We arrived at this very razzy restaurant that was of course run by South Africans, and had an exquisite dinner with the High Commissioner and her husband. Hubby was no slouch – he was the previous South African Ambassador to Iran. They met long ago as members of the South African Parliament. When he was fulfilling his Ambassadorial roles, she played the role of "spouse" and mother and now that he had retired, it was her time to shine. They laughed about the "payback" and he was wonderfully supportive. It was a great story, love it! Anyway, amazingly interesting couple who were very open, generous, interested and warm. The following day, the TDA Foundation donated 70 bicycles to charities in Malawi and the High Commissioner was so supportive of what we are doing that she cleared her diary and came and added a whole lotta star power to the event! Fantastic! Just before we crossed the border the following day, a group of us broke the ride up by calling into an orphanage which was en route. I got a huge kick out of the warm response we received. The children and staff were chuffed that we were so interested to meet and see what they were up to. We hadn't made an appointment, we showed up on our bikes and they were so welcoming. They sang and danced for us – a wonderful experience I will always remember.
We crossed the border into Zambia and the capital of Lusaka provided much excitement to the group…… this was our first real sign of Western influences. There were shopping malls, movie theatres, fast food chains in abundance and things that we take for granted back home were absolutely coveted! Not unusual to come across a bunch of riders onto their fourth or fifth milkshake, all consumed in one sitting…..!! Haha!
We then made our way towards Victoria Falls, known as Mosi-oa-Tunya in the Kosolo language – "The Smoke that Thunders". For me, this was been one of the absolute highlights of the tour so far and lived up to its name. The Zambezi River at this time of year is flowing really rapidly. The huge volumes of water create a mist that shoots up towards the sky and creates the most magnificent sight and spectacle. Not only was there huge anticipation, but we also had two rest days rather than the usual one…Ahhhh! There was so much to do and see in the town of Livingstone. Top of the list for me (and probably of little surprise!) was the helicopter flight over the Falls – well, this did not disappoint and was absolutely knock your socks off, brilliant!!! I loved it!!
With a group of other riders, I traveled over the border to Zimbabwe to stay at a safari lodge that is run by &Beyond (formerly C&C Africa). This company is privately owned by the Rothschild family and has a number of private game parks throughout Africa. It provides guests with the most exquisite, personalized and amazing African experience. Their modus operandi focuses on ecotourism, animal conservation and giving back to the local community. It was an absolute treat to stay there…the elephants popped by my villa at four in the afternoon and the hippo's came and grazed on my front lawn at night!!! This was their home and I was just lucky enough to witness it!! The days were filled with safari game drives that I can never ever get enough of…!
We then headed east towards Kasane and Chobe National Park. Again an absolute viewing bonanza for African wildlife. What made this different though is that we did a river safari down the Chobe River. Here we able to see the animals come to the river at sunset. Not only are the African sunsets brilliant, but the interaction of the animals with the waiting crocodiles was something that I had not witnessed before…
Next stop Botswana. When describing Botswana the tour books usually start with something like….. "Botswana is an arid country, drought prone in most areas….." Just as we experienced in Eqypt and Kenya, when the TDA comes to town that is all mucked up….we experienced seven days of torrential rain and even hail. NOT fair! This section of the tour has the longest days and distances….roads are dead straight and mind numbingly flat and the scenery is not exciting. Our average day is about 180kms of nothing-ness. We skirted around the Kalahari desert, so the vegetation was similar to that in Australia – low shrubs, dust and dirt….blah!
The highlight was when we reached Maun and saw the Okavango Delta…Holy smoke it was HUGE! We chartered a plane and did the Delta from the air – we felt it would be he only way to get a true feeling of the size – from here the animal viewing was prime time also!
This week was really special too, as the oldest rider on tour had his 71st birthday! Yep, correct 71…good going huh? His name is Bill Nelems and he is a Canadian man who was born in South Africa. He is passionate about everything that he does, passionate about Africa and passionate about life! He is a leader in the medical field and was the first doctor in Canada to do a lung transplant. He now places his time and energy into an NGO that he started that educates and trains local doctors and nurses in the Western Provence of Zambia. It has had extraordinary success with the myriad of health issues that affect this very poor country, so much so that the government has requested that the program be rolled out to other areas of Zambia.
Anyway, Bill decided that he was going to fundraise for the NGO by doing the Tour d'Afrique…and it just happened to coincide with his birthday! The day of his birthday he rode the whole 208kms and crossed the border of Botswana to Namibia. At the border post, the immigration officials were so blown away with what he was doing (and his age!) that they broke into spontaneous song! He has so many wonderful and interesting stories about his time spent in Africa and I have learnt so much about the health issues that riddle and affect this huge continent. His history lessons are always dead set entertaining too! He is really an amazing man who is sharp as a whip, quick witted, loves young people, funny and has boundless energy. I have loved getting to know Bill and he has inspired me in so many ways – but to ride your bike across Africa on your 71st birthday?? WOW!
We are now in Windhoek, the capital of Namibia and the feeling on the tour is a little mixed. There is this HUGGGGE excitement that in just over two weeks we will be in Cape Town, be seeing loved ones and the tour will be over. But then the other side is that it will be sad when this whole experience and the adventure is over. We have spent 24/7 with the other cyclists for the last three and half months. We have seen each others good sides and we have seen the flaws, there has been many fun times, lots of laughs and there has been fights……all to be expected when we have lived in each others pockets for so long. Life long friendships have formed and relationships have blossomed, but in three weeks time it will all be over and we will have all gone our separate ways… back to the different pockets of the globe and will never again get the opportunity to be together as a group again. In some ways this is very sad. In other ways, that is life and we realise that we have been so incredibly lucky to have had such an amazing experience and one that we will cherish fondly for the rest of our lives!
Onto Cape Town we ride….!
— Annalise Thompson