Blog
REGISTER NOW
LOGIN
SIGN UP FOR OUR NEWSLETTER
They made it!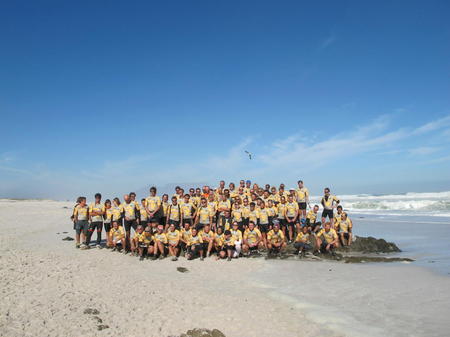 A physically and mentally exhausting 120-day journey from Egypt to South Africa has finally come to an end for a group of adventurous souls from all over the world.
Tired, sore, and weathered from sand and sun, 55 cyclists have completed their 12-thousand kilometre mission ? riding Africa from top to bottom on the seat of a bicycle in just four months.
Stuart Briggs, 27, of Australia took this year's win for the men with a time of 398:26 hours, while 25-year-old Gisela Gartmair of Germany cycled her way to the top of the podium with a time of 404:34 in the women's division. South African Jethro De Decker, 27, took second in the men's race with a time of 414:11, with American Tim Thomas, 40, taking the third place spot with 418:09. Two Canadian women took second and third in the race; Juliana Austin-Olsen, 39, won silver with a time of 452:38, while Jennifer Crake, 40, took home the bronze with a time of 531:33.
13 more TdA participants, including 11 racers and 2 expedition riders, have also been inducted into the EFI Club having ridden Every F*cking Inch from Cairo to Cape Town. They are: Rod Atkinson, Juliana Austin-Olsen, Jason Becker, Hartmut Boegel, Stuart Briggs, Gerard Coniel, Jethro de Decker, Simon Francis, Gisela Gartmair, Paul Porter, Sunil Shah, Frans Smit, and Daniel Spasojevic.

What some of the riders had to say about finishing:
Stuart Briggs "The feeling of being finished is pretty surreal. These were some of the simplest days of my life, riding from one camp to another, enjoying the day. Now it's back to the reality, back to the real world."
Jethro De Decker "The tour might be over but the adventure is about to begin. Tour d'Afrique was north to south, Freedom challenge completes the journey from east to west. Only this time I'm going to do it one better and win this race!"
Tim Thomas "The arrival ceremony in Cape Town super-ceded the race. Crossing the finish line and watching everyone soak up the experience was amazing"
Gisela Gartmair "Winning Tour d'Afrique is a tremendous honour, pushing myself harder every day, harder than I ever thought possible. Some days were extremely difficult and I wondered if I could still get EFI. I came to the Tour d'Afrique knowing that I could do well but I had no idea that I could win. I loved being able to ride with the men and found each ride more challenging and interesting than the last."
Eric Olverson: "It seems like a lifetime of emotions and experiences have been packed into four months; I'll need time to work it all out inside. I'll tell you what, though, the sight of the ocean and Table Mountain today is the nicest sight I've seen in four months."
Michelle Sephton "It's bitter sweet to be finished with the tour; I will always remember the challenges. I'm very glad to be home; it was beautiful to cycle into Cape Town."
Andre Van Eeden It's bitter sweet for me as well. It was a great experience that I would never do again!"
Jason Becker "Wow. It's amazing to me that after two years of dreaming about this, and planning for it, and training for it and picturing how I felt in Cairo, thinking, 'can I do this or not?' and now to be standing here at the base of Table Mountain and realizing that I rode every inch of it – it's kind of a testament to what you can do if you put your mind to it. I don't think I'll ever look at a world map again without thinking of this trip and how big it was. Every morning when I stretch I look at the map of Africa on the truck and it's amazing to look at that line and think I did all that on a bike. "
Congratulations to all the heroes and heroines of TDA 2010! You're champions, one and all!