Blog
REGISTER NOW
LOGIN
SIGN UP FOR OUR NEWSLETTER
Cyclists Down Under – We Miss You!
"Do you come from a land down under,
Where women glow and men plunder.
Can't you hear, can't you hear the thunder?
You better run, you better take cover.
I come from a land down under,
Where beer does flow and men chunder.
Can't you hear, can't you hear the thunder?
You better run, you better take cover."
– Men At Work
With much of the western world slowly re-opening, we are gearing up to start running our tours again and confident that at least some cyclists from around the world are preparing to get back on their bikes as well, hopefully riding with us. Unfortunately, that is not the case with our community of riders from Australia and New Zealand.
Australia and New Zealand managed to escape much of the COVID-19 pandemic that badly affected the rest of the world. Good for them and I suppose that is the main reason why the two countries are being extra cautious and not re-opening their borders, except to each other. That is ok and we completely understand. That doesn't mean, however, that we have forgotten our Aussie and Kiwi riders or that we don't have the desire to come to Australia and New Zealand to visit and to cycle.
Take me, for example. With a lifetime of travelling and working overseas, I have visited many countries, but much of Australia and all of New Zealand are unknown territories to me. I participated in our first Trans-Oceania trip in 2014 which took our riders through the islands of Indonesia before we landed in Darwin, Australia. From there we pedalled south along the famous Stuart Highway.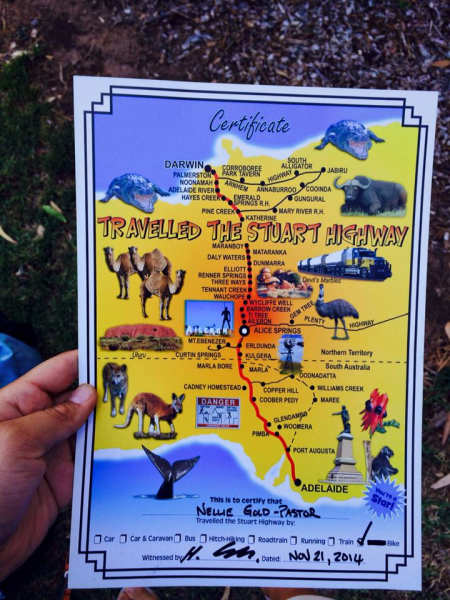 Pretty much every Aussie told us we were mad but we successfully crossed it to Adelaide and had a great adventure along the way. From Adelaide we cycled the scenic Great Ocean Road to Melbourne where I had the pleasure of spending some time with the founder of Lonely Planet, Tony Wheeler who, a few years back, had sponsored two teams of Lonely Planet writers and staff to ride the iconic Tour d'Afrique (they later included this expedition in their book, Epic Rides of the World).
Upon reaching Melbourne, Tony organized a special treat for all our cyclists and had us over for a wonderful lunch in his home. Perhaps after cycling the Stuart Highway, Tony thought we deserved a treat. After all, how many cyclists in the world can say that they cycled across the Outback, "the land down under where the beer flows and men chunder," in November, the hottest time of the year. From Melbourne, we cycled to the capital city of Canberra and then ended the epic cycle tour, where else, but at the Sydney Opera House.
On our subsequent Trans-Oceania trips, we dropped the Indonesian section and added New Zealand, but we also changed our route in Australia. For the 2020 version, we were planning to start in Adelaide, pedal the Great Ocean Road, circle the island of Tasmania and then cycle onwards to Sydney and the two islands of New Zealand. I was planning to be on it but, of course, we all know what happened.
I don't know about you, but for me planning and dreaming about cycling the world doesn't stop – at least as long as I am able to do so. Our team has even created a free series of blogs and videos – How to Prepare for a TDA Tour – that many in our audience have been reading, helping them get inspired for their post-pandemic cycling adventures.
In fact, according to some experts  just planning or anticipating your trip can make you happier than actually taking it. Personably, I am not convinced that it makes me happier but, in times like these, I take happiness anywhere I can find it. I will, however, point out that these scientists, as far as I could tell, have not researched any long-distance cyclists. If they had, they would likely have reached a different conclusion.
In any case, as I write this, the most realistic time that we will be allowed to return to Australia and New Zealand and cycle the Trans-Oceania will be the fall of 2022. I am planning to be on that tour and this time, I will be sure to appreciate the wonderful culture, sights and the beer of the two countries even more. At the same time, I hope that all of you 'down under' have not given up on the idea of cycling the world. Reach out any time you have questions about any of our future tours. It's not too early to start registering for tours in 2022 and 2023. In fact, several of you already have.
The world has changed and will continue to change in unpredictable ways. Be that as it may, what I really wanted to say to our community of cyclists down under is that we miss you, are thinking of you and hope that you are cycling a lot and planning to join us once it becomes possible.