Blog
REGISTER NOW
LOGIN
SIGN UP FOR OUR NEWSLETTER
The Merry Ferry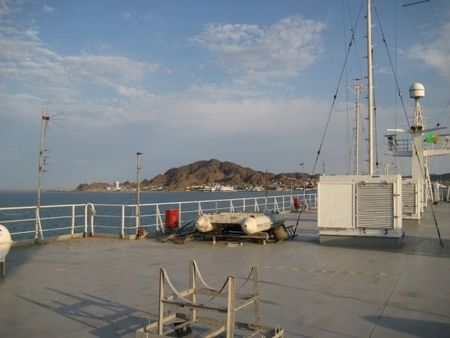 My heart sank a bit when I heard the 'Ferry Overlord' (I have no idea what his real title is) said there would be no ferry again today. "100 percent no ferry?,.. no chance at all?" I pleaded. "No ferry, maybe" was his cryptic reply. Aydin, our local support and the bane of my existence at times flashed me an all to familiar look that at the same time expressed his disappointment but also managed to say ' this is not my fault'. Aydin had actually been very helpful in Baku. He knew the city well and was well connected. I knew he was trying his best to organize the ferry crossing for us but it's just not a process that lends itself to organization.
First of all, no one seems to know exactly what building to go to get whichever set of papers you need to get your clients, or your van or the bikes on the ferry. We walked around the compound a few times, asking in one office only to be sent to another office and eventually sent back to the original office. Secondly, no one knows when the ferry will arrive in dock. Our ferry was currently sitting a few miles off shore waiting for the train to arrive. The ferries mostly carry train cars and trucks loaded with goods, or oil or coal or whatever… If the train doesn't arrive on time there is no point in the ferry docking because berthing fees are quite high and it's free to float in the middle of the Caspian. Thirdly, no one has any idea which ferry will arrive. There are anywhere from 3 to 7 ferries between Turkmenbashy and Baku depending on who you ask. For some reason that I could not seem to understand no one knows which one will arrive in port at any give time, until of course it actually arrives. The prices for passengers and cargo are different for each ferry so you can't buy a ticket until they know which one will dock. The workers at the dock have a way of making you feel like you should somehow understand all this and act really bored when you ask questions that might possibly clarify how you are going to get across the Caspian Sea on one of their boats.
The dock area has a sort of typical industrial look to it. Pretty basic cement buildings and your smattering of portable buildings. Strangely though there is a bar/restaurant right in the middle. When we visited the docks at midnight to buy our tickets at midnight the place was alive with music and dancing. Old, obviously wealthy men, sat in tight circles having private discussions. The whole place had a gangster feel to it, like this was the group of people who actually ran the docks. I wasn't really in the party mood though. Not having slept because at any moment the ferry overlord could call and tell me to come get my tickets now or risk missing the only ferry to arrive in 2 days. We got the tickets from a nice lady in a well lit office who was polite and efficient. Then we were sent down an alley and around the back of the compound to get the ticket for the Mercedes Van. For a second I thought we had been sent down the wrong way ( I also had a strong feeling I was about to get mugged) but sure enough a few hundred yards down the alley was a dim light coming from an open door. Inside were two men smoking cigarettes, drinking vodka and watching TV. Everyone at the docks has their own TV in their office. The ferry overlord always had his set to a music channel. These guys were watching some kind of Turkish soap opera. Aydin spoke to them and laughed with them and finally they wrote a ticket, I paid and they promised to call when the ferry was unloaded and ready to take passengers.
At 5 am on the 19th we got the call to head to the docks. At 7 am we cleared customs and climbed on to the ship where a large Russian women took our passports and tickets and gave us rooms. 'NYET NYET, I KEEP!" She screamed at me when I politely asked if we could have our passports back. I wasn't going to argue. The Ferry departed at 9 am on the 19th. I SMS'd out local support in Turkmenistan the name of the ferry and the departure time so they hopefully would be able to meet us on the other side without too much hassle.
The ferry itself was quite pleasant. In contrast to the ferry from Aswan that we take on the Africa tour this ferry had almost no people on it. The rooms were spacious and almost clean. The restaurant served decent food ( although I'm not totally convinced that rabbit was actually rabbit, but the crew ate it as well so….) I spent most of my time up on deck in the sole lounge chair the boat had to offer, placed the shade of a bulkhead. It was quiet, there was a cool breeze and I slept for a good 8 hrs.
At 11:30 pm on the 19th we reached the gulf in Turkmenbashy. I could see the lights of the city and still had hopes that maybe the tour would actually stay on schedule despite this crazy ferry. Then I heard the anchor drop. At 11 am on the 20th the anchor came back up and at 1 pm we docked. At 5 pm on the 20th we had finally cleared customs and rode to the hotel. Then the trip started to get surreal.
We rode thru Turkmenbashy to a new area call Avazar. Two years ago this place didn't exist, it was nothing but desert. Now there are dozens of kilometers of well lit streets snaking everywhere. Some go nowhere, others are lined with 15 story hotels all lit with pastel flood lights like you'd see in Daytona beach. There are discos and casinos and something called a Children's Hotel, the Turkmeni version of summer camp. Currently the Children's Hotel was filled with 50 Hatians who had been rescued from the recent earthquakes there (really). There is also a canal that takes water out of the Caspian only to return it back again 8 kms later. You can take a boat trip on the canal for 3 manat ($1). "To see the nice hotels and bridges" was the response I got when I asked why I would want to take a boat trip on the canal. " To see the bridges that were built so cars could drive over the canal?" "Yes".
We are staying at the Kuwwat Hotel. It's fabulous. 5 Star. The showers are hot and powerful, the A/C is cold the beds are big and firm and the staff is really helpful. We were supposed to stay the Hotel Hazar. A 4 story soviet era hotel where the water is on for 2 hrs a day and the cockroaches help you clean up after dinner. Our local support change the venue, at no cost to us, so that a TV crew could interview and film us riding our bikes in the new Avazar area. Avazar is kind of a pet project of the President to help bolster tourism on the Caspian. The Caspian is beautiful here and the beaches are nice, the hotels that have been built are luxurious and ridiculously cheap for what they offer. I guess the TV crew felt that if they filmed us riding near the Hazar and the President saw it he would be very upset that they had filmed tourists at a decrepit old building when he had just financed this beautiful new tourist area. So we got a nice upgrade and they got a nice bit of propaganda. Fair enough. If the rest of Turkmenistan is as interesting as this I'm gonna love it.