Blog
REGISTER NOW
LOGIN
SIGN UP FOR OUR NEWSLETTER
Ethiopian kids are looking Better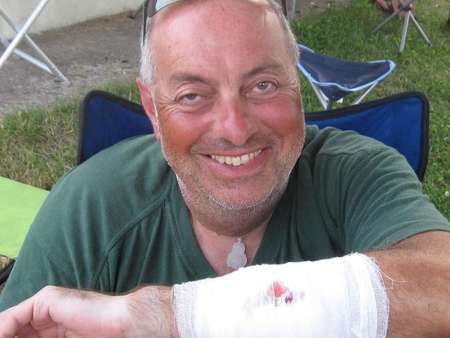 Saturday 10th July starts (never dark from 9th really) bright and early with a guided city tour by bike at 08:00 and continued with the welcome meeting at 15:00. The city tour sets us up for the convoy ride out of the city on the morning of 11th, which is smooth and slick. We stop for a group photograph in the square in front of the Hermitage and then it is off again out of town towards the Summer Palace. After some 40km in the group, we are let loose into the Russian countryside and a short trip to the first lunch stop of the trip.
After lunch we are following the instructions and being very careful to avoid the potholes. It is more a case of trying to follow a route on solid road really. No problems following the signs, since there aren't that many towns, we pass through Petrovskoe and then Gostilitsy. Here is where things start to go wrong I seem to recall. Perhaps still on the way to Lopukinka, where the road was really in a poor state, a helpful driver gives a short toot on his horn. Then as he drives past me, there is a loud crack, which can only be a gunshot. After a short 'freeze frame' moment, I feel a pain in my left forearm and when I look I see a small wound and some blood and realize that indeed I have been shot!
I have been hit in a drive by incident with a pellet from a gas powered ball bearing gun and I can feel the pellet in my arm.
Help is quickly at hand as Rick and Kendy Madden and Bill Garret arrive. Tending to the wound in disbelief, Kendy helps get a sticking plaster to cover the wound, and in true TDA fashion we ride on towards camp, perhaps still a good 40km away. The others from our group are waiting further up the road and on hearing this incredible story recall a similar sort of car, some dirty dark coloured Lada type, making a similar noise close to them too. Kendy suggests a call to camp to put them on notice and give them a chance to sort out what medical options are available. A good idea, but there is no signal for the mobile. The family in the house we have stopped by allow me to use one of theirs, and even ask if I have enough water! There are still more good than horrid people in the world. When Gergo and Eszter arrive from sweeping they also recount a similar tale. That makes a total of 5 potshots, 3 misses, a hit on Janis' bike and the hit on my arm.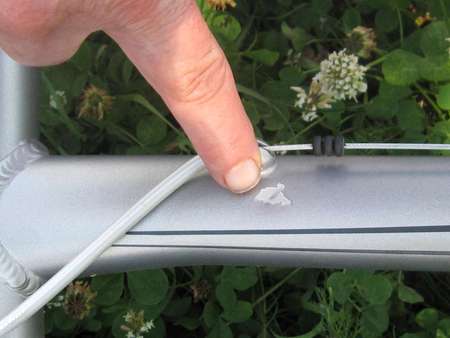 Arriving in camp, beside a Viking fortress ruin in Koporye, I am looked at by Dr. Nini and the general consensus is that treatment can wait until Estonia. We will cross the border the next day. I think we are all of the opinion that the 'European' facilities will be better than those in Russia. I spend a comfortable night with no real pain, although we determined that the pellet was deep in my arm.
Leaving Russia was very quick and easy, as was getting into Estonia, and whilst the lunch truck waited in the long line of vehicles, Gergo and Eszter ride with me to the hospital to find an emergency room. We find the Traumapunkt and then the fun starts trying to find someone who speaks English. With some signing and odd words in Russian, I am lead straight to see a doctor. This part of the tale gets really interesting where the doctor doesn't speak anything but Russian. He has an on-line translator which he used with difficulty, but we did manage to get to a state where, with the help of a nurse, he knew what had happened and was a little suspicious I think about me being shot especially in Russia. I'm not sure drug barons wear cycling shirts for business, but you never know.
They were not too keen to operate to remove the pellet as I couldn't go back to get the dressings changed. However they were not prepared to let me leave to wait until I got back to the UK for treatment. So we all agreed to an operation on the basis that we had clean dressings in camp. The result of the op, under local anesthetic, is a 2 or 3 mm ball bearing extracted with some brute force from deep in the arm close to the bone. I have a great souvenir from Russia, and a little more unusual than the stacking dolls!
Day 3 of the tour and our second in Estonia is a short trip of 60km to a rather pleasant camping area. In the green and open-air examination room, Dr. Nini is on duty. She takes off the hospital dressing and advises me that the wound is both clean and neat, a good piece of surgery. She puts on a new dressing and I rest a while with ice pack on. I feel a lot better with this news, and will need the 4 stitches removed perhaps towards the end of next week, maybe in Riga in Latvia.
Not the start to the Amber Route ride I had expected, nor the other riders either, but it makes a great campfire tale! I wonder what the rest of the trip will bring.
— Stuart Sinclair