Blog
REGISTER NOW
LOGIN
SIGN UP FOR OUR NEWSLETTER
Exploring Estonia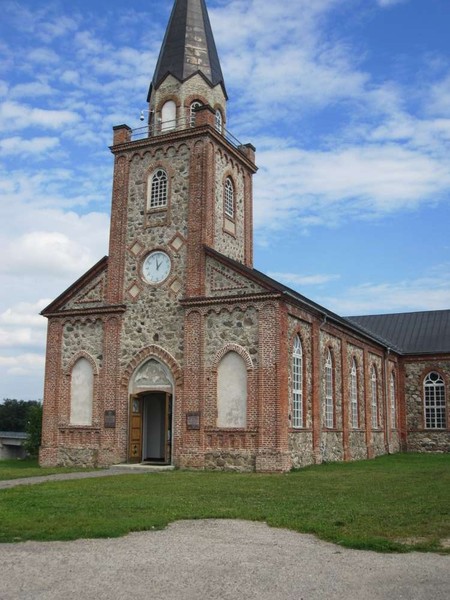 Church in Estonia
At a small amber shop in Tallinn I stopped in to take a look. I've always loved amber jewelry but never known much about, except of course that you can extract dinosaur DNA from bugs trapped inside it and grow a Tyrannosaurus Rex in a jar. The jewelry in the shop was gorgeous, and unfortunately, very expensive. Five hundred Euros was a bit more than I could spend on a souvenir necklace for my niece. What surprised me the most was the variety of colors. Amber can be found in over 250 colors, according to the pretty young clerk in the store. Baltic Amber, which was what was sold here, is mined from all over the Baltic States (Estonia, Latvia and Lithuania) and Russia. Some of it also comes out of the Baltic Sea. Some of Ambers many colors are natural, depending on what soil or water the tree sap was petrified in. White Amber has more than 1,000,000 tiny air bubbles per cubic millimeter to give it an Ivory glow. Other colors are derived from the age of the Amber or sometimes from special treatments after it has been harvested. A traditional way to darken amber is to boil it in honey. While the amber jewelry in the shop was beautiful it was all a bit beyond my price range so I thanked the clerk and continued my walk of the old city.
The 2010 Amber route started from St. Petersburg on July 11th with 31 riders and 7 staff. St. Petersburg is a spectacular city to visit. Our hotel, located in Petrograd, was within walking distance of the Cathedral of the Savior on Blood, The Hermitage (the largest museum in the world and a fabulous piece of architecture) and St. Isaacs Cathedral. One of the favorite places to visit amongst TdA riders seems to be the Vodka Museum. The city is well laid out and very attractive with the Neva River running thru the center and dozens of pedestrian plazas and cafés to hang out in and watch the world go by.
The Amber route tour was designed to be enjoyed at a pace different from many of our other tours. The distances are relatively short (avg 100 kms a day) and the terrain is easy going, mostly flat and paved road surfaces on lesser travelled roads and bike paths. The relaxed pace and mood is a nice change from the pressure of racing across Africa or race to beat the heat in the desert on the Silk Route. The group is made up of mostly experienced cyclists and travelers who know more or less what to expect on a tour of this nature in general are a pretty easy going group who look out for each other and offer support when needed.
We spent only two days riding in Russia. Our first camp was located at the base of an old castle, a nice spot except for a few locals who had consumed a bit too much vodka and were a bit too enthusiastic about our presence in their community. In doesn't get dark in Russia until very late, around 2 am, and even then it's not total darkness but a kind of dusky twilight. This can be a bit disorienting since you go to bed at nine or ten pm wheh it's fully light out. Often I wake up at 3 or 4 and think it's 7 in the morning based on the light outside. As we move south and west towards Venice things will get a bit more normal and my body seems to be adjusting anyway. From our first camp at the castle we crossed the border into Estonia where almost immediately the change in culture could felt. Historically Estonia has not had a great relationship with Russia. They have a large population of Russian immigrants and ever since the Russians tried to instigate a separatist movement amongst Russian immigrants in Georgia the Estonians have been wary of a similar problem erupting in their country. But unlike Georgia, Estonia is a NATO country so it's unlikely Russia would try anything like that here. Estonia shares a common heritage with Finland. The language is similar to Finnish and evey where you look are tall, blonde, attractive men and women with blue eyes. The Estonians I've met are polite and reserved, but very helpful. The country has pretty low population density, about 1/3 of the population lives in the capital, Tallinn. The route we take mostly follows the tree lined Euro Velo bike route through acres of farmland and fields of canola flowers and lavender. Our camps in Estonia have been a real treat. Every one so far has had a place to swim (either in the Baltic sea or in the local pool). WiFi is really common and every camp has had it available. Compared to our Africa tour, this tour makes you feel pampered. From Tallinn we cycle two days to the Latvian border and in a couple more days we arrive in the capital, Riga. Perhaps there I'll be able to find some amber jewelry that better fits my budget!