Blog
REGISTER NOW
LOGIN
SIGN UP FOR OUR NEWSLETTER
Extra Miles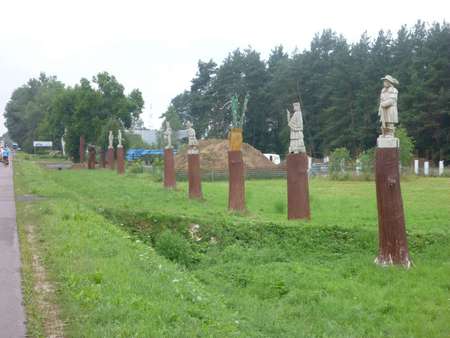 At the end of May I wanted to do a "Century Ride" (100 miles not 100 kms), to celebrate turning 60. Today I did it. Although the ride was supposed to be 140km.
I missed a turn and went for a bonus tour (we never get lost, we go for bonus tours). At first I was told that someone tried to catch me, but they couldn't catch up. Later I found out no one tried as they felt that they might not be able to catch me so why bother. Nelson was the closest behind me and at first he said he yelled that I had missed the turn. Later in camp he told me he only whispered. Thanks Nelson 🙂
This diversion should not have been as long as it was. When I noticed that the highway numbers weren't what they should be I stopped. I was straddling my bike looking at a map when a local rode up on his bike. He stopped to help. My history with getting locals to help has been less than stellar and this one did nothing to alter the abysmal record. I showed him the map I had. Maybe if I go to the next town I could take the highway and link up with the route. No, no, no. Cars, whoosh, whoosh. So I show him the town/hamlet/ or something less substantial of Los on the map. Ah the light goes on. Go back 2km and turn right that is Los. Off I go with some trepidation as this is the road I just came along and I don't remember seeing the town of Los. But I may have missed it; after all he is the local and should know. Notice I said should. If I hadn't met this local I would have taken the other road at my disposal. It seemed to be going roughly in the direction I thought I should go, as it might intersect with the road I wanted. It didn't have the correct highway number but the direction looked good. But trust the local, so says Henry (boss of TdA). Well 2km back no Los. 5km back no Los. 8km back no Los. 10km back no Los But I'm into another town where I know I was on the right road. There I see a sign with the highway number I am looking for. Then I see the orange ribbons. Oops can't blame anyone else for this bonus tour. Now I'm thinking I've just biked over 20km to get back on track. The road is not too bad and now I'm certain I must be the last in the group. Time to start to push the pedal to the metal, which is a stupid expression to use while cycling.
Off I go. After about 10km I come to the town of Los. And what do I see off to my right but the highway numbers I was at 20km ago while talking to the local. Now I figure out that if I had taken that road to the right I might have been in Lotz in 2km. He sent me on the 20km route to Los not the 2km route.
The weather is starting to warm up but my blood is beginning to boil. Within 3 minutes of passing this road who do I see? That damn local who put me on the 20km route to Los. No wonder he looked surprized. If I wasn't going along in the high twenties I would have jumped off my bike right then and there to inflict some grievous verbal abuse. But getting off a bike at close to 30 will hurt. I let it go. Well…Almost. For the next 20km I rained curses, chants and spells upon him, his children and his children's children. The bum will probably become celebate just to spite me.
Lots of kidding and joking when I arrive in camp. Communications experts should study how people who are ahead of me and not in communication with others know all the details of my bonus tour. Amazing.
Dinner was good chicken, mashed potatoes, and curried veggies. Today was Walkers birthday so he bought ice cream and chocolates to celebrate. Great dessert.
Happy Anniversary Linda!! Thank-You for all you do for me. I sincerely appreciate your loving kindness.
And for all that Linda does, my rear shifter is now on my bike. Paul and Pioter put it on this evening. Tomorrow they will put the other one one so I have matching brakes/shifters. Very nice shifters and if you are not into bikes it may seem like a so what is the big deal. For those who are, they are Campy Chorus. Oh so sweet!! Okay I'll stop drooling.
Nothing too much more to report. At 145km it was a long day for some. At 165km it was a longer day for others. For some they had never ridden this far before. And it is always a great accomplishment, and they should be very proud of themselves I hope they are writing this in their journals, blogs, and telling their friends and family.
Tomorrow is supposed to be an even longer day. More personal acheivements, and possibly more tender behinds. Hopefully I have no more bonus tours. A 200km day would be a tough one.
While checking this over I got some leg cramps. First in my right leg in the hamstrings then another in the left leg in the calf. All within 5 seconds of each other. The cramp in the left leg has moved to the muscle on the outside of my shin. While cramps can be very painful you can usually do something to stretch them out. It is a little more difficult in a tent that is marginally larger than an Eygptian sarcophagus.
Good night. Tonight we are being serenaded to sleep with the sounds of a Polish rock band playing an open air concert nearby. Where is a brutally intense thunderstorm when you really need one?

— Ross Thomson