Blog
REGISTER NOW
LOGIN
SIGN UP FOR OUR NEWSLETTER
Neophytes on the Amber Route Bike Tour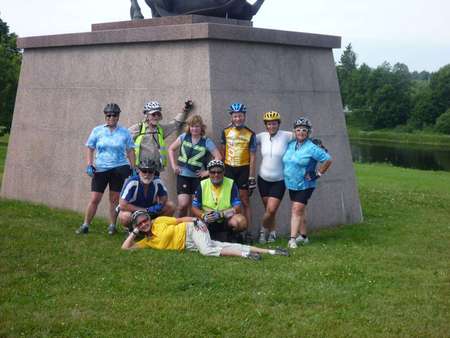 The Back Nine Take a Break
Excitement and trepidation, these were the two emotions that best described how we felt cycling out of St. Petersburg 2200 kms ago. Stella and I had not done any serious long distance cycling prior to signing up for two section of this Amber Route. We hoped that our mountain climbing and multi-week hiking excursions would help but realized that just doing it was the only way to really know if we could manage the heat and the long days that a tour like this demanded.
We had hoped that there would be plenty of time to 'stop and smell the roses' as we cycled along but with an average of 100 kms a day that was not to be for those of us at the back of the pack. What we did get was great camaraderie, assistance as needed by cyclists and staff, an overall feeling of accomplishment and the opportunity to visit 5 countries that, while worth visiting, were not high on our list of must see places.
Rest days were busy with laundry and internet and bike maintenance. Our hotels were ideally located in the center of the 'Old City' in each of the historic towns we stayed in. The old town in places like, Tallinn, Riga, Vilnius and Krakow offered lots of charm, history on culture. Not to mention cold beer and great local cuisine.
For myself and several other cyclists the ride out of St. Petersburg represented a PB, a personal best, the longest distance we had ever ridden on a bike! Between St. Petersburg and Krakow I continued to reach PBs, including riding back to back 145 kms days! On tour is seemed there was never a time for complacency, the bar continued to be raised higher each week.
Would I do it again? Most Definitely!
Sally Holden
Vancouver, Canada
Sally joined the tour from St. Petersburg, Russia to Krakow, Poland. She road every day with a smile on her face and was a pleasure to have on tour. In addition to cycling over 2200 kms Sally also raised $2000 for the Tour d'Afrique Foundation. Because of her efforts we will be able to donate an additional 20 bikes to healthcare organizations in Africa in 2011. Thanks Sally! Paul McManus.
Paul