Blog
REGISTER NOW
LOGIN
SIGN UP FOR OUR NEWSLETTER
Halloween Photo Contest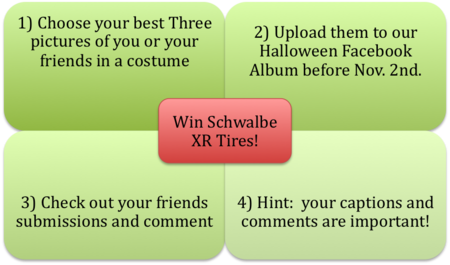 Send us a picture of you or a friend in a costume and win Schwalbe Marathon XR tires!
Every year on our Cairo to Cape Town tour we have a costume party in Bahir Dar, Ethiopia. It's always great fun and a great way to blow off steam after over a month of cycling through Egypt and Sudan. In remembrance of that great annual event, and to celebrate Halloween, this year we're having a photo contest. We're looking for submissions of pictures of you or your friends wearing a costume. Photos can be of riders on tour in a costume (which happens more often than you'd think) or pictures from this years Halloween of you or your friends in a bike themed outfit.
Prizes:
Up for grabs are three sets of Schwalbe Marathon XR Tires:
– One set of 700 x 35 Schwalbe Marathon XRs
– One set of 26 x 2.25 Schwalbe Marathon XRs
– One set of 26 x 1.6 Schwalbe Marathon XRs
How to Enter
:
Each person can enter up to 3 photos (please keep them PG 13, we don't want to get Mike too excited).
Upload your photos to the 'Halloween Photo Contest' Album on our Facebook Page located
here
. Or email them to info (at) tourdafrique (dot) com . You'll have to 'like' our page before you can upload.
All photos must be captioned with this information:
1) Your Name
2)
A brief description of the circumstances of the picture (
hint:
the better your caption, the better your chances at winning)
**Bonus points for submitting pictures of Tour d'Afrique Staff
Here's what the
Schwalbe Website
has to say about their tires, we certainly agree:
Schwalbe is a manufacturer of high quality tires for every cycling application and have been doing so for over 80 years. Legendary for extreme durability, excellent puncture resistance and versatile treads, Schwalbe's touring tires are some of the best available on the market. Being exclusive to the cycling industry gives Schwalbe the availability for greater research and development bringing higher quality and better performance. Only the highest grade natural rubbers and materials are used ensuring maximum performance and quality.
What next?
On November 5th we will announce the winners on our FB page and upload a collage style mash-up of all the photos for you to download as a souvenir.

So really, everybody wins!
A big huge thanks to Schwalbe North America for donating the tires.

There's not a single other brand of tire that has held up on our tours as well as Schwalbe.