Blog
REGISTER NOW
LOGIN
SIGN UP FOR OUR NEWSLETTER
Tour d'Afrique at BikeMotion Benelux 2010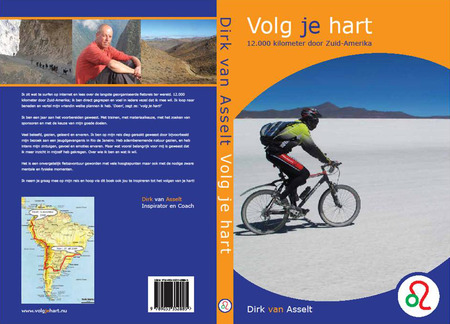 Dirk Van Asselt's book about his experiences on Vuelta Sudamericana 2009 – will be presented to Dutch cycling legend, Steven Rooks, at the Tour d'Afrique booth at Bikemotion.
Our intrepid leader, Henry Gold, is off to the Netherlands today to spread the news of Tour d'Afrique's nine bicycle adventures in 2011 to the 'Dutchies'.
First stop will be an Info Evening and screening of the Tour d'Afrique film 'Where Are You Go', in Leusden – kindly hosted by TDA veteran Arthur Rijk. If you're in the area and would like to meet Henry and see the film, you can contact Arthur on arthurrijk@msn.com.
Next up is the BikeMotion Expo in Utrecht, where Henry and Dirk van Asselt (one of the participants of the 2009 Vuelta Sudamericana) will manage the booth. To add to the excitement, Dirk will be promoting his hot-off-the-press book "Volg je Hart _ 12.000 kilometer door Zuid-Amerika'' and will present his first signed copy to legendary Dutch cyclist, Steven Rooks, at the Tour d'Afrique booth. Steven finished second in the Tour de France and won a finish on L'Alpe d'Hue in 1988. Other victories include the 1983 Liège–Bastogne–Liège, the 1986 Tour de Luxembourg and Amstel Gold Race, a stage at the 1987 Tour de Suisse, the 1988 Züri-Metzgete, and 1994 national championship. He finished second at the 1991 World Cycling Championships behind Italy's Gianni Bugno and ahead of Spain's Miguel Indurain.
BikeMotion has grown to be the second biggest bike show in Europe after Eurobike. If you're in the area, or planning on attending the show, pop in at Booth #BO47 to say Hi and check out details of the nine tours planned for 2011.
The show is open to the public from 12:00 Noon to 21.00 hrs Oct. 22, 10:00 to 17.00 hrs Oct. 23 and 24 and 9:00 to 15:00 hrs. Oct. 25 (trade and press only). For more details visit www.bikemotionbenelux.nl